Strong line play propels unbeaten Palo Verde into Sunset Region final
November 20, 2008 - 10:28 pm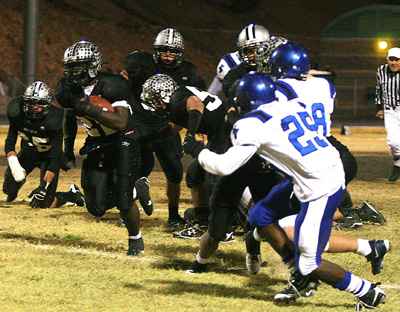 Palo Verde entered the football season with huge question marks on its offensive and defensive lines.
Starting with an opening-week rout of Reno, both units have done nothing but make large statements with their play.
The strong play has helped the Panthers (12-0) advance to tonight's Sunset Region final. Palo Verde hosts defending Class 4A state champion Bishop Gorman (12-1) at 7 p.m. The winner meets either Las Vegas or Del Sol in a state semifinal next week.
"We had a real lack of experience, but we had kids I believed in," Palo Verde coach Darwin Rost said. "We knew of them; we just had to make sure they could play at the level we needed them to."
The Panthers didn't return anyone on the defensive line but have gotten big contributions from juniors Daniel Godkin and Jared Olsen at end and senior Edwin Cruz and junior Erick Grijalva at tackle.
"Everybody has stepped up," said Godkin, who leads the team with five sacks and has made 74 tackles. "Our coaches have told us to stay low, and so far everybody has just stayed low."
Along with a top-notch linebacking corps and secondary, the line has helped Palo Verde allow just 123 points this season. The Panthers have held the opposition to seven or fewer points eight times, a number they'll try to increase to nine against Gorman.
"We're going to need to execute against them," Gorman coach Bob Altshuler said. "We throw the ball as well as run the ball, but we have to do it well."
Palo Verde's offensive line also was new but got a huge shot in the arm when seniors David Castro and Liloa Nobriga switched from skill positions to play on the line. Castro shifted from fullback to guard, Nobriga from tight end to tackle.
"It made a huge difference," Rost said. "It put better athletes on the line. It put experienced football players there."
Cruz is the starting center, with Grijalva and Olsen also starting on the offensive line.
"It took awhile to jell, but now everything is going smooth," Nobriga said. "It wasn't until the first couple of weeks that we really got things down. We focus during films and practices on what we're supposed to do on our blocks."
It's working.
Palo Verde's offense, chock-full of talent at the skill positions, is averaging more than 370 yards and more than 37 points per game, but that line might get its toughest test of the year against Gorman.
"We have to control the line of scrimmage," Altshuler said. "Their kids are capable of breaking tackles. We need to be able to bring them down."
The Gaels boast two of the top defensive ends in Southern Nevada in senior and Oklahoma-bound Justin Chaisson and junior Alex Turner.
Gorman's defense has limited opponents to eight or fewer points in nine games.
"They're very good players," Rost said. "Our kids are really going to have to step it up, but we also don't want to change anything we've done all year."