Transfers 'huge spark' for Gaels
December 5, 2014 - 12:09 am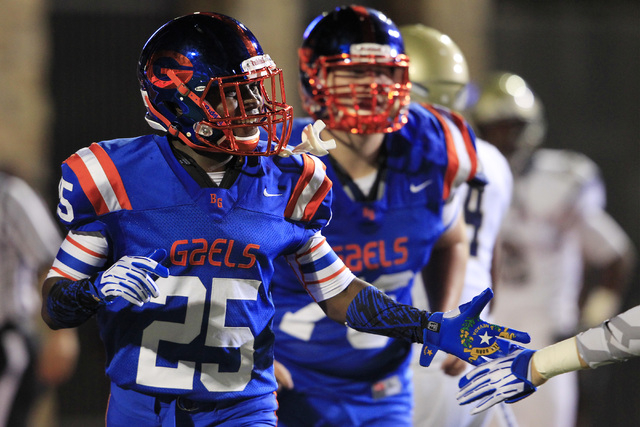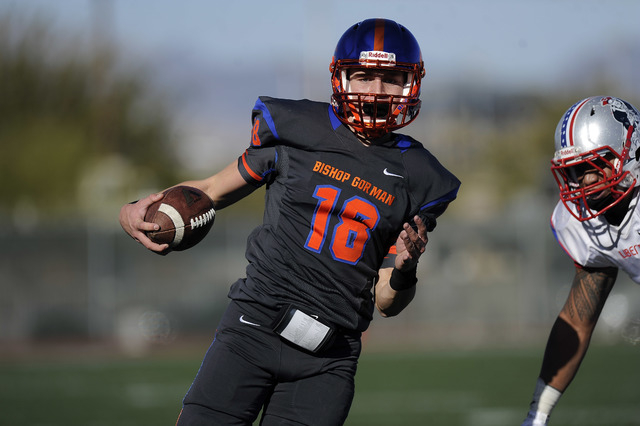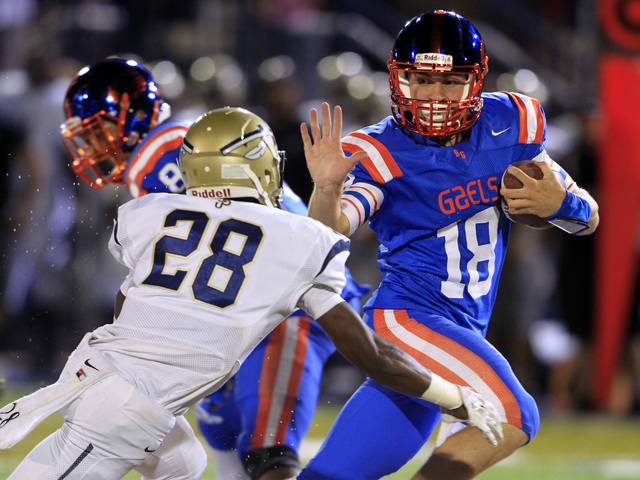 A year ago, Tyjon Lindsey couldn't have imagined being where he is today.
The Bishop Gorman sophomore was a starter at Poway (Calif.), but the team struggled to put together a 4-7 record. Now Lindsey is hoping to help the Gaels win their sixth straight state title and capture the mythical national championship. Gorman is ranked No. 1 in the nation by USA Today.
"It's overwhelming, because you never thought you would be right here right now," Lindsey said. "It's a great experience to know how far we're getting rather than how it was at Poway. It's just a great learning experience."
The Gaels (14-0) will play Reed (11-3) in the Division I state title game at 12:10 p.m. Saturday at Damonte Ranch High in Reno.
Lindsey and quarterback Tate Martell moved to Las Vegas last summer and enrolled at Gorman. Martell's parents are Lindsey's guardians. It didn't take long for the two sophomores to make their mark on a team that already had a lofty national ranking and plenty of elite talent.
"Tate and Tyjon have really added a huge spark to the program," Gorman coach Tony Sanchez said. "They really have."
Martell started out No. 3 on the depth chart at quarterback behind senior Danny Hong and junior Stetson Stallworth. He was still splitting time with Stallworth on the second unit when the Gaels beat Brophy Prep (Ariz.) 44-0 in the season opener.
But Martell stepped up in the second week, replacing Hong and sparking a 48-27 win over Servite (Calif.). Martell passed for 133 yards and three touchdowns and rushed for 114 yards in that game and has been the starter since.
"I got my chance in the second game, and it's just been good from there," Martell said. "I knew when I came in that I was just going to have to go out there and do my thing and perform really well. So that's what I had to do."
Martell has completed 61.5 percent of his passes for 2,337 yards and 34 touchdowns with just two interceptions. He also has averaged 6.2 yards per carry, rushing for 435 yards and four TDs. On Thursday, he was announced as the Gatorade Nevada Player of the Year.
"He gives us a dual-threat option," senior lineman Jackson Perry said. "He gives us the pass and run option. He's got a very good arm, and his feet are quick as lightning."
Those feet are key to Martell's success. Not only is he a threat as a read-option runner, but he's also able to elude the pass rush and either scramble or find open receivers down the field.
"He doesn't get sacked very often, and that's because he's either going to get rid of it fast or do some stuff I've never seen before," Sanchez said.
Perry said the offensive line is well aware of Martell's ability to extend plays when protection breaks down.
"We try to give him as much time as we can up front," Perry said. "We give him at least five, six, seven seconds. And if he can't find anybody, then he starts scrambling and we protect him the best we can, because when he's moving, anything can happen right there."
Martell said the scrambling and extending of plays comes naturally.
"Honestly, that's how I've played since I've been young," Martell said. "I always want to score every play. I know sometimes it can be a bad thing, but I don't like taking a loss and I don't like not picking up yards. I want to make plays, and it's kind of fun, too. If you make a couple people miss in the backfield and throw a touchdown, it's fun."
Lindsey, who is second on the team with 762 receiving yards and 12 touchdowns, said receivers have to make sure not to give up on routes when Martell is scrambling.
"As a receiver playing for Tate, you've just got to be patient," Lindsey said. "Tate can make a play whether he's running or passing the ball. As a receiver at Gorman, you've just got to be patient and know that he can get you the ball also when he scrambles."
Lindsey knows that better than most. He said he first played with Martell on an all-star team when they were in seventh grade.
"I remember the first game he threw me three touchdowns, and that's when we just felt that connection," Lindsey said. "He's the real deal."
And though the Gaels feature other big-time threats in tight end Alize Jones and receiver Cordell Broadus, it's clear that Martell sometimes feels most comfortable looking for Lindsey.
"We're always going to have that special connection when we're playing together," Martell said. "This is, I think, our fifth season actually playing together, and we do 7-on-7s (in the) offseason and all that stuff together. Tyjon lives with me, so we do routes on the weekends and stuff by ourselves. We just know each other really well on the field and obviously off the field as well."
And Lindsey is happy for the chances that off-field bond has brought.
"It's a great home," Lindsey said of living with the Martells. "I couldn't thank the Martell family any (more). I just appreciate all the opportunities they have given me."
Contact reporter Damon Seiters at dseiters@reviewjournal.com or 702-380-4587. Follow him on Twitter: @DamonSeiters.