3A boys: Western caps season with first state championship
November 10, 2018 - 2:24 pm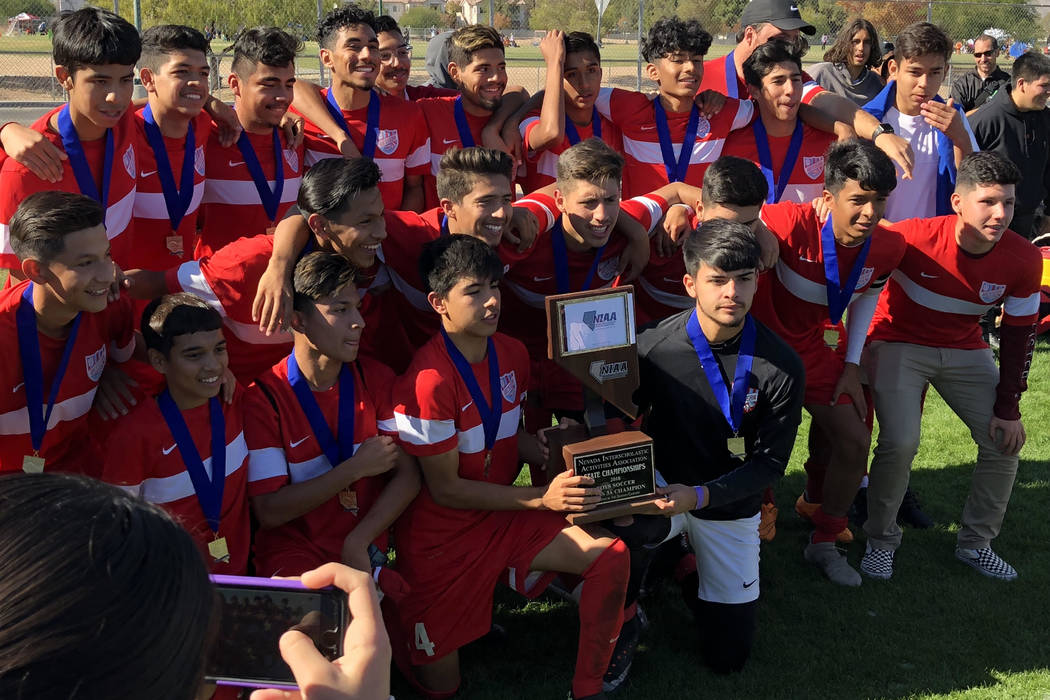 Western boys soccer coach Kory Pippin fought back tears as his players praised him after their 3-1 win over North Valleys in the Class 3A state championship game on Saturday morning.
They presented him with a signed plaque, doused him with an obligatory ice water shower and reassured him that he is the best coach many of them have ever had.
Fitting — because they comprise the best team Western has ever had.
The Warriors regrouped after a stagnant first half to score three goals in a 25-minute span en route to their first boys soccer state championship at Bettye Wilson Soccer Complex.
"It's a long time coming," Pippin said. "You do it for everybody who put in the work to get you one step further. We set the expectation. I think that was the biggest thing. … We started taking it up another level."
Pippin indeed helped cultivate a culture at Western, where winners in recent years are few and far between. He infused the program with passion and enthusiasm, and his players followed suit, reaching the state tournament for the first time in 2016.
Senior Juan Estrada was a sophomore that season, and said the Warriors built a champion by working diligently in the offseason.
"You've just got to put dedication in, non-stop," said Estrada, who led the state with 47 goals, but was injured in Friday's semifinal and sat out the state championship game. "We've been working with (Pippin) throughout all summer, all season. Every day. All the boys have put time and effort into practice, making us a good team."
Western (20-3-3) competed against a rigorous non-league schedule, playing Class 4A state qualifier Durango to a draw and beating perennial power Bishop Gorman. They beat Sparks in double overtime Friday, and used two goals from Bryan Jimenez and one from Brayan Gonzalez on Saturday to topple a powerful North Valleys squad and trigger an emotional celebration.
Several Western alumni attended the game, and a 1997 graduate spoke to the players afterward, insisting that they made her proud to be a Warrior.
"I'm out of words," Pippin said. "I'm lucky, all I have to do create expectations, allow them to create their goals, and then I steer and guide them. After that I'm just an observer. I'm just really happy because they're happy."
Contact reporter Sam Gordon at sgordon@reviewjournal.com. Follow @BySamGordon on Twitter.
Box score: