NOTES: Drye ends fling with football, gets bigger kick out of soccer
January 5, 2016 - 9:20 pm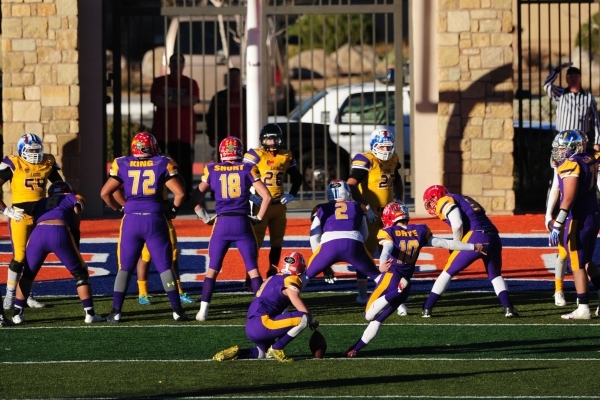 James Drye enjoyed his fling with football.
But the senior at Arbor View is returning to his first love.
Drye, who shined this fall in his first season as the Aggies' place-kicker, recently made an oral commitment to play soccer at UNLV.
Drye's commitment is nonbinding, and the first day he can sign a letter of intent is Feb. 3. UNLV's coaches cannot comment until that time.
"I've been playing soccer my whole life, so it's something I just wanted to keep on doing," Drye said Tuesday. "Once the year hit, me and my dad talked about it, and we decided that UNLV would be the best offer."
Drye was an All-Southern Nevada pick as a junior for Arbor View, leading the team with 14 goals and eight assists. Instead of playing soccer this fall, he opted to kick for the Aggies' football team.
Drye made a 48-yard field goal in a 45-0 victory over Bonanza on Oct. 16 and booted a 45-yarder in the first quarter of the Aggies' 17-14 win over Centennial on the way to earning first-team All-Northwest League honors.
Drye, who said he briefly considered walking on as a place-kicker at Arkansas where several of his relatives live, was hitting from 60-plus yards during warmups of the West Charleston Lions Club Charity All-Star Football Game last month.
"I've been working with the kicking coach in the offseason just for fun," Drye said. "I just wanted to see what would happen, see all the experiences of playing a different sport in high school, get to know some of the kids on the team."
Drye's play with the Las Vegas Neon club soccer team caught the attention of UNLV assistant coach Liam Connors. The left-footed Drye is expected to play left back or in the center of the defense for the Rebels.
"I have a bunch of family here, so they get to come watch," Drye said. "I just want to play, hopefully win some titles there and just have fun."
MILLER MILESTONE — Shadow Ridge boys basketball coach Ray Miller was honored for his 400th career victory during the recent Tri-State Holiday Invitational at Desert Oasis.
Miller's milestone win came Dec. 12 when the Mustangs defeated Kanab (Utah) 68-34. Miller is in his second year at Shadow Ridge after racking up 386 wins at seven high schools in Ohio.
LOCALS IN BOWL GAME — Five area football players were selected to play in the Polynesian All-American Bowl.
Zion Jones (Desert Oasis), L.T. Lualemaga (Foothill), Trevor Nofoa (Desert Pines), Samuelu Potasi (Desert Pines) and Jeremiah Pritchard (Silverado) will suit up for the game, which kicks off at 1 p.m. Saturday at Oceanside (Calif.) High.
SANCHEZ NOMINATED FOR AWARD — Bishop Gorman football coach Kenny Sanchez was named one of six finalists for the U.S. Army All-American Bowl National Coach of the Year Award.
Sanchez guided the Gaels to the Division I state title in his first season as coach after taking over for his brother Tony. The winner of the award will be announced at an awards show Friday in San Antonio.
* RECENT COMMITMENTS — Bishop Gorman sophomore Austin Wells to Stanford for baseball. … Arbor View senior Bailee Davis to Texas-Dallas for women's soccer.
Contact reporter David Schoen at dschoen@reviewjournal.com or 702-387-5203. Follow him on Twitter: @DavidSchoenLVRJ