Roundup: Angel Arreola, Sunrise Mountain top Tech
September 4, 2018 - 8:50 pm
Updated September 4, 2018 - 9:20 pm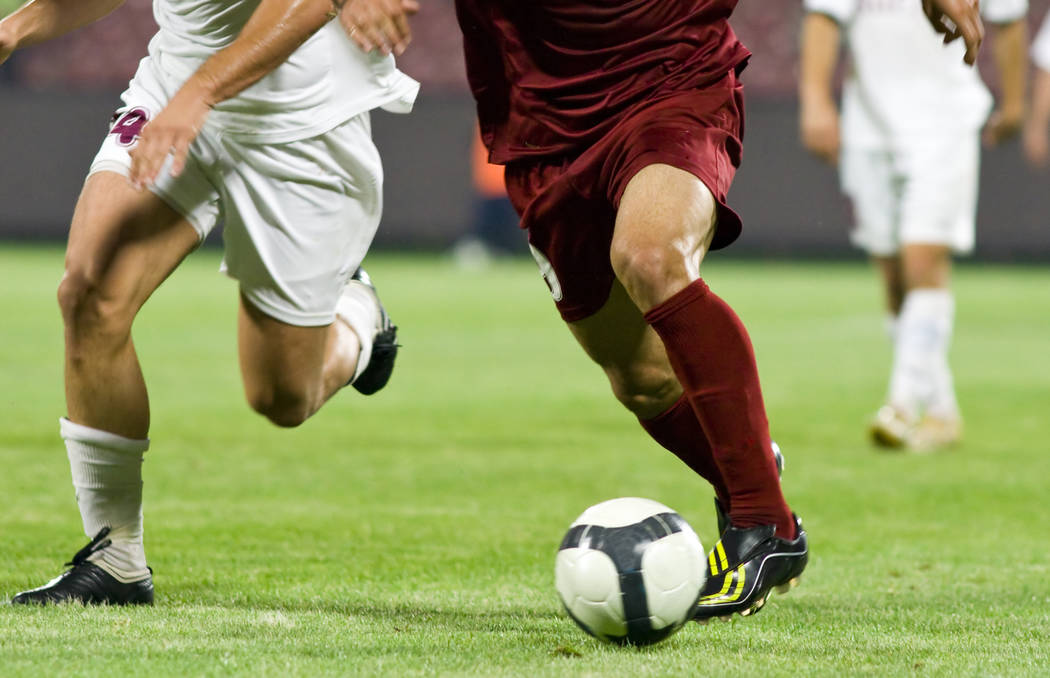 Angel Arreola scored twice on Tuesday as Sunrise Mountain's boys soccer team earned a 3-1 road victory over Tech.
Jonso Jimenez-Fasquez added a goal and an assist for Sunrise Mountain, which led 3-0 at the half.
Luis Carrera scored for Tech.
Canyon Springs 2, Silverado 0 — At Canyon Springs, Alejandro Gonzalez made 10 saves as the Pioneers shut out the Skyhawks.
Leow Cruz and Oscar Marquez each scored a goal for Canyon Springs.
Chaparral 4, Sierra Vista 2 — At Chaparral, Bryan Macias scored twice to help lift the Cowboys past the Mountain Lions.
Alexander Caro-Herrera had a goal and an assist, and Hugo Salgado also scored for Chaparral. Kenny Rosales, Jonathan Raffta, and Gabriel Caro each supplied an assist for the Cowboys.
Eduardo Perez scored two unassisted goals to lead Sierra Vista.
Liberty 3, Equipo Academy 0 — Hayden Prasad and Jose Salcedo each had a goal and an assist as the Patriots beat the Yeti.
Dylan Jones added a goal, and Ivan Rodriguez made six saves in the shutout.
Western 7, Valley 0 — At Western, Juan Estrada tallied two goals and an assist, and Elizandro Zaragoza added a goal and three assists as the Warriors routed the Vikings.
Hector Romero, Gustavo Sanchez, Adrian Vasquez and Jose Muniz each scored once for Western, which scored six second-half goals.
Western's Andy Rodriguez supplied two assists, Francisco Corona had two saves and got the shutout for the Warriors.
Mojave 4, Del Sol 0 — At Mojave, Jesus Ubario-Ochoa had a goal and two assists to lead the Rattlers past the Dragons.
Johnathan Gonzalez, Bryan Torres and Anibal Ponce also scored for Mojave.
Damian Moreno made two saves to record the shutout for the Rattlers.
Coronado 9, Boulder City 0 — At Coronado, Alfredo Diaz had four goals for the Cougars in their shutout victory over the Eagles.
William Klingler had two goals, and Lincoln Aquino, David Woods and Jose Estrada each scored a goal for Coronado.
Josue Ruiz is credited with the shutout.
Centennial 1, Spring Valley 0 — At Spring Valley, Ariel Garcia scored in the first half as the Bulldogs edged the Grizzlies.
Clark 9, Virgin Valley 0 — At Mesquite, Stephen Russell had a three goals, and teammate Leonardo Puente scored twice as the Chargers blitzed the Bulldogs.
Juan Beltran-Diaz had a goal and five assists, and Abraham Dolley supplied a goal and an assist for Clark. Brayden McWilliams and Tesfu Mebretom each scored once for the Chargers.
Goalkeepers Brian Miranda and Hayden Polakowski combined on the shutout.
Desert Oasis 6, Shadow Ridge 1 — At Desert Oasis, the Diamondbacks scored four second-half goals to pull away from the Mustangs.
Ethan Kovach had five goals for the Diamondbacks, and Serek Christenson had the other.
Zion Byrd scored for Shadow Ridge.
Sky Pointe 2, Coral Academy 1 — At Sky Pointe, Steven Sanchez scored midway through the second half to give the Eagles the win over the Falcons.
Steven Obi scored in the first half for Sky Pointe.
Moapa Valley 5, SLAM Academy 3 — At SLAM Academy, Gabriel Hernandez and Sebastean Gutierrez each scored twice as the Pirates topped the Bulls.
Somerset-Losee 8, Adelson School 1 — At Somerset-Losee, the hosts scored five first-half goals and turned back Adelson School.
Box scores:
Desert Oasis 6, Shadow Ridge 1
Moapa Valley 5, SLAM Academy 3
Skye Pointe 2, Coral Academy 1