Roundup: Ian Dalton saves victory for Shadow Ridge
October 10, 2018 - 8:51 pm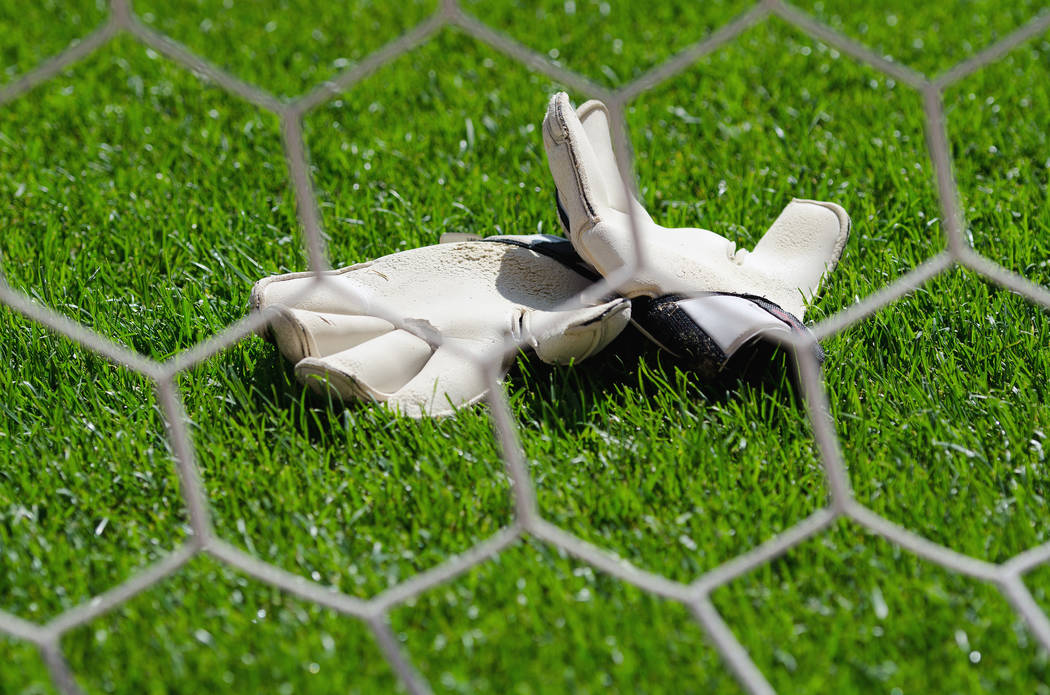 Ian Dalton made 11 saves on Wednesday, including a penalty kick a minute into the second half, to preserve Shadow Ridge's 1-0 home win over Canyon Springs in boys soccer.
Zion Byrd scored on an assist from Joseph Satterthwaite in the first half for the Mustangs.
Las Vegas 4, Eldorado 2 — At Las Vegas High, Daniel Rangel had two goals and two assists as the Wildcats rallied to beat the Sundevils.
Luis Hernandez also scored twice for Las Vegas, which trailed 2-0 at the half.
Victor Moran and Luis Gutierrez each scored once for Eldorado.
Faith Lutheran 3, Arbor View 2 — At Faith Lutheran, Abigay Gomez had a goal an assist as the Crusaders edged the Aggies.
Ari Sirvent and Jack Cowan each added one goal for Faith Lutheran.
Nicholas Walker and Arthur Medina scored for Arbor View.
Sunrise Mountain 4, Chaparral 2 — At Chaparral, Estiben Olandez had one goal and one assist for the Miners as they defeated the Cowboys.
Eric Guillen-Parente, Luis Luna and Angel Arreola each had one goal for the Miners. Sunrise Mountain goalkeeper Cristian Morales also stopped a penalty kick.
Alex Caro-Herrera and Emiliano Cortes scored for Chaparral.
Palo Verde 4, Bonanza 1 — At Bonanza, Michael Vogel had a goal and an assist to lead the Panthers over the Bengals.
Tanner Stevenson, Michael Venezia and Luis Flores each had one goal for Palo Verde.
Carlos Munoz scored Bonanza's goal.
Cimarron-Memorial 6, Desert Pines 2 — At Cimarron, Jim Villasenor had two goals and an assist as the Spartans defeated the Jaguars.
George Balcazar had a goal and an assist, and Philip Obradovic, Fernando Pito Gonzalez and Fernado Arevalo each added a goal for Cimarron.
Dylan Crosby-Moghadam had two assists for the Spartans.
Joel Sanchez scored twice for Desert Pines.
Centennial 4, Legacy 0 — At Legacy, Jordan Kennedy had one goal and one assist as the Bulldogs defeated the Longhorns.
Tyler Rogge, Armando Gutierrez and Michael Henry also scored for Centennial, which converted two penalty kicks.
Centennial's Brendin Lane made three saves to earn the shutout.
Moapa Valley 5, Virgin Valley 0 — At Mesquite, Sebastean Gutierrez had two goals as the Pirates defeated the Bulldogs.
Zach Bailey, Bryan Robles and Gerson Cottam each scored a goal for Moapa Valley.
Sky Pointe 2, Boulder City 0 — At Sky Pointe, Sebastian St. Jules had 15 saves to lead Sky Pointe to victory.
St. Jules has 150 saves on the season.
Steven Obi and Don Jean-Francois each had one goal for Sky Pointe.
Rancho 12, Cheyenne 0 — At Rancho, Santiago Gutierrez had four goals as the Rams routed the Desert Shields.
Jesus Vega and Sergio Reyes each added two goals, and Jorge Avalos, Douglas Vasquez, Samuel Soto and Arturo Reveles-De La Cruz each scored once for Rancho.
Oziel Serrano was credited with the shutout.
Box scores:
Cimarron-Memorial 6, Desert Pines 2
Faith Lutheran 3, Arbor View 2
Moapa Valley 5, Virgin Valley 0
Shadow Ridge 1, Canyon Springs 0
Sunrise Mountain 4, Chaparral 2