Roundup: Palo Verde wins clash with Eldorado
September 24, 2018 - 8:38 pm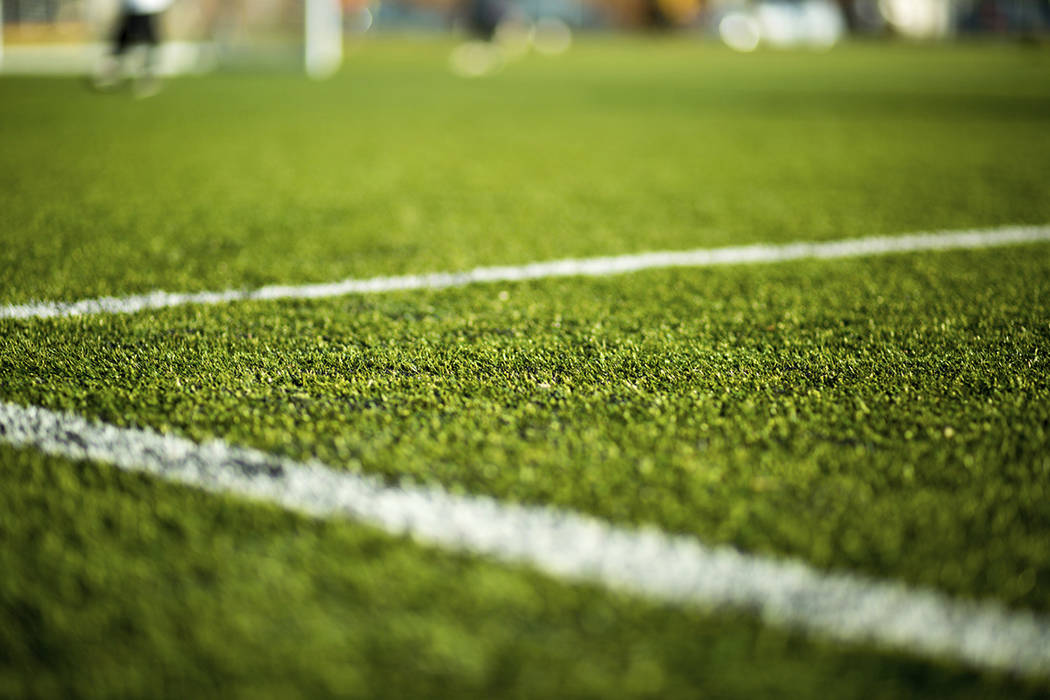 Palo Verde's boys soccer team scored two first-half goals Monday to defeat host Eldorado, 3-2.
Palo Verde is ranked No. 22 in the country by USA Today. Eldorado was ranked No. 8 in USA Today's West Region at last week's update.
Palo Verde's Anthony Kaskie had one goal and one assist, and Tanner Stevenson and Michael Vogel each scored one goal for the Panthers.
Roberto Gonzalez and Francisco Ulloa-Tapia each scored once for the Sundevils.
Chaparral 2, Sunrise Mountain 2 — At Sunrise Mountain, the Cowboys rallied to score two second-half goals to tie the Miners.
Alexander Caro-Herrera and Tiesen Meider each had a goal for Chaparral.
Jonzo Jimenez-Vasquez and Angel Arreola each scored once for Sunrise Mountain, which took a 2-0 lead.
Las Vegas 3, Rancho 1 — At Rancho, the Wildcats scored two second-half goals to pull away from the Rams.
Drew Bowden, Daniel Rangel and Sergio Aguayo each scored for Las Vegas.
Santiago Gutierrez scored Rancho's goal.
Cimarron-Memorial 4, Shadow Ridge 1 — At Cimarron, Fernando Arevalo had three assists as the Spartans knocked off the Mustangs.
George Balcazar, Jimi Villasenor, Diego Zacarias and Fernando Pito-Gonzalez each scored once for Cimarron.
Elijah Casperson-Lopez scored for Shadow Ridge.
Liberty 5, Durango 2 — At Liberty, Hayden Prasad scored three goals as the Patriots defeated the Trailblazers in the continuation of a game suspended on Sept. 15.
David Leon and Quinn Rankin each had a goal for Liberty.
Tyson Tesfamariam and Jose Alcocer scored for Durango.
Moapa Valley 4, Virgin Valley 1 — At Overton, Erik Monsvoll had one goal as the Pirates took down the Bulldogs.
Sebastean Gutierrez also had one goal for Moapa Valley.
Tristan Oliver had Virgin Valley's lone goal.
Centennial 4, Desert Pines 0 — At Centennial, Brendin Lane made four saves to preserve the shutout and help the Bulldogs beat the Jaguars.
Guillermo Milan, Armando Gutierrez, Daniel Torres and Ariel Garcia each had a goal for Centennial.
Bonanza 7, Legacy 0 — At Legacy, Luis Antonio and Efrain Mayorga each scored twice as the Bengals routed the Longhorns.
Jonas Bryant had a goal and an assist for Bonanza, and Diego Chavez and Alex Kiss each scored once for the Bengals.
Bonanza's Martin Rodriguez-Gutierrez had two assists.
Arbor View 8, Cheyenne 0 — At Arbor View, Arthur Medina's hat trick powered the Aggies over the Desert Shields.
Christopher Ross had two goals and an assist for, and Ricardo Mogollon had a goal and four assists for Arbor View.
Ethan Boone had a goal and an assist, Maddox Gallia had a goal, and Travis Scheilin made two saves in the shutout for the Aggies.
Boulder City 1, Sky Pointe 0 — At Boulder City, Boulder City scored a second-half goal to beat Sky Pointe.
Box scores:
Chaparral 2, Sunrise Mountain 2
Cimarron-Memorial 4, Shadow Ridge 1
Moapa Valley 4, Virgin Valley 1