FALL ATHLETES: Versatile Westover sets tone for Gators
January 9, 2013 - 11:15 pm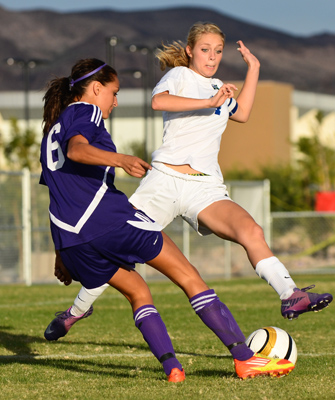 Roy Snyder distinctly remembers the moment his Green Valley girls soccer team trailed Coronado 1-0 in the Sunrise Region championship match in November.
With standout defender Nicole Westover out for much of the first half with a shoulder injury, Snyder wasn't sure she could return.
"The athletic trainer said, 'I don't think she's going to be able to go,' so she sat the next 20 minutes," Snyder said. "I looked at her after and said, 'Can you go?' She said, 'Put me in the game.' So we put her back in."
Snyder shifted his senior to forward, and with 12 minutes remaining in the match she contributed the game-tying assist. Six minutes later, Westover, back on defense, stole a pass and sailed the ball up field on a play that culminated in the Gators' game-winning goal.
The center back, who couldn't move her arm after the victory and begged teammates not to offer her any congratulatory embraces, appeared at the next practice to prepare for the state tournament.
"That's the kind of kid she is," Snyder said. "She doesn't take breaks. She doesn't make excuses. She plays through everything. You can't ask for more."
Westover has been named the Division I Girls Soccer Player of the Year as part of the Las Vegas Review-Journal's Fall Athletes of the Year.
"It means a lot to me," said Westover, who will play next season at UNLV. "It values how much work and effort I put into soccer the past couple of years. I had self-motivation because I couldn't play with my normal club team. I wanted to make this year memorable."
Despite bowing out to Arbor View in the state final on penalty kicks, Green Valley finished 17-0-3 and went 10-0 in Northeast League play. Westover piloted a defense that allowed six goals and registered 14 shutouts.
"What really sets her apart is how complete of a player she is," Snyder said. "There are a lot of players that are big and strong and physical defenders, but they don't have the speed or are maybe not as good in the air. She really brings that whole package together."
The versatile 5-foot-7-inch player, who had 13 shutouts as a goalkeeper her freshman year, consistently provided a dual threat on defense, scoring six goals and adding two assists on the season.
"She's a very dynamic athlete," Snyder said. "She can play virtually anywhere on the field. She turned that into goal-scoring opportunities."
Westover also earned a spot on the National Soccer Coaches Association of America All-America team. She was one of six defenders named to the 81-player team and the second Green Valley player to be chosen. The other honoree is current Brigham Young star Kayla Varner, who was selected twice.
"It's an honor to coach a player like that," Snyder said of Westover. "It's tough for a defender to get an honor like that. There aren't a lot of stats for defenders. Every goal scorer we played against this year just got shut down, and we played against a lot of great attacking players."