Roundup: Carmen Endicott's late goal forces draw for Arbor View
October 2, 2018 - 8:57 pm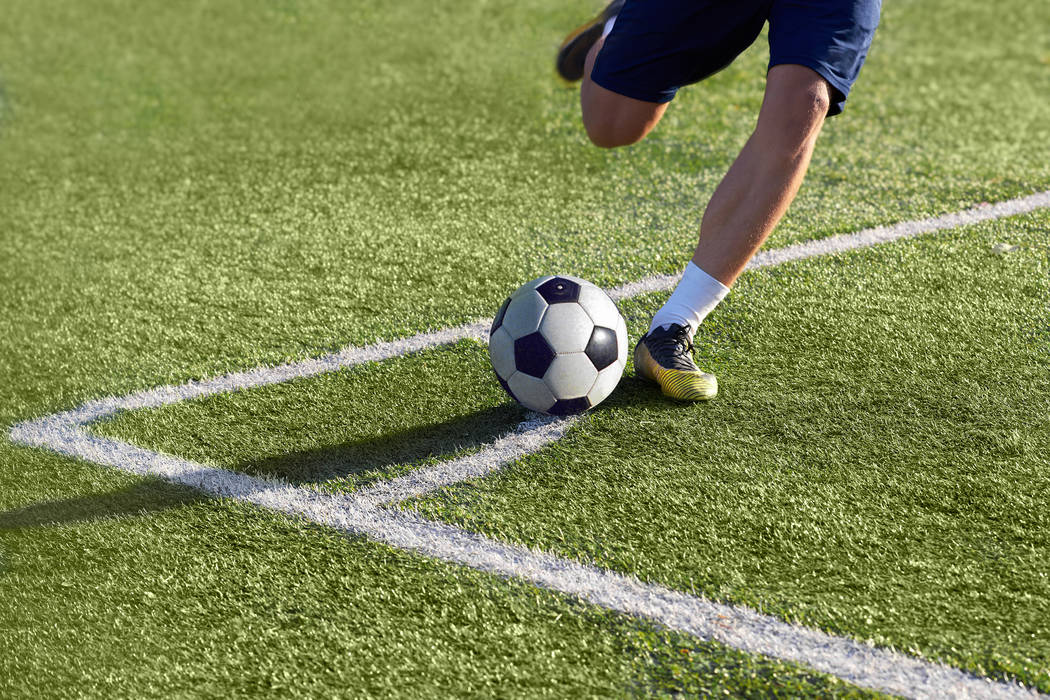 Arbor View's Carmen Endicott scored on an assist from Abby Casano three minutes into stoppage time, and the Aggies' girls soccer team erased a two-goal deficit and tied with visiting Centennial on Tuesday, 3-3.
Marcella Brooks scored off her own penalty kick rebound with a header in the 50th minute, and added a second goal two minutes later off an assist from Quincy Bonds to put Centennial up 2-0.
Preshus McCraney scored on a penalty kick for Arbor View to cut the lead to 2-1, before Brooks scored her third goal unassisted.
McCraney scored her second in the 75th minute for the Aggies.
Las Vegas 2, Bonanza 1 — At Bonanza, Veronica Eslava scored in the final 15 minutes to give the Wildcats the win over the Bengals.
Maria Hernandez added a goal for Las Vegas, which trailed 1-0 at the half.
Ashley Vasquez scored for Bonanza.
Canyon Springs 3, Cheyenne 0 — At Cheyenne, Mallory Arnold, Paulina Salazar, and Herminia Constanza each scored once, and the Pioneers blanked the Desert Shields.
Cheyenne goalkeeper Verenice Cruz-Lopez earned the shutout.
Sunrise Mountain 3, Boulder City 2 — At Boulder City, the Miners defeated the Eagles.
Madison Manns sand Sophia Legat each scored a goal for Boulder City.
Legacy 4, Cimarron-Memorial 0 — At Legacy, Isabella Skrinjaric and Gabriella Lancaster each scored twice to power the Longhorns over the Spartans.
Reina Pizano made three saves to earn the shutout.
Moapa Valley 4, Chaparral 0 — At Chaparral, Italia Bracamontes scored twice as the Pirates shut out the Cowboys.
Lainey Cornwall added a goal and an assist, and Makayla Baldwin scored once for Moapa Valley.
Kyra Larsen was credited with the shutout.
Shadow Ridge 5, Eldorado 0 — At Eldorado, Taylore Simmons had two goals and an assist as the Mustangs beat the Sundevils.
Taylor Lee added a goal and an assist, and Alysia Aspiazu and Bella Alacron each scored once for Shadow Ridge.
Reese Simmons had two assists for the Mustangs, and Cassandra Tolton and Tieg Simmons combined on the shutout.
Faith Lutheran 8, Rancho 0 — At Faith Lutheran, Amelia McManus scored three goals as the Crusaders beat the Rams.
Madison Sonerholm and Maggie Shuirman each had a goal and an assist, and Zoie Abdo, Hannah Thomas and Riley Divich each added a goal for Faith Lutheran.
Tori Peterson and Kennedy Lazenby each had two assists, and Naia Mesalic had one save to get the shutout for the Crusaders.
Palo Verde 8, Desert Pines 0 — At Palo Verde, Kassidy Sayles and Carlee Giammona each supplied three goals to power the Panthers past the Jaguars.
Ariana Virella and Holly Lindholm each added a goal for Palo Verde, which got two assists from Taylor Crouch.
Virgin Valley 6, Sky Pointe 1 — At Sky Pointe, Rainee Brito scored three goals as the Bulldogs beat the Eagles.
Dani Correa added a goal and an assist, and Jaymie Hulet and Sarah Barnum each scored a goal for Virgin Valley.
Natalia Zarate added two assists for the Bulldogs.
Box scores:
Sunrise Mountain 3, Boulder City 2