Roundup: Laura Barraza nets game-winner for Clark
October 24, 2017 - 8:25 pm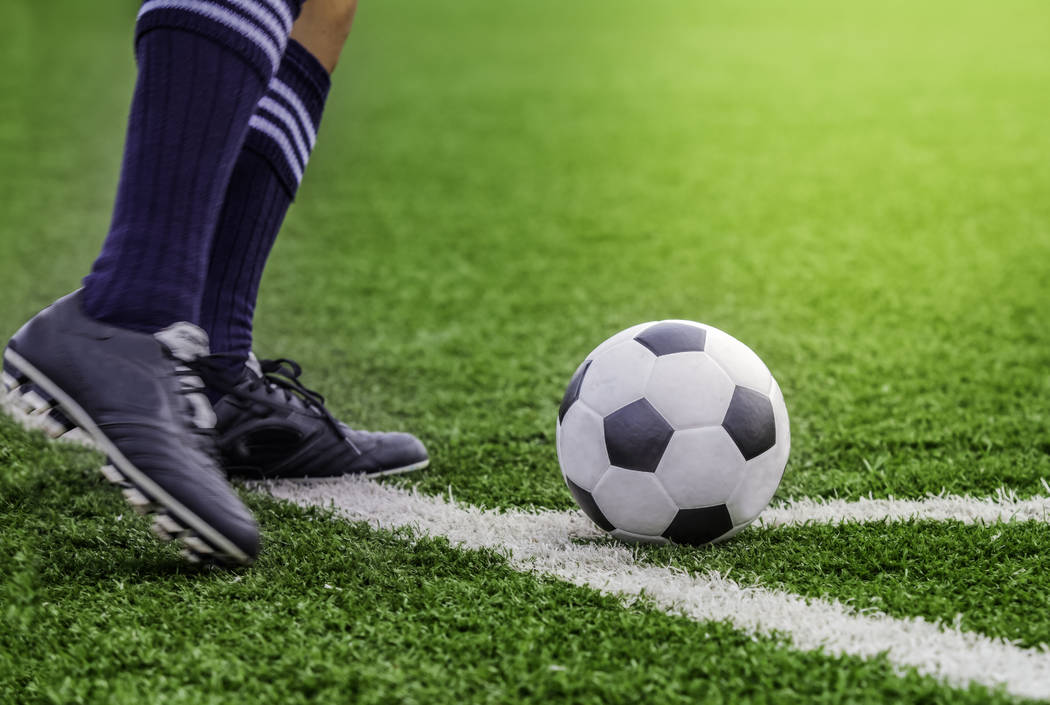 Laura Barraza scored the game-winning goal with seven minutes left Tuesday, helping Clark's girls soccer team storm back and edge visiting Virgin Valley, 3-2.
Taylor Clark and Dabani Rayo each scored a goal, and Jacqueline Gonzalez-Blanco supplied an assist for Clark, which scored all of its goals in the second half.
Rainee Brito scored both goals for Virgin Valley, which led 2-0 at halftime.
Coronado 2, Liberty 0 — At Coronado, Katelyn Moxley and Simone Hottentot each scored to lead the Cougars over the Patriots.
Taylor Book recorded the shutout.
Boulder City 2, Del Sol 0 — At Del Sol, Taylor Tenney and Makenna Arboreen scored in the Eagles' victory over the Dragons.
Erin Taggard and Lily Gibson each made two saves to combine on the shutout.
Moapa Valley 4, Somerset-Sky Pointe 1 — At Overton, Christie Eriksen had three goals and an assist as the Pirates topped the Eagles.
Alexis Schraft had a goal and an assist, and teammate Isabella Robins scored for Moapa Valley.
Sierra Staheli scored for Somerset-Sky Pointe.
Green Valley 4, Silverado 0 — At Silverado, Taylor O'Neill and Isabel Madrid each had a goal and an assist to power the Gators over the Skyhawks.
Nadia Campbell and Devyn Parsons also had a goal for the Gators, who scored all their goals in the first half.
Ryan Sabol made two saves in the shutout.
Sierra Vista 4, Durango 0 — At Sierra Vista, four Mountain Lions scored in their shutout of the Trailblazers.
Kayla Sanguinetti, Isabella Costa, Alexis McMurray and Lucy Gonzalez each had a goal for Sierra Vista.
Jamie Kalaau-Sunia made one save in the shutout.
Foothill 6, Basic 1 — At Basic, Gabby Anderson scored two goals to help the Falcons cruise past the Wolves.
Brooke Vokoun, Amber Vokoun, Kayla Reid, and Aqui Williams each added a goal for Foothill, which scored four second-half goals.
Sydnie Hopkins scored for Basic.
Bishop Gorman 7, Bonanza 1 — At Gorman, Gianna Gourley had two goals and an assist to lead the Gaels over the Bengals.
Sophie Baldizan, Kate Swanis and Jaden Terrana each had a goal and an assist for the Gaels, who also received goals from Jensen Garcia and Samantha Nieves.
Julia Cox scored Bonanza's goal.
Tech 8, Chaparral 0 — At Tech, Maria Galindo had two goals and two assists, and Analysa Zepeda scored twice as the Roadrunners routed the Cowboys.
Valerie Webb notched a goal and two assists for the Roadrunners, and Aranzta Ramirez, Litzi Olivares-Cortez, and Adriana Carrillo each supplied a goal.
Emily Sepulveda chipped in with two assists for the Roadrunners, and Chloe Dody picked up the shutout.
Desert Oasis 12, Spring Valley 0 — At Spring Valley, Endya Scott notched three goals and two assists, Jacey Wood had two goals and an assist, and Alexandra Houston tallied a goal and four assists as the Diamondbacks dominated the Grizzlies.
Ashley Wood scored twice for the Diamondbacks. Audrey Dunn and Ana Gonzalez had a goal and an assist, and Adriana Gonzalez and Miah Strellnauer each scored a goal.
Goalkeepers Kelsey LeBouef and Mikayla Anderson shared the shutout for the Diamondbacks, who led 9-0 at halftime.
Box scores:
Desert Oasis 12, Spring Valley 0
Moapa Valley 4, Somerset-Sky Pointe 1