DIVISION FINALS: Gators' Rogers shatters personal record, wins Southeast boys race
October 17, 2015 - 4:46 pm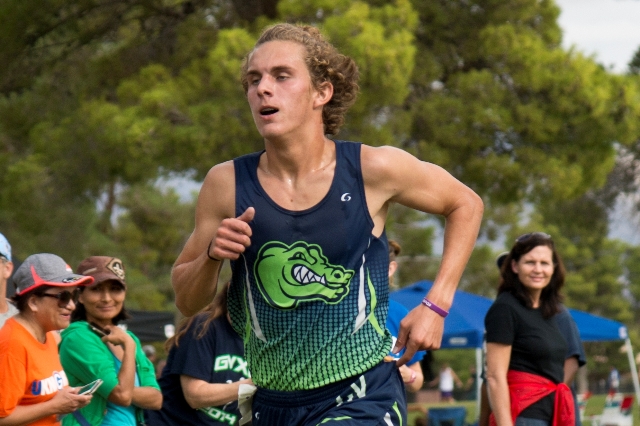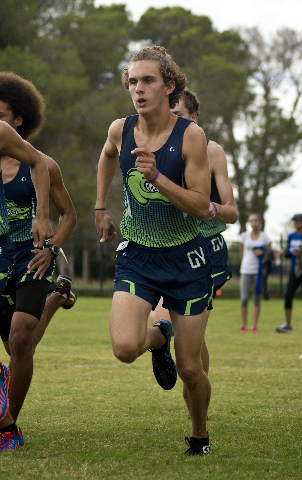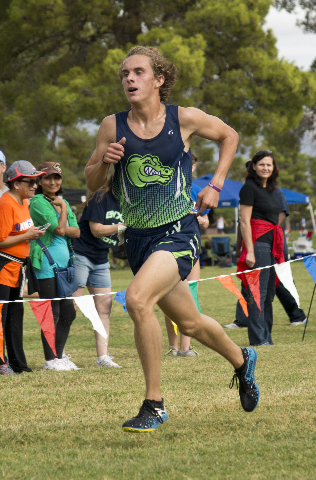 Green Valley's Austin Rogers has been aiming all season long to run a 3.1-mile course in less than 16 minutes.
The senior finally got his wish Saturday morning in a tune-up for the postseason.
Rogers covered a 3.1-mile course in 15 minutes, 45.2 seconds, posting the day's second fastest time, to win the Southeast League finals at Craig Ranch Park. He bettered his personal record by nearly 20 seconds.
"I had not run this before, but it was a great course. It was really flat," Rogers said. "It was a little muddy everywhere from the rain, but it wasn't bad. …
"This really boosted my confidence. I've been trying to go sub-16 (minutes) this whole year. Some races you can't because it's a little hilly and sandy, but this race was fast. I'm feeling really confident going into region and state."
Faith Lutheran senior Chase Wood crossed the finish line in 15:44.9 to grab the top time and win the Division I-A Sunset League race. Palo Verde junior Emma Wahlenmaier had the girls' best finish in 19:12.8 to win the Southwest League race.
Rogers, who is the favorite to win the Division I Sunrise Region meet, said he wanted to gain some momentum in his last regular-season race of the year.
He did that by winning in convincing fashion.
Rogers raced to the front of the pack after the first half-mile and gradually built his lead to come away with the win. Teammate Leonardo Rubi was second in 16:26.3.
"I would say I was out in the front at about 800 meters," Rogers said. "That was kind of my plan coming into today. I wanted to get ready for state and region and kind of get used to going out fast."
Despite not hearing his time being called out, Rogers reached the mile checkpoint in 4:50.
"It was a little faster, but that's what I wanted today," Rogers said of his mile time. "I actually didn't hear it at all. At that point, I was feeling really good. My legs were a little tired, but that's going to happen the first mile."
Rogers also helped the Gators win the Southeast team competion with 27 points. Basic was second with 35, followed by Coronado (70), Rancho (115) and Eldorado (155).
Liberty boys won the Northeast with 44 points. Centennial (35 points) was first in the Northwest, and Palo Verde (35) won the Southwest.
Faith Lutheran finished with 40 points to edge Clark (48) and win the Sunset League, and Tech won the Sunrise with 36 points.
In Division I girls, Liberty (36 points) won the Northeast; Coronado (37) took the Southeast; Centennial (15) was first in the Northwest; and Palo Verde (15) won the Southwest.
Faith Lutheran won the I-A Sunrise with 15 points, and Tech took the Sunrise side with 23 points.
Meet Summaries: