Shadow Ridge defeats Silverado in state title rematch — PHOTOS
Updated September 29, 2023 - 10:47 pm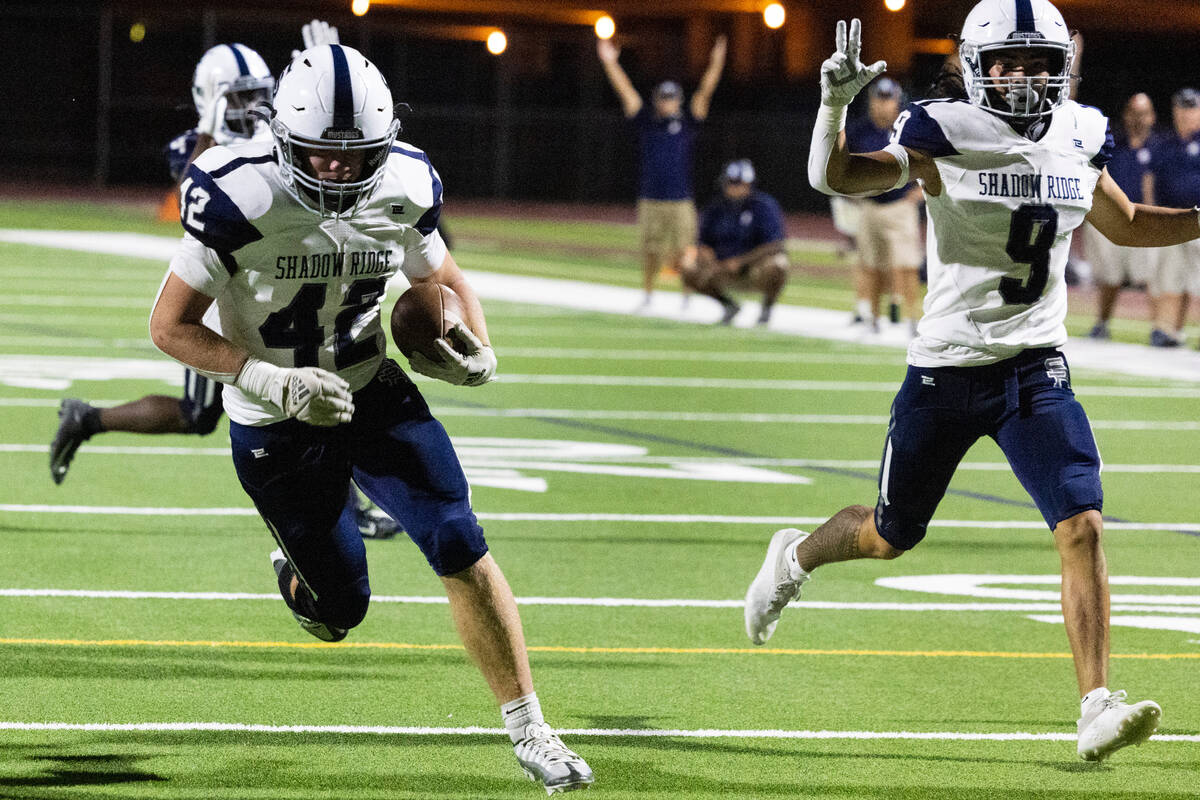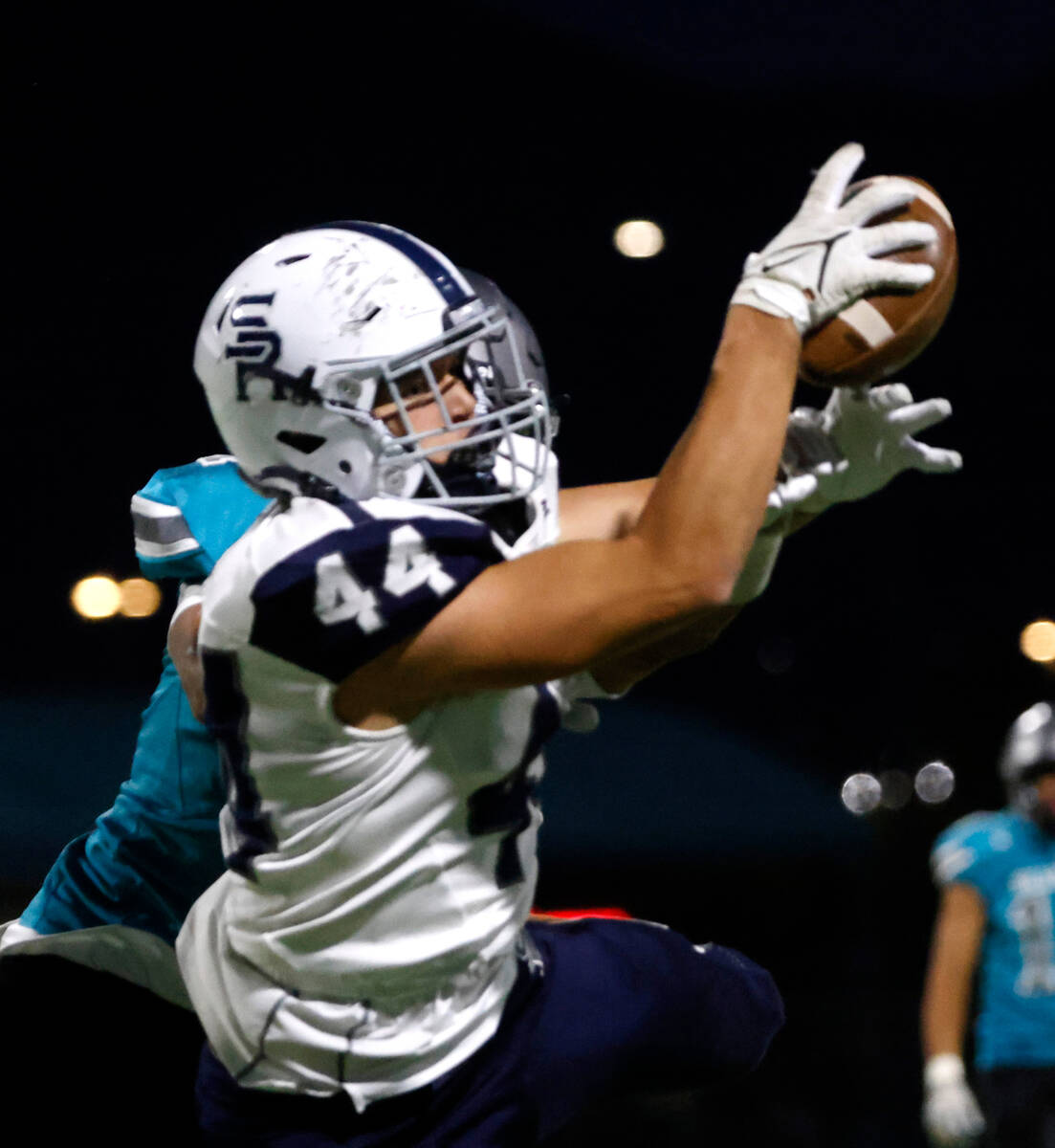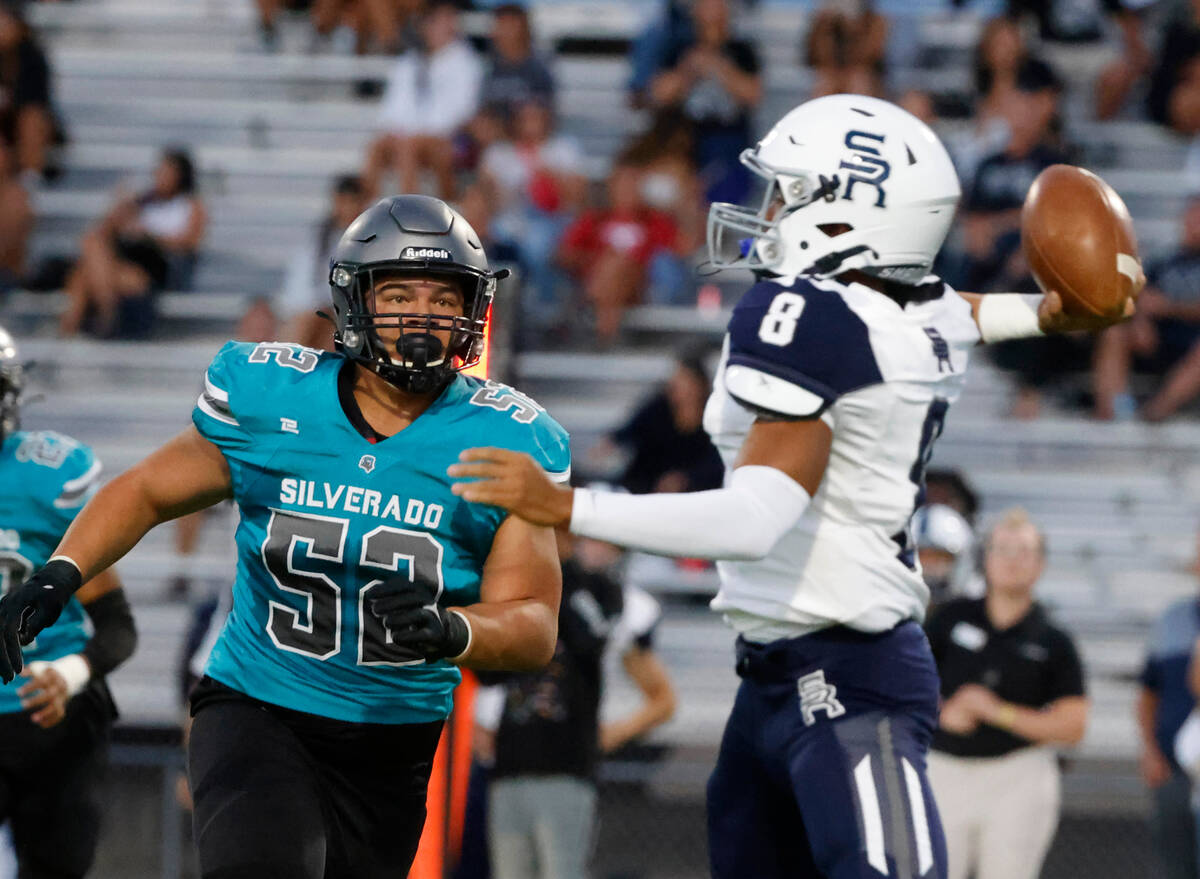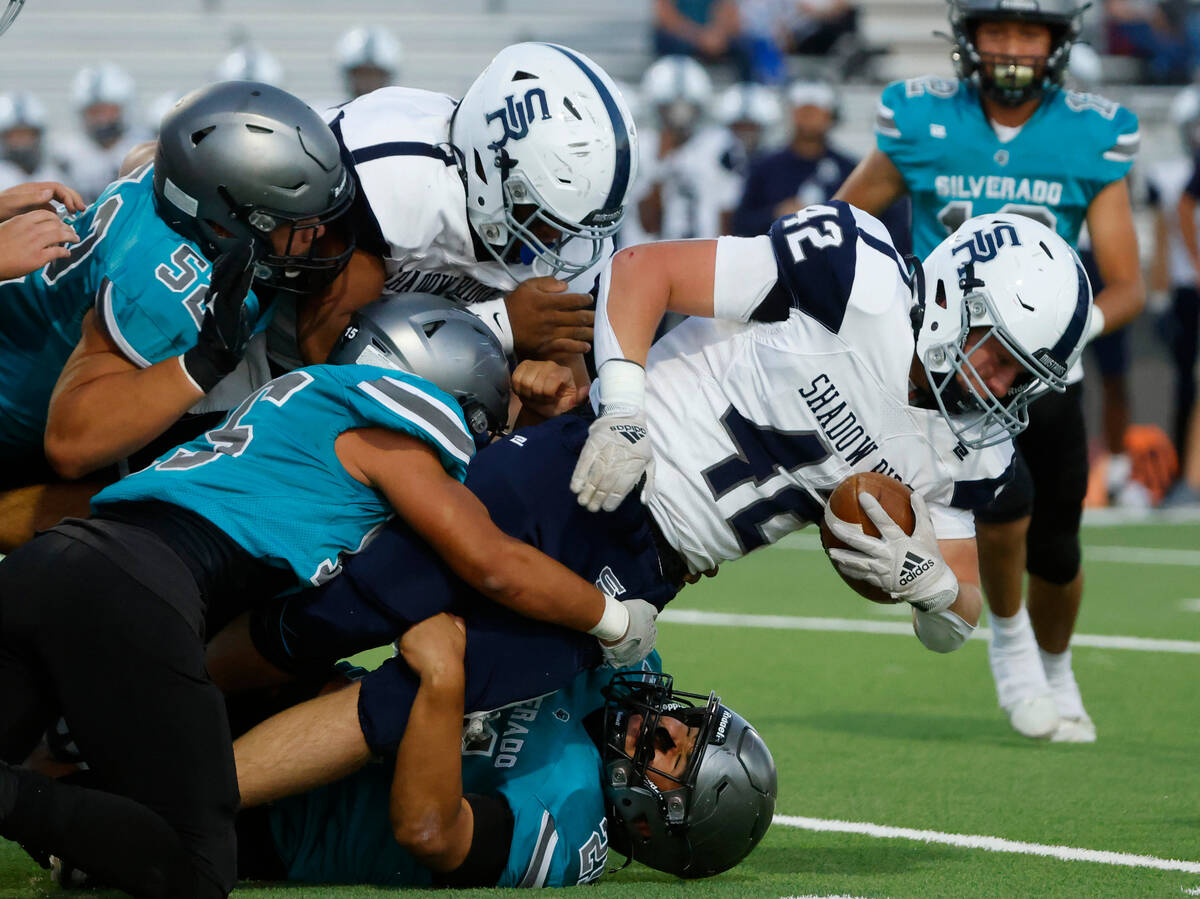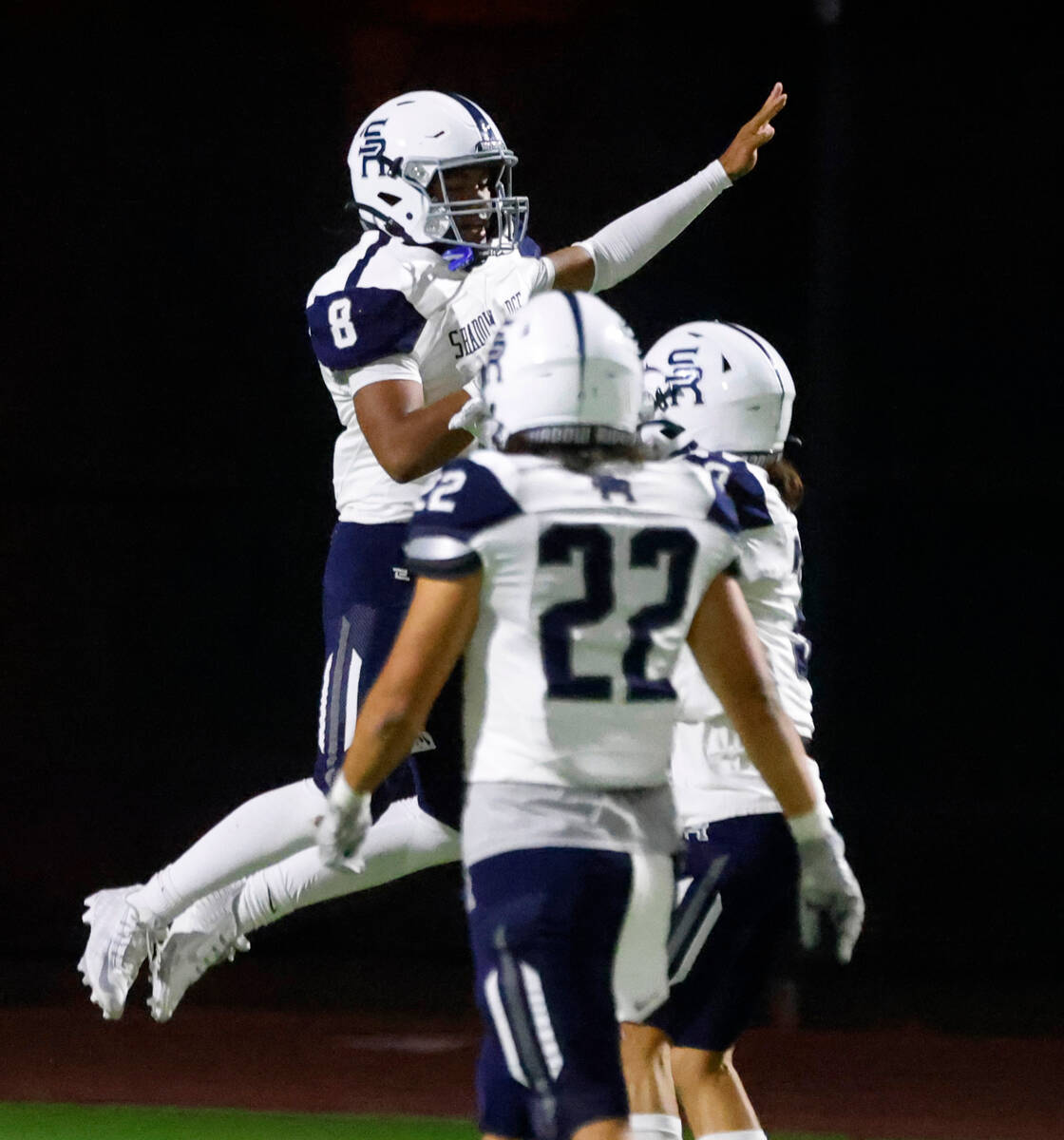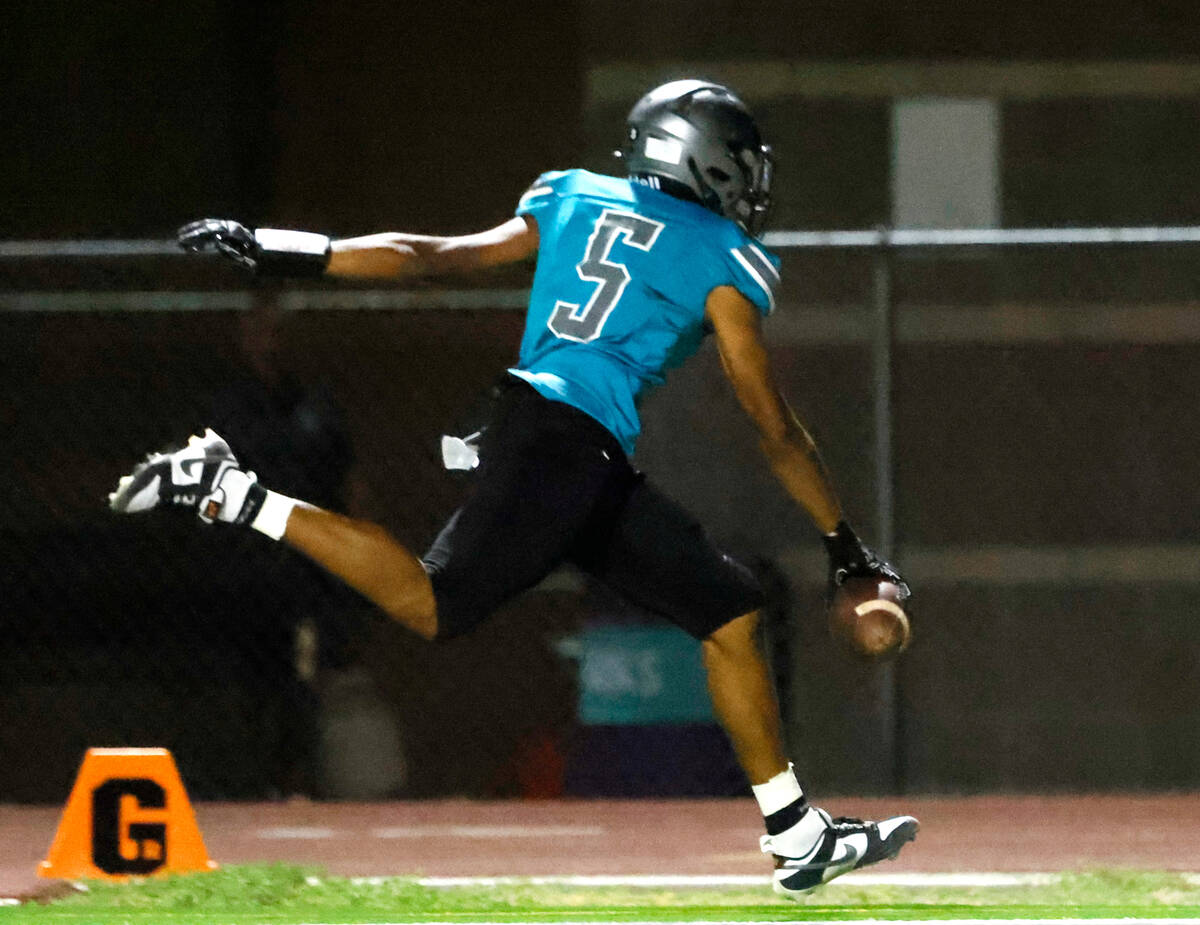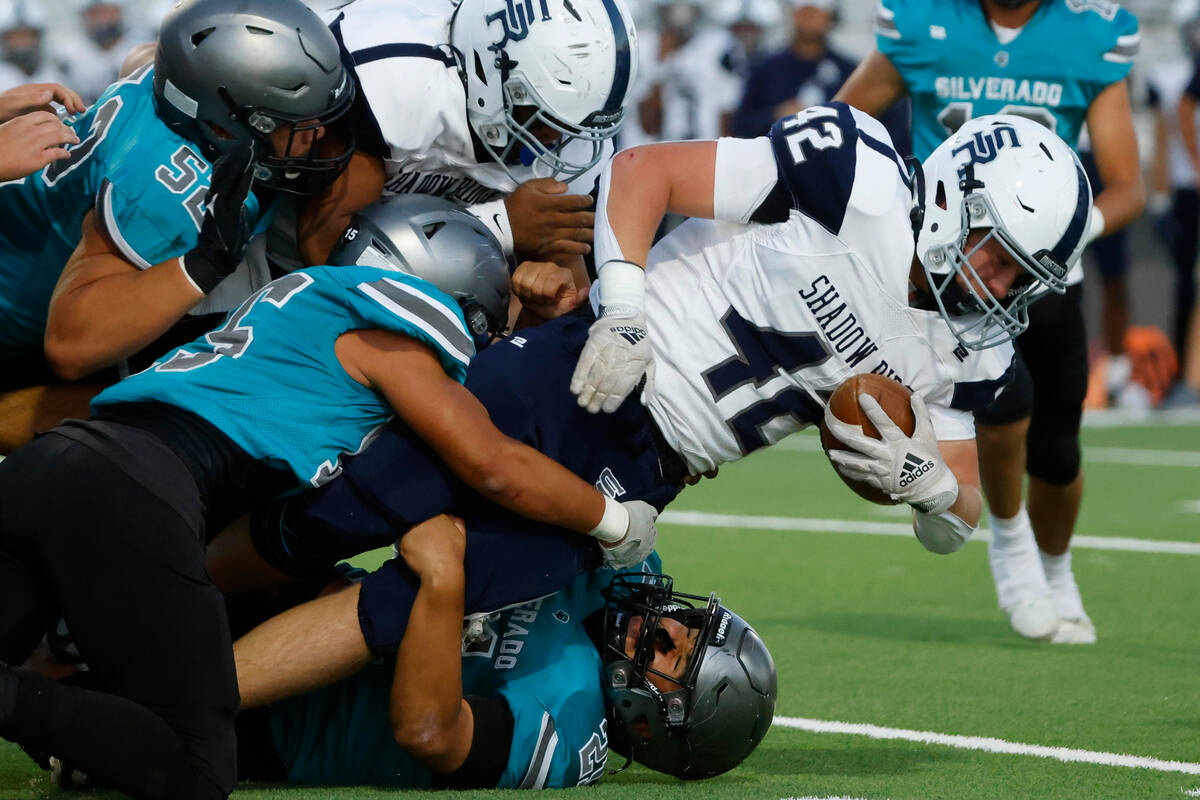 While Shadow Ridge's offense struggled to find consistency Friday night at Silverado, the Mustangs counted on their defense.
Leading by nine in the fourth quarter, the Mustangs came up with one more stop to seal a victory.
Shadow Ridge sacked Silverado quarterback Dillion Elliot on fourth down to force a turnover on downs, and the Mustangs, ranked No. 5 in the Review-Journal's Class 5A rankings, earned a 28-12 road win over Silverado in a rematch of the previous two Class 4A state title games, both won by the Skyhawks.
"They're a stout defense," Shadow Ridge coach Travis Foster said. "We kind of got a bead on (Silverado) in the second half, but our defense played lights out. Our defense was the story tonight."
Shadow Ridge (5-2, 2-2 Class 5A Division I) limited Silverado to 129 total yards of offense and five first downs while forcing seven three-and-outs.
Silverado (2-4, 0-3) had won the previous three matchups against Shadow Ridge.
After dominating 4A for the past two seasons, both programs were thrust into the state's top division following an eventful realignment process.
"This was a game they had circled for a really long time, so it was important for them to be able to come out on top tonight," Foster said.
Shadow Ridge senior quarterback Coen Coloma rushed for 154 yards and two touchdowns, and senior running back Evan Cannon had 128 rushing yards and two touchdowns.
"It felt amazing," said Cannon, who surpassed 1,000 career rushing yards. "We've lost three times to (Silverado) in the past, twice in the state championship game. Just to get a win on them was good revenge."
Silverado only trailed 7-0 at halftime and got a second-half spark from junior wide receiver D'Angelo Hagans, who returned a Shadow Ridge punt 55 yards for a touchdown. The Skyhawks missed the 2-point conversion and trailed 7-6.
Shadow Ridge responded on the ensuing possession with an 11-play, 68-yard drive that ended on Cannon's 9-yard touchdown run to push the lead to 14-6.
After forcing a three-and-out, the Mustangs quickly scored again when Coloma broke off a 59-yard touchdown on the first play of the drive just seconds into the fourth quarter.
"The big plays, we haven't really been that explosive this year," Foster said. "So to rip off a couple of long ones, that helps a lot."
Silverado cut into the deficit when Elliot found Hagans on a 30-yard touchdown pass to make it 21-12 after the Skyhawks missed the extra point.
The Skyhawks forced a Shadow Ridge three-and-out but couldn't answer, as Elliot was sacked on fourth down. After the stop, Coloma scored on a 3-yard run to finish off the win.
Shadow Ridge marched down the field with ease on the game's opening possession. The Mustangs rushed for 80 yards on six plays in less than two minutes, with a 5-yard touchdown run from Cannon capping off the drive.
Neither team found much success moving the ball most of the first half, with the teams combining for eight punts.
"Our defense kept getting three-and-outs," Foster said. "They stayed disciplined, stopped the run. Silverado is really run-heavy, and our kids played well up front."
Silverado's best chance came midway through the second quarter when senior defensive end Tau Epenisa recovered a Shadow Ridge fumble at the Mustangs' 36-yard line.
But a first-down Silverado run stuffed for no yards and a pass play that resulted in a loss of seven yards ended any chance the Skyhawks had to tie the score.
"(The defense) was massive," Cannon said. "They were getting the stops we needed. The offense, we didn't always get down there and complete the drive, but the defense would always step up."
After the punt, Shadow Ridge moved to Silverado's 20-yard line after Coloma connected on a 34-yard pass to senior tight end Aaron Coverdell, who made a leaping catch over a Silverado defender.
The Mustangs' chances to score quickly faded, as four offensive penalties stalled the drive as the first half expired.
Contact Alex Wright at awright@reviewjournal.com. Follow @AlexWright1028 on X.