Shelby Basso, Mikayla Berg key Basic softball win over Coronado
Updated April 6, 2018 - 9:43 pm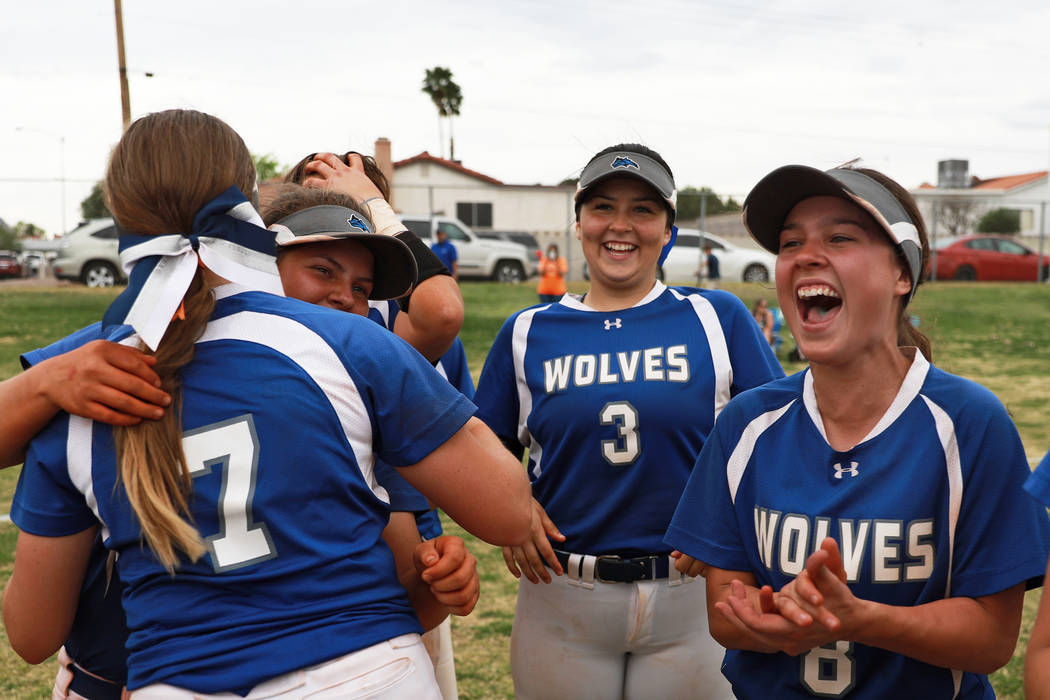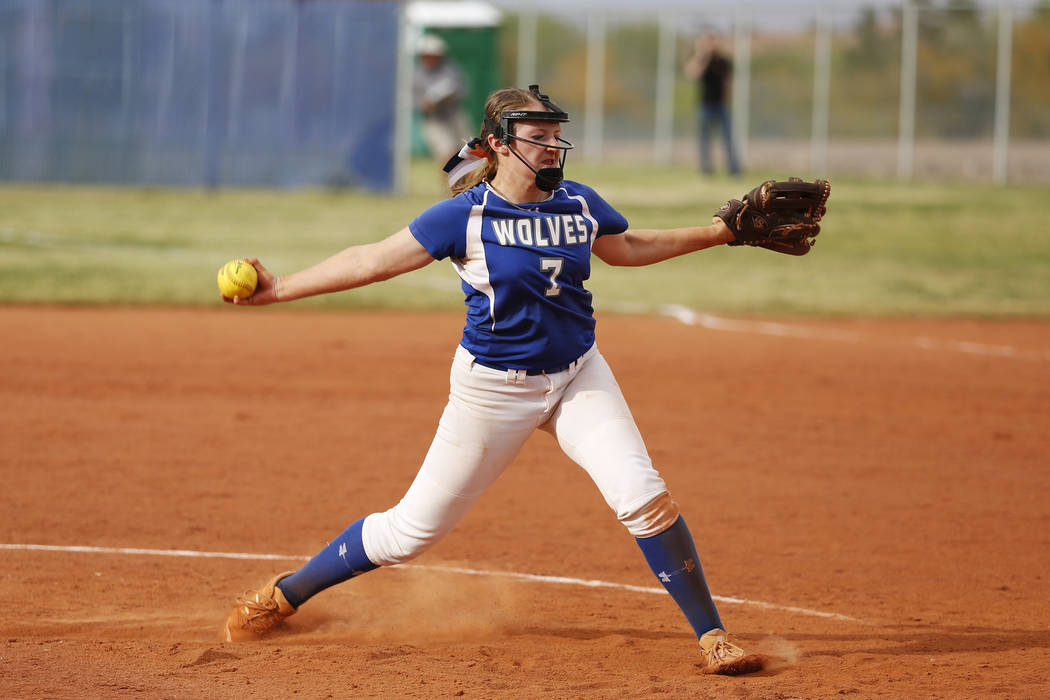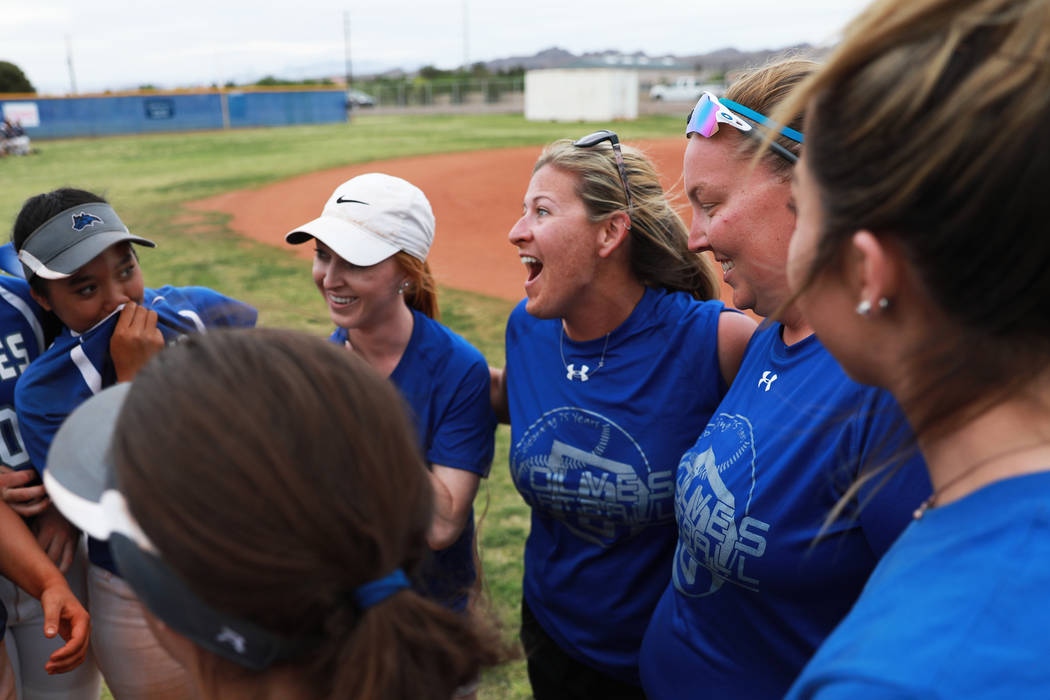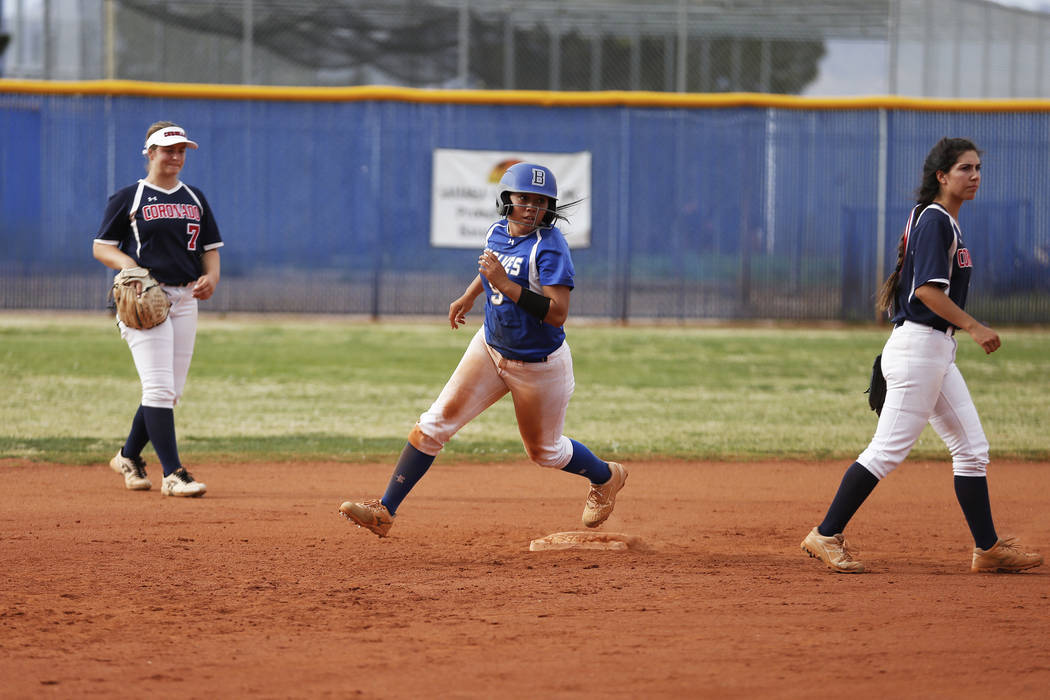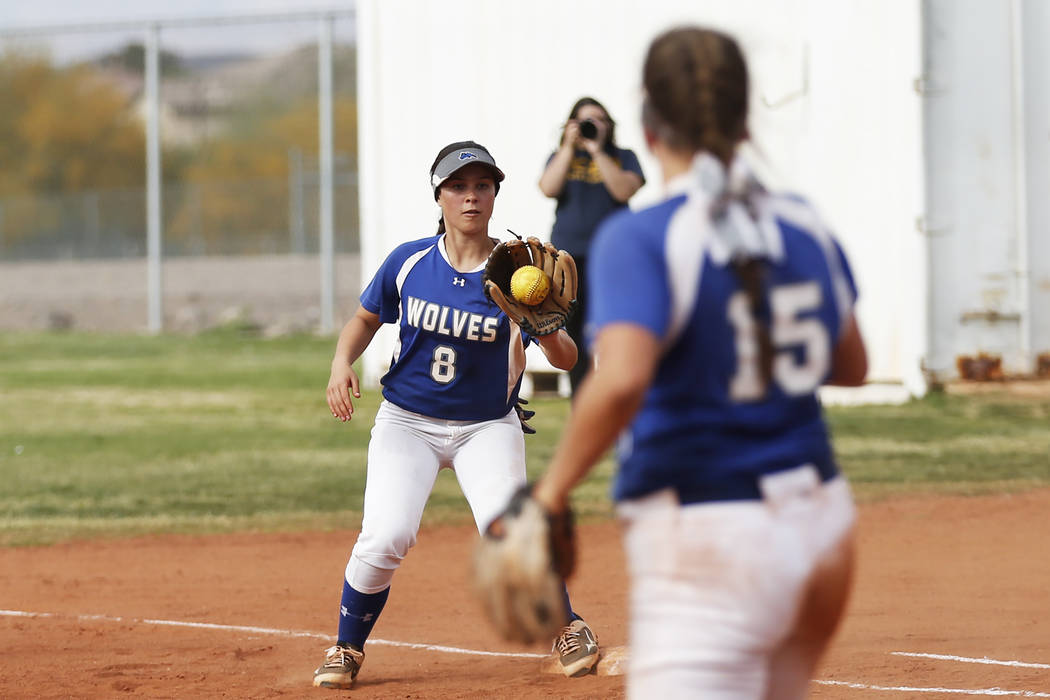 Basic softball coach Lauren Taylor quipped after Friday's home game that she thought her team was underrated. Even though the Wolves were undefeated in league play, she felt like because they hadn't played Coronado, they hadn't gotten the love they deserved.
They won't be flying under the radar for long.
Sophomore right-hander Shelby Basso pitched a complete game with eight strikeouts, and junior Mikayla Berg had two runs and a crucial two-RBI single to power the No. 6 Wolves to a 4-3 victory over defending Sunrise Region champion Coronado.
"They kind of look at us like we haven't played anybody," Taylor said. "Today's game was more about yes we can, we're here, and we're going to keep rolling forward."
It was the first time Basic defeated Coronado since April 20, 2012, a span of 11 games.
Coronado pounced to a 2-0 lead in the second, and with ace Tatum Spangler in the circle, things were looking good. She mowed down the Wolves in the bottom half of the inning on three strikeouts and started the third with a leadoff double.
But after that, it was all Wolves (11-6, 8-0 Sunrise League). Basso got out of the third unscathed, and then Basic's bats came alive.
Sanoe Helenihi singled with one out, Alyssa Ferguson reached on an error, and after a bunt, Berg knocked them both in with a two-out single to tie the game. She scored the go-ahead run on an error after Basso's single.
"I knew I had to do it for my team because I had to tie the game up," Berg said. "They're one of the best teams, this was one of the biggest games."
Basso looked like a different pitcher after that. She struck out the side in order in the fourth on 10 pitches, using a riseball the Cougars could not lay off. The Cougars hit two two-out doubles to tie the game in the fifth, but Berg walked and scored in the bottom half to restore the Wolves' lead.
In both innings Coronado scored, Basso responded with a quick shutout inning.
"The shutdown is really important because I wanted to keep my team calm," Basso said. "Having them regain confidence by doing something I love to do is just great."
Spangler pitched the distance for the Cougars (9-8, 5-2) and struck out 11. She did not allow an earned run.
It was the first time the Wolves defeated Spangler, who was the Sunrise League Pitcher of the Year and All-State first-team selection last season. She was 4-0 in her previous four appearances against Basic.
"You already know who she is before you come to the plate," Taylor said. "That mental aspect alone tends to mess sometimes with athletes, and fortunately for us we got in there and made it happen."
Contact Justin Emerson at jemerson@reviewjournal.com or (702) 387-2944. Follow @J15Emerson on Twitter.
Box score:
Friday's highlights
Baseball
— Trace Evans went 2-for-4 with a double and three RBIs, and Dominik Tavares was 3-for-4 with two runs to lead Basic to a 10-2 home win over Coronado.
— Green Valley's Gavin Amelburu and Jake Empey each hit two homers to lead the host Gators to a 19-7, six-inning win over Silverado.
— Edarian Williams was 2-for-3 with a double, home run and four RBIs to help Rancho to a 12-0, five-inning road win over Eldorado.
Softball
— Megan Johnson went 3-for-4 with two RBIs as visiting Silverado outslugged Green Valley 11-10.
— Moapa Valley's Sierra Harding went 2-for-3 with a triple and two RBIs to lead the visiting Pirates past Boulder City 5-2.
— Alexis Geraldo hit a two-run homer to help Durango to a 12-2, six-inning home win over Spring Valley.
For complete coverage, see nevadapreps.com