3A SOFTBALL: Moapa Valley wins twice to stun Pahrump Valley, earn first region title since 2001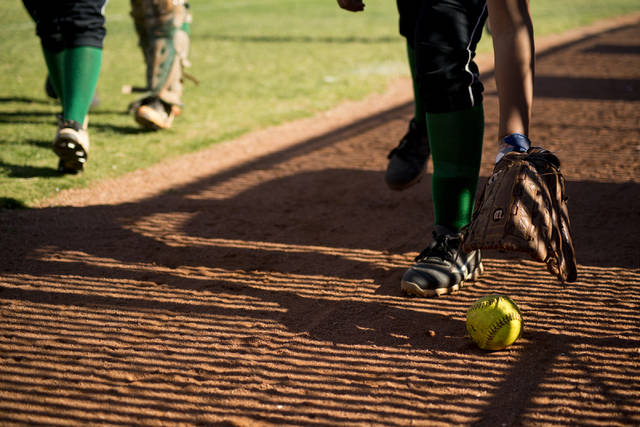 Considering the things his team had done in the previous four days, Moapa Valley softball coach Matt Messer was not at all uncomfortable heading into the bottom of the seventh inning with a two-run deficit on Saturday.
The Pirates rewarded their coach's faith by rallying to tie it in the seventh and scoring the winning run on a bases-loaded walk in the eighth to beat Pahrump Valley 6-5 in the championship game of the Class 3A Southern Region tournament.
It was the second come-from-behind victory of the day for Moapa Valley (22-11), which earlier scored three runs in the top of the seventh to rally past the Trojans, 6-5. Both teams advance to next week's state tournament, which starts Thursday at Faith Lutheran.
"These guys have done this all year," Messer said. "They were down on Tuesday and came back to win, and I was still skeptical last night (when the Pirates upset top-seeded Boulder City twice to advance). Today, I had no doubt that this was going to happen."
The most rewarding thing for Messer was the fact that his daughter, Aria Messer, forced in the winning run with a four-pitch walk.
"She had already won games for us two times this season with walk-off hits," he said. "This is the third time. As a father, what can you say?"
On Tuesday, Pahrump Valley grabbed control early with four runs in the first three innings. But Moapa Valley clawed back and closed the deficit to 5-3 with an RBI double by Kessa Evans in the fifth.
Pirates starter Emilie Barraza shut down the Trojans from there to set up the drama of the seventh, which Daesha Stastney and Aria Messer started with singles up the middle. Evans cut it to 5-4 with a bounce single to right field, and Barraza tied it with a one-out sacrifice fly.
After Barraza silenced the Trojans again in the top of the eighth, the Pirates loaded the bases with no outs in the bottom half of the inning. With one out, Aria Messer stepped to the plate.
"I had been in that situation before," said Aria Messer, who went 3-for-4. "I was ready to do whatever my team needed me to do."
She had the red light when she took Amaya Mendoza's final pitch, which sailed high to start the Moapa Valley celebration. It was the first region championship for the Pirates since 2001.
Jordan Egan had two doubles to lead Pahrump Valley (25-9).
Box scores:
Moapa Valley 6, Pahrump Valley 5
Moapa Valley 6, Pahrump Valley 5