Foothill squashes Silverado comeback with big seventh inning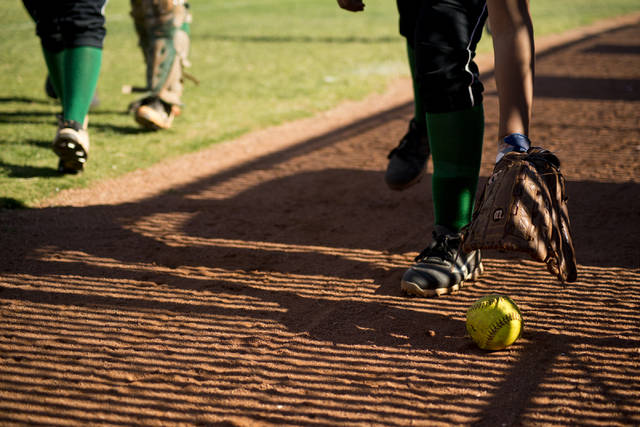 The Foothill Falcons softball team refused to play the part of the Atlanta Falcons on Friday afternoon.
After leading 11-0 in the fourth inning, the Falcons allowed Silverado to climb back into the game before using a big seventh inning to clinch a 20-9 win on the road.
Foothill (11-14, 8-5 Class 4A Sunrise League) was four outs away from ending the game early due to the 10-run rule but allowed the Skyhawks to string together enough hits to plate four in the fourth inning to keep their hopes alive.
"(The fourth) was an error inning. We made some errors and basically gave them a chance to get in," Football coach Tom Mayes said. "Once they saw that they had a chance, their momentum sparked up a little bit and it took us a little bit to take the wind out of their sails."
Silverado (10-11, 6-8) cut the lead to 12-9 heading to the seventh inning with freshman relief pitcher Katie Carder holding the Falcons to just two runs in her first two innings of relief.
By the seventh inning, Foothill's batters figured her out, exploding for two home runs and eight total runs to put the game out of reach for good.
"They brought in the left-hander, and the pace was a little bit different and it was a little bit of a different look, so it took a while to adjust to her," Mayes said. "In that last inning, she was trying to get it in and keep the ball down where we would hit some ground balls but she just didn't quite get the ball down enough. It was just in a spot where we could get a hold of it."
Freshman Leah Becker and senior Caitlyn Stevenson both hit two-run homers in the inning to highlight the crooked number the Falcons were able to put up. The home run for Becker was her only plate appearance of the day, while Stevenson's capped a 4-for-5 day with two doubles from the leadoff spot.
Junior Skylar Glaude was also 4-for-5 for the Falcons with a double and three RBIs.
This was the seventh straight game the Falcons have scored at least 10 runs, and the second time in that span they have put up a total of 20.
"I think at times it's just patience," Mayes said. "That's what I always try to tell them. You don't have to always swing at the first ball, you've got plenty of pitches to look at. So, I think once they start doing that, they start feeling a little better and seeing a little better and I think it's been paying off."
These teams last played last month at Foothill with the Skyhawks coming away with the 13-9 home victory. Getting one back on the Skyhawks on their home field was some extra motivation for Foothill.
"We said yesterday in practice that this was a big game for us," Mayes said. "It was basically going to lead us into what was going to happen in the next couple of weeks, whether or not we were going to have some momentum."
Contact reporter Bill Slane at bslane@reviewjournal.com or 702-380-4559. Follow @bill_slane on Twitter.
Box score: