SPRING JAMBOREE: Tireless Shelbi Denman sends Shadow Ridge into semifinals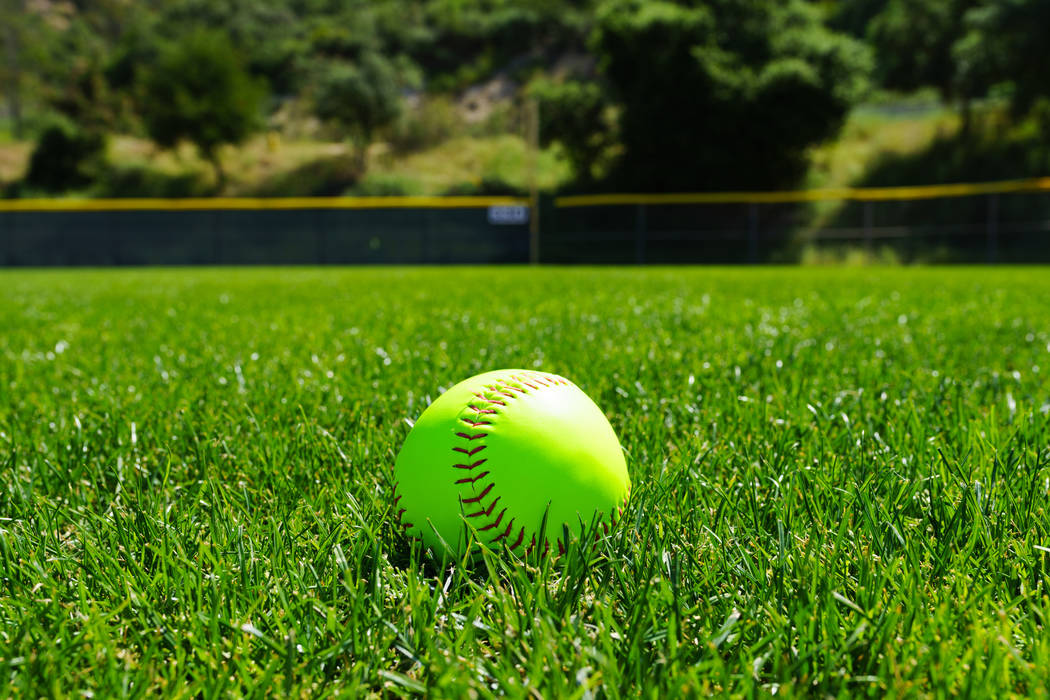 Shadow Ridge's Shelbi Denman estimated she threw 140 pitches in Friday's game against North Torrance (California).
She was close. She threw 157.
Regardless, Denman said she was heading home to ice her right arm after her complete game lifted the Mustangs' softball team to a 9-7 six-inning victory in the quarterfinals of the Spring Jamboree at Majestic Park.
"I'm willing to fight with my team, and my team is willing to fight with me in these games, and we have a blast with it," Denman said.
To say Friday's game was a wild one would be selling it short. Because the game reached its 90-minute time limit, the fifth inning became the final regulation inning, and the Saxons scored three in the bottom half to force an additional frame.
The Mustangs scored two quick runs in the sixth before Shea Clements gave her team some much needed insurance runs with a three-run homer.
"(I was) praying it was over," Clements said of her thought when the ball left the yard. "End it."
Unfortunately for the blood pressure of the Mustangs and their fans, it wasn't quite over. The Saxons bounced right back, scored two runs and loaded the bases with one out.
Denman proceeded to do what aces do, and recorded a strikeout, her eighth, and a flyout.
"I'm always nervous in those situations, but I've learned over the years to turn the nerves into a good thing, and turn it into an ambition to go good for my team," Denman said.
Alisha Schultz had a homer and double for the Mustangs. Jasmine Martin and Cierra Davis each added a double.
The win lifted the Mustangs to the semifinals against San Benito (California) at noon Saturday. Shadow Ridge is the last local team standing after Centennial and Palo Verde lost Friday.
It's a point of pride for the Mustangs, who lost the season-opening series to Palo Verde 2-1. It's something Denman has not forgotten.
"This was our way to come back and prove ourselves to Las Vegas after that one," she said.
Shadow Ridge 10, Lehi (Utah) 0 — Caitlyn Covington, Shea Clements and Jasmine Martin all belted homers as the Mustangs routed the Pioneers in five innings.
Alyssa Stanley was 2-for-4 with a triple for the Mustangs, and Maddie Wills was 3-for-3 with a double.
Shelbi Denman fired a two-hitter for Shadow Ridge.
Desert Oasis 5, Maranatha (Calif.) 2 — Elsy Guzman tripled and had two RBIs and tossed six strong innings to lead the Diamondbacks past the Minutemen.
Meagan Anders added a double for Desert Oasis, which scored four runs in the bottom of the fifth to take the lead.
Desert Oasis 12, Poly (Calif.) 6 — Makayla Rickard homered, and the Diamondbacks used a seven-run seventh inning to pull away the Parrots.
Izriah Hodson, Meagan Anders and Haile Jaramillo all doubled for Desert Oasis, which broke a 4-4 tie with a run in the top of the sixth.
Sierra Vista 8, Carson (Calif.) 5 — Mia Buranamontri was 3-for-3 with a double as the Mountain Lions took down the Colts.
Sierra Vista's Jessica Schneider was 2-for-3 with a double. Aaliyah Medina was 2-for-3 and Kalei Watkins doubled for the Mountain Lions.
Sierra Vista 8, Calexico (Calif.) 5 — Kalei Watkins, Ryan Watkins and Rosalia Nakayama each homered to power the Mountain Lions over the Bulldogs.
Kalei Watkins also pitched a complete game to earn the win.
Centennial 5, South Torrance (Calif.) 1 — Haylee Lupinetti drilled a two-RBI single in the second inning to provide all the scoring the Bulldogs would need to defeat the Spartans in five innings.
Amanda Sink tossed a complete game with seven strikeouts for the Bulldogs, and Kiana Tate, Skyler Ball and Jillian Bartley all doubled.
Alyssa Podhurcak homered for South Torrance.
San Benito (Calif.) 2, Centennial 0 — Kiana Tate doubled for the Bulldogs, but they fell to the Haybalers.
Cathedral Catholic (Calif.) 9, Palo Verde 4 — Cara Beatty hit a two-run home run in the first inning for the Panthers, but they could not hold on and fell to the Dons and star pitcher Megan Faraimo in six innings.
Faraimo, a UCLA-bound junior ranked No. 2 in her class by FloSoftball.com, had not allowed a homer all season before Beatty's blast. Faraimo pitched a complete game and struck out six.
The Panthers pounded out eight hits and five extra-base hits, including a triple from Ally Snelling and doubles from Makall Whetten, Lauryn Barker and Makenna Martin.
Whetten finished 3-for-3 with two runs scored.
The Dons scored all their runs in the third and fourth innings, highlighted by homers from Kaelene Walter and Jayden Cunningham. Faraimo had a pair of doubles at the plate and knocked in three runs.
Palo Verde 5, Granada Hills (Calif.) 2 — Richmond Garcia bashed a homer as the Panthers took down the Highlanders in six innings.
Ally Snelling doubled and had two RBIs for the Panthers, Makall Whetten doubled and Jessica Nimmo hit a triple.
Basic 11, Bell (Calif.) 5 — Sanoe Helenihi went 2-for-2 with a home run and two RBIs to lead the Wolves to a four-inning victory over the Eagles.
Lauren Powell was 1-for-1 with a double for Basic, which put up eight runs in the first inning.
Wolves starter Shelby Basso pitched a scoreless two innings to earn the win as the starter.
Mingus (Ariz.) 13, Basic 8 — Helenihi was 3-for-3 with a double, home run and two RBIs in the Wolves' loss to the Marauders in five innings.
Alyssa Ferguson was 2-for-3 with a double and two RBIs, and Basso was 1-for-3 with a two-run double for Basic, which trailed 8-2 after the first inning.
Green Valley 9, Pahrump Valley 8 — Katrina Ramos was 3-for-3 with a double, and the Gators scored in the bottom of the fourth to edge the Trojans in four innings.
Ramos, Cinthia Garcia, Tyre Hilton and Jalen Jones all hit doubles for Green Valley.
Ramos came on in relief in the top of the fourth and secured two key outs.
Taylor Egan and Jackie Stobbe both tripled for Pahrump Valley in the loss.
Liberty 18, Fernley 7 — Cali Christopher hit a grand slam and finished with five RBIs, and the Patriots dropped the Vaqueros in five innings.
McKenna Hefley added a three-run home run, and Breanna Alvarez, Marisa Olmos and Jasmine Gonzalez all doubled for Liberty.
Box scores:
Cathedral Catholic (Calif.) 9, Palo Verde 4
Centennial 5, South Torrance (Calif.) 1
Desert Oasis 5, Maranatha (Calif.) 2
Desert Oasis 12, Poly (Calif.) 6
Green Valley 9, Pahrump Valley 8
Palo Verde 5, Granada Hills (Calif.) 2
San Benito (Calif.) 2, Centennial 0
Shadow Ridge 10, Lehi (Utah) 0
Shadow Ridge 9, North Torrance (Calif.) 7
Sierra Vista 8, Carson (Calif.) 5
Sierra Vista 8, Calexico (Calif.) 5