STATE TRACK: Faith Lutheran's Nikodemus, Rubalcaba find redemption, set records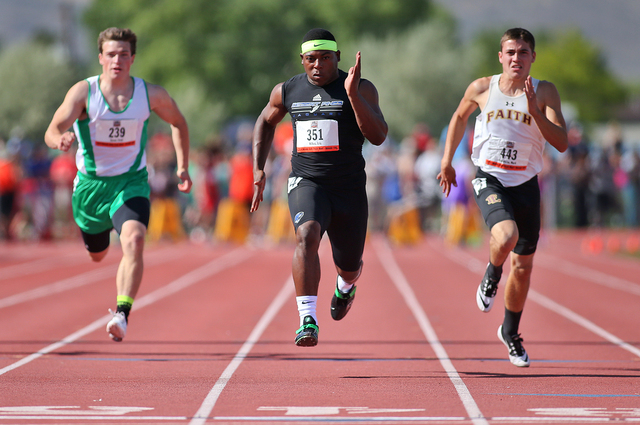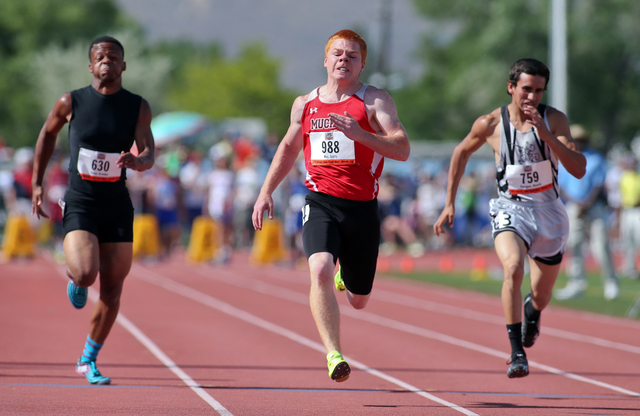 CARSON CITY — Faith Lutheran's Cayla Nikodemus and Mark Rubalcaba each were smarting after they finished second in their opening events at the Division I-A state track and field meet.
The juniors more than redeemed themselves.
Nikodemus set a state-meet record in the girls 200-meter dash and took first in the girls high jump to cap a jam-packed Friday at Carson High, while Rubalcaba smashed the record in the boys triple jump as the Crusaders put themselves in position to sweep the team titles.
"Coming out here, I knew what our rankings were and what points I needed to get," Nikodemus said. "I felt a little pressure, but kind of like the motivation. I know what I'm supposed to do; come out here and compete and hopefully do the best I can to get as many points for my team."
Nikodemus, the defending champion in the girls long jump, opened the meet with a second-place finish behind Clark's Johnice Bland (17 feet, 4¾ inches). She came back to win the high jump at 5-1 and then went 1-2 with teammate Clarissa Maxey in the girls 200 to give the Crusaders a big advantage in the team standings with 82 points. Tahoe-Truckee is second with 50 points.
Nikodemus' previous best in the 200 of 25.29 seconds came during qualifying at the Southern Region meet last week. Her winning time of 24.86 on Friday was faster than Division I champion Drea Austin of Foothill (25.02).
"I was upset, especially because I won long jump last year, so I felt like I kind of had to make it up a little bit. I lost one, so I've got to win another one," Nikodemus said. "I kind of amazed myself in the 200. I pushed it really hard, so I'm really happy with the result."
Rubalcaba took second in the boys 100 behind Eric Wilkes of Desert Pines and used that as motivation in the triple jump. On his final attempt, Rubalcaba went 49-4¾, smashing the previous meet record by more than 3 feet.
"I was just kind of looking forward to the state record, and I guess adrenaline got to me," Rubalcaba said. "I landed and saw how far in the sand I was. I knew it was a big jump, but I didn't realize quite how large until I went back to the board and saw the 49-foot marker closer to the pit."
Rubalcaba was leading thanks to a personal best of 47-6 that came on his fifth attempt, and that allowed him to cut loose on his final try.
"I was happy with that jump, but I felt I did leave a lot out there, and I just went and got it on the last jump," Rubalcaba said. "I felt like I just got in a rhythm and went with it."
Faith Lutheran's Chase Wood was first in the 3,200 (9:59.41) as the Crusaders are tied with Sunrise Mountain for second place with 40 points, six behind Dayton. Manuel Hernandez won the 800 (1:57.57) for the Miners and teamed with Daquwan Doyle, Cyrano Veal and Darnell Calahan to win the 1,600 relay in a meet-record time of 3:23.49.
Wilkes, who was second at state in the 100 as a junior, set a meet record in the event this year with a time of 10.92. Desert Pines' boys 400 relay set a meet record (42.43) as UNLV football recruit Tim Hough held off Romello Tatum of Sunrise Mountain on the anchor leg.
The Jaguars are fourth in the team standings with 39 points.
In Division III, Jeneke Heerema of The Meadows won the girls 1,600 for the third straight year, finishing in 5:28.53.
"When I came up to 200 (meters remaining), I hit the wall," Heerema said. "I remembered freshman year when that happened and I thought it would be cool if I got gold. I thought that again, and I honestly think that's what got me through it."
Heerema joined Bailey Gosse, Cassidy Gosse and Krista Thompson on the Mustangs' victorious 3,200 relay (10:33.69). Dani Chami was first in the girls long jump (16-8) as The Meadows' girls ended the first day with 58 points, one behind leader White Pine.