Sunset Track: Hannah Esparza among individaul champions, Centennial takes girls title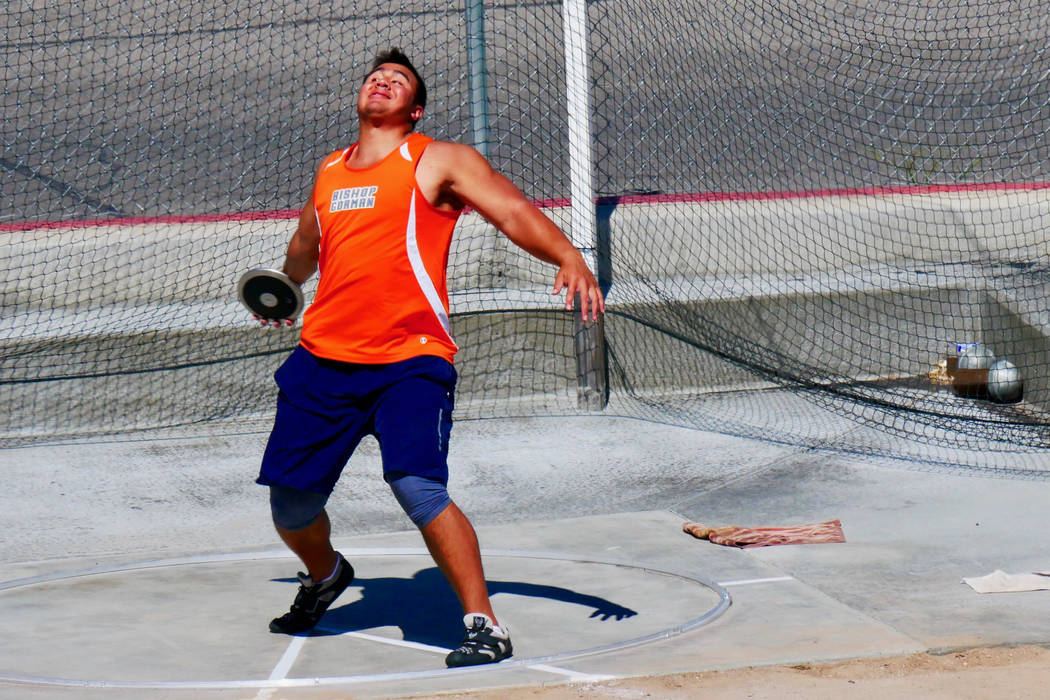 Arbor View senior Hannah Esparza started her varsity athletics career as a soccer player.
She'll finish it as a runner in Reno this weekend.
Esparza won the 400-meter dash in 56.49 seconds to earn the Sunset Region championship and a trip to the Class 4A state meet.
"It's not that I set goals for myself, whether I do or I don't, I'm still going to be putting my all into the track," Esparza said. "You don't really know."
Esparza didn't know she was going to be a runner when high school started, either.
She played soccer as a sophomore, and used track to rehabilitate an injury she sustained on the field that fall. But she grew to love track more than soccer, and quit to run year round.
"Slowly, that love for the track shifted and took over," Aggies coach Melanie Johnston said. "She's always been a kid that would focus. She never got caught up on the side, the riff-raff. She always helped keep people focused."
Esparza gradually built a lead during the first 300 meters, and used a strong kick to hold off Endya Scott of Canyon Springs.
"This is my race, I have a certain love for it," said Esparza, who is signed to run the 400-meter dash at the University of San Francisco. "I just stuck with it."
Bishop Gorman nets team title
Bishop Gorman track and field coach Scott Cooley touted his sprinters last month, and suggested they could help the boys team win a state title.
He might be right.
The Gaels cruised to the first region title in program history by netting 201½ points, thanks in large part to their sprinters, who dominated the competition in individual races and relays alike. Centennial finished second with 120.5 points.
JoJuan Claiborne, Jordan Lee, Jalen Nailor and Dorian Thompson-Robinson won the 800 relay in 1:27.86 for Gorman.
Lee, Nailor, Claiborne linked with Kyu Kelly to win the 400 relay in 41.76.
"Everything for us was clicking," Gaels coach Scott Cooley said. "Today was a really phenomenal day for the program."
Nailor also won the 200 dash (21.78) and finished third in the 100 (10.81). Kelly finished second in both events and won the long jump in with a distance of 22 feet, 5 inches.
Jacob Isaia added a win in the discus (145-1), and several other Gaels athletes finished in the top three of their respective events.
"For the most part, every kid we expected to get in advanced," Cooley said. "I'm ecstatic. It's been amazing."
Centennial girls claim team title
Centennial's girls track and field team won the region title — again — with 188 points, and Sierra Vista finished second with 85.
Bulldogs hurdler Quincy Bonds led the way with victories in the 100 hurdles (14.66) and the 300 hurdles (44.39).
Centennial's Julianne Manning won the pole vault by clearing 11-2, and Ashley Moore won the triple jump with a mark of 40-3½ inches,
"What we focus on the team this time of year is our team," Bulldogs coach Roy Session said. "Our focus is even is if we don't win, we want to run our best times of the season. Jump our furthest of the season."
Session and company are vying for their eighth consecutive Class 4A state championship in Reno next weekend, and he said the Bulldogs will use this week to get healthy and recover from a rigorous season.
"We're running well," he said. "Let's take this week to get … ready to compete. They're going for something unprecedented. We're going to be gearing up for it."
Other highlights
— Shadow Ridge's Dayvian Diaz won the girls 100 in 11.98 , and the 200-meter dash in 25.01.
— Teviah Butler, Jadynn Glover, Aayzia Dumas and Endya Scott of Desert Oasis teamed to win the girls 800 relay in 1:42.44, and the 400 relay in 48.84 seconds.
— Joey Fox of Bonanza won the 100-meter dash in 10.67 seconds.
Contact reporter Sam Gordon at sgordon@reviewjournal.com. Follow @BySamGordon on Twitter.