3A Southern Region: Zayne Dennington helps Boulder City claim title
February 3, 2018 - 8:14 pm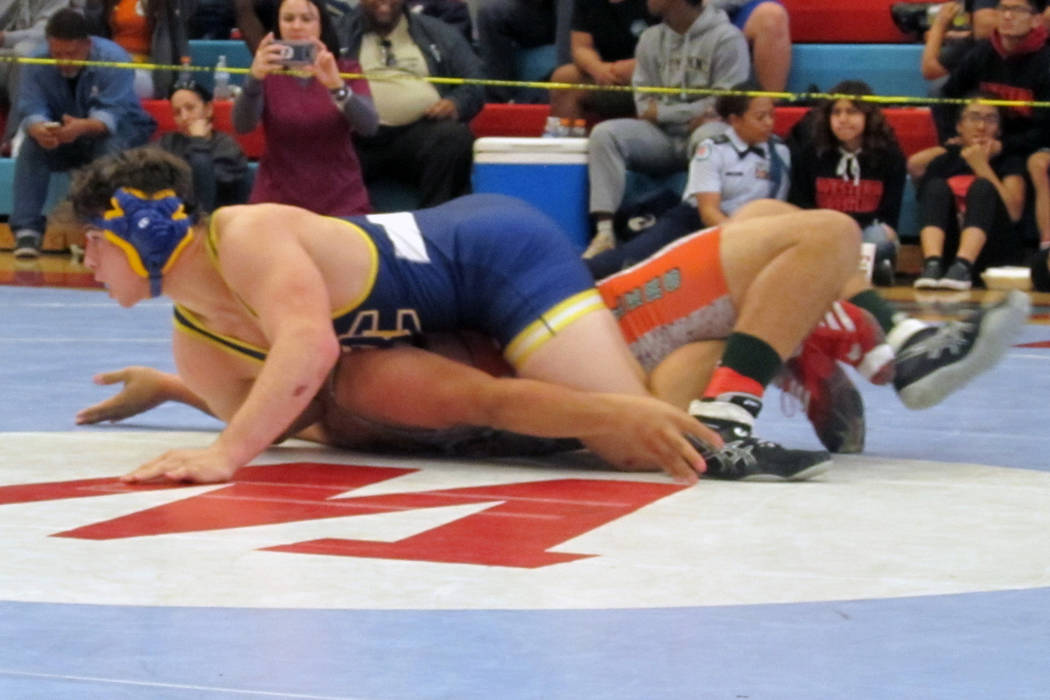 In the final championship bout at the Class 3A Southern Region wrestling tournament Saturday at Western High, the grit that Boulder City's team showed throughout the tournament was embodied by Eagles senior Zayne Dennington.
Dennington trailed Vicente Pinto of Virgin Valley 3-1 with 15 seconds remaining in the championship match at 126 pounds. But Dennington managed a one-point escape, then spun and forced a takedown at the very edge of the mat with one second left to earn two points and pull out the dramatic 4-3 victory.
"My legs were so tired it felt like they were going to give out at any second," said Dennington, who said he wrestled with a torn anterior cruciate ligament in his right knee. "I just kept telling myself I needed to push through it.
"I knew I had time, and I just told myself I had to go for broke."
Dennington's heroics capped off the Eagles' second consecutive region title, as Boulder City racked up 273 points in the team competition. The Eagles had seven wrestlers make it to the championship round, the most of any team, and finished with 13 state qualifiers.
The top five wrestlers in each weight class advance to the Class 3A state tournament on Friday at Orleans Arena.
Dennington was the last of Boulder City's four individual champions.
Ryan Vanario, who won by pin in the championship bout at 195, said the team's success, including winning back-to-back region titles, is a credit to the coaching staff.
"We train hard. And they tell us it's not about who is wrestling who. It's all mental," Vanario said. "You can't wrestle with tunnel vision and you have to be mentally tough."
Vanario showed his toughness by overcoming a leg injury he suffered Thursday to take first place.
"I haven't even been able to practice yet with this brace on," Vanario said. "So coming in and wrestling in a big tournament with this brace is probably one of the biggest challenges I've had to overcome."
Ladd Cox pulled out a dramatic win for the Eagles in the final at 145 pounds. Cox trailed Pahrump Valley's Dylan Wright 5-2 in the third period, but managed a takedown with just more than a minute left in the bout and ended up winning by pin.
D.J. Reese also won by pin at 132, and Wyatt Harlin won by pin to win 220-pound crown for Boulder City.
Virgin Valley finished second in the team standings with 217 points. Pahrump was third with 207.
Returning state champions Crescent Crandall (182), Ty Smith (120) and Rudy Cannon (106), along with freshman Wyatt Hillius (285), each won region titles to power the Bulldogs.
Crandall won by pin in the championship at 182, which was his third win by pin in the tournament.
"I think went about how I wanted to go," Crandall said. "For the team, at the beginning of the year I didn't really know how we would do. We had a rough start. But it just shows through some rough experiences you can buckle it up and succeed."
For Pahrump, Braylan Durazo (160) and Dylan Grossell (138) each finished first for the Trojans, who surged from the middle of the pack to as high as second in the team standings after the semifinal round Saturday.
Durazo won by pin in the championship match at 160. It was the third win by pin in the tournament for the freshman.
"It felt overwhelming. I was really happy," Durazo said. "All the work, blood sweat and tears paid off."
Mathew Rodgers took first at 152 to lead Mojave, which had six wrestlers make the championship round. The Rattlers finished in fourth place with 169 points.
Diego Ortega of Western took first at 113, and Alexander Herrera of Sunrise Mountain won at 170.
Results: