Cimarron's Longmire aims to return team to prominence
December 3, 2008 - 11:56 pm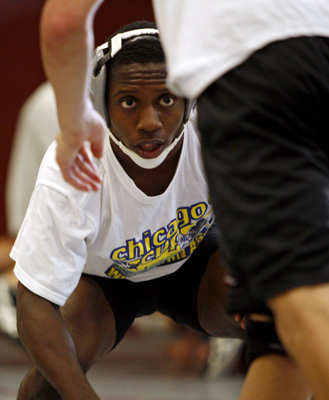 Britain Longmire knows better than to take anything for granted.
The two-time state champion wrestler from Cimarron-Memorial has seen the best of athletes fall, often at his hands. And he doesn't want his senior season to end with anything less than a third straight title.
"All I want to do is win another one," said Longmire, who went 56-1 last year on his way to the 112-pound crown. "It's important for me to stay focused. I've got to go out and act like I never won before."
Wrestlers throughout the state and beyond know Longmire's name, so he'll be targeted on a weekly basis. The fact that he is moving up one weight class might add to the challenge.
"It will be a little different," said Longmire, who will wrestle at 119 pounds. "There might be some new competitive wrestlers who are tougher."
But Longmire said his approach to each bout will go unchanged. "I'm just going to go out there and wrestle," he said. "No matter who it is."
Cimarron coach Mike Garcia likes that mentality. Though Mojave has knocked off the perennially powerful Spartans in each of the past two seasons, Garcia thinks Longmire might be able to lead his squad back to the top.
"Britain is just a great kid," said Garcia, who noted that Longmire's positive attitude has an effect on his entire roster. "He's everything you want in an athlete. He's a nice, respectful young man, and he's got a tremendous work ethic."
Garcia is not the only coach to notice those qualities. The Cal Poly staff recently made Longmire an offer, and the Cimarron standout has accepted. He'll begin his collegiate career in 2009.
"That's a whole new game," Garcia said, "but Britain definitely can do some damage. And Cal Poly is a gold mine in terms of the coaches."
Indeed, the Mustangs have earned national respect under former Olympian and NCAA champion Joe Azevedo, the program's head coach. Additionally, 2000 Olympic silver medalist Sammie Henson and 2008 U.S. Open national champion Matt Azevedo will serve as his assistant coaches.
"Britain is going to have some great workout partners," Garcia said. "That's one quality program."
Longmire, who went 5-1 to finish sixth in April's Junior Nationals at 112 pounds, said the quality of the Mustangs coaching staff impresses him. The coaches' personalities, however, are what sold him on the program.
"They're just really cool guys," he said. "In fact, they kind of remind me of my coaches right now. That's one of the main reasons I chose to go there."
With all the anticipation, Longmire easily could become distracted. But he insists that the prospect of college wrestling will not divert attention from his final high school season.
"It actually puts the pressure off," he said. "I already know what college I'm going to, so I won't have to worry about it."
But can Longmire's leadership help Cimarron wrestle its way to its first championship in three years?
"We've got a lot of seniors, and we're getting everyone ready," said Garcia, whose squad opens the 2008-09 season today. "If we don't win it, it's our fault."
Mojave suffered heavy graduation and transfer losses after last season, so other coaches are regarding the Spartans as the clear favorites.
"For someone to knock Cimarron off, they're going to have to have some bad luck," Bishop Gorman coach John Field said. "They're just too deep this year."