HOLIDAY CLASSIC: Las Vegas High's Antonio Saldate claims title
December 17, 2016 - 11:35 pm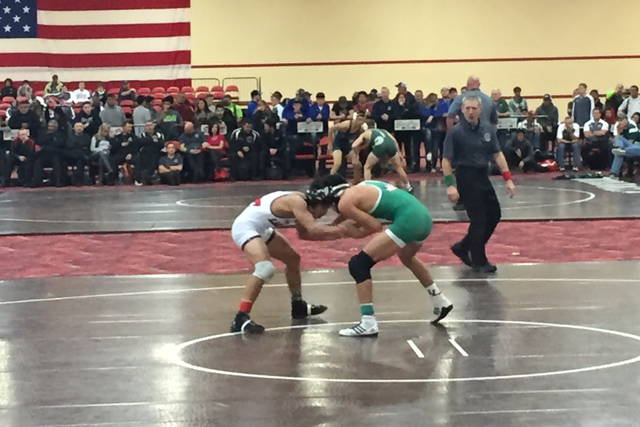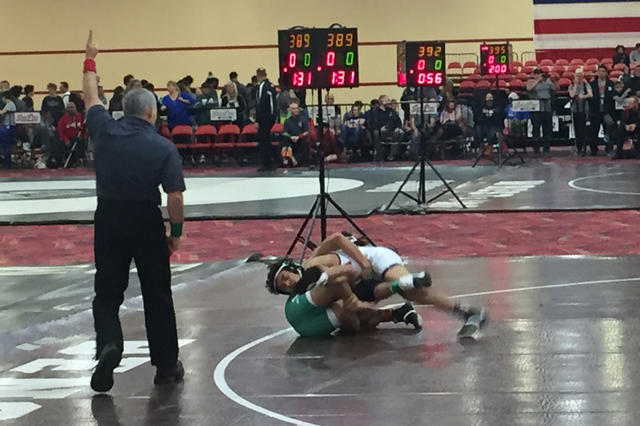 Las Vegas High's Antonio Saldate has stood atop several podiums in his wrestling career.
But the one he jumped onto Saturday afternoon is the crown jewel of them all.
Saldate won an 11-4 decision over Sunny Luna of Victor Valley (California) in the championship match of the 120-pound weight class to become one of just two Southern Nevada wrestlers to win his respective weight class in the Las Vegas Holiday Classic at the South Point Arena. Bonanza's Elias Aguilar III (220) was the other local to come away victorious.
"This was a huge goal of mine," said Saldate, a junior who is a two-time state champion. "Taking seventh my freshman year, I was like, 'I may never win this tournament.' …
"I'm just putting a message out there to everybody that kids from Las Vegas are pretty good."
Saldate, who improved to 30-0 on the season, finished the two-day tournament 6-0. He had three pins, a technical fall and a major decision to reach the finals. There, he led 4-1 after the first period and just missed out on getting another major decision.
"There's no better kid than Antonio Saldate to be the face of Nevada wrestling," Las Vegas coach Zach Hocker said. "He encompasses everything that you want in a great kid. He's got character, a great work ethic, perseverance, integrity, good grades and he's humble."
Aguilar, who moved to 11-0 on the year, was crowned champion when his opponent, Dane Martinez of Brawley (Calif.), was forced to retire with a shoulder injury. Martinez took a 2-0 lead early in the first period with a takedown, but went down with what appeared to be a separated shoulder on the maneuver.
After a first-round bye, Aguilar recorded three consecutive first-period pins and won an 8-5 decision to make the finals. He improved on his fourth-place finish last season.
Green Valley's Steele Dias (106), Jeremy Hoffman (126, and Wally Zernich (145) and Anthony Valenti (285) each finished in second place to give the Gators a second-place team finish with 232½ points.
Poway (Calif.) won the tournament with 274½ points. Curtis (Wash.) was third with 220, followed by Holy Cross (Louisiana) with 174 and Queen Creek (Arizona) with 161½.
Centennial finished in 13th place with 119½ points, and Las Vegas was 14th with 118½ points. Arbor View placed 17th with 108 points.
"Poway is a top-15 team in the country," Green Valley coach Jon Ferry said. "I mean, they're nationally ranked. So our job was to keep that close. I'm disappointed that we didn't make a closer race. …
"I think we were challenged and everyone on our team was humbled at this tournament. We came in here with high expectations, some undefeated records and everybody got beat. Everybody got beat. We went 0-for-4 in the finals. That's not characteristic for some of our guys."
Green Valley's Will Zernich (113) and Robert Razo (195), Foothill's Wyatt English (138) and Centennial's Arath Rangel (285) were third-place finishers.
Arbor View's Matthew Alejandro (160) placed fourth.
— —
Las Vegas Holiday Classic
At South Point Arena
Top 20 team scores: Poway (Calif.) 274½, Green Valley 232½, Curtis (Wash.) 220, Holy Cross (La.) 174, Queen Creek (Ariz.) 161½, Bear River (Utah) 156½, Victor Valley (Calif.) 151, Golden Valley (Calif.) 139, Williams Field (Ariz.) 130½, Liberty (Ariz.) 130, Alta Loma (Calif.) 127½, Poway B (Calif.) 125½, Centennial 119½, Las Vegas 118½, Brawley (Calif.) 115½, Chandler (Ariz.) 111, Arbor View 108, Monarch (Colo.) 106½, Uintah (Utah) 105, Basha (Ariz.) 100.
Championship Matches
106 — Yacapin, Cur, d. Dias, GV, 4-2. 113 — Wheeler, Cur, d. Rico, QuCk, 3-2. 120 — Saldate, LV, d. Luna, ViVa, 11-4. 126 — Zollmann, Pow, p. Hoffman, GV, 2:14. 132 — Kiyono, Pow, d. Escobar, LibAz, 14-5. 138 — Fernandez, QuCk, d. Mirando, Pow, 6-4. 145 — Silva, AlLo, d. Zernich, GV, 6-4. 152 — Skinner, BeRiv, d. Rando, HoCs, 5-4. 160 — Hovis, Pow, p. Moffitt, LibAz, 0:44. 170 — Foret, HoCs, d. Hawkins, Will, 15-7. 182 — Tausch, Pow, d. Saba, QuCk, 13-4. 195 — Murray, CdCty, d. Shope, Uth, 5-0. 220 — Aguilar, Bon, d. Martinez, Braw, Inj. 285 — Helmberg, Cur, p. Valenti, GV, 2:14.
Third-Place Matches
106 — Wickard, GoVa, d. Allen, Pow, 7-5. 113 — Zernich, GV, d. Kelly, Chan, 3-1. 120 — Nunez, AlLo, p. Holmes, Chan, 4:42. 126 — Bigelow, Chan, p. Ojeda, Slam, 4:33. 132 — Polluconi, Mon, p. Combado, ViVa, 3:27. 138 — English, FTH, d. Lopez, AlLo, 8-2. 145 — Mata, Pow, d. Wright, GoVa, 5-0. 152 — Mello, GoVa, d. Bay, Irv, 8-5. 160 — Fields, Cur, d. Alejandro, AV, 7-3. 170 — Stuart, Cur, d. Moore, RdMt, 7-3. 182 — Raddon, Beav, d. Mansman, IrWd, FOR. 195 — Razo, GV, d. Roberts, Cur, 11-1. 220 — Watson, BeRiv, p. Nipper, Bsh, 4:38. 285 — Rangel, Cent, p. Jordan, CdCty, 3:44.