Longmire leads Cimarron crew in quest for title
February 11, 2009 - 9:30 pm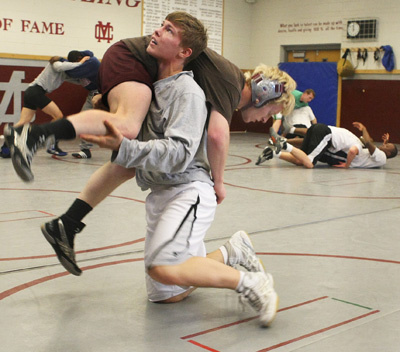 Britain Longmire has won two state wrestling titles and earned a college scholarship since transferring from the Cincinnati area to Cimarron-Memorial as a sophomore.
A team state championship is about the only thing missing from the senior's resume.
Longmire said he can't think of a better way to complete his successful high school career than to lead the Spartans to their first Class 4A crown since they won the last of four straight titles in 2006. They placed third last year.
"It's a big deal for us," the 119-pound Longmire said. "Not winning state the past two years has kind of hurt. This team, we have a lot of character, and hopefully it shows in the state tournament."
Longmire is one of nine Spartans bound for the state meet, which begins at 2 p.m. Friday at the Winnemucca Events Center. The finals begin at 3:45 p.m. Saturday.
Longmire, who has signed with Cal Poly, won his first two state championships at 103 and 112 pounds. At 119 this season, he is 50-3 with a Sunset Region championship.
"It's kind of nerve-racking, the last tournament of my high school career," he said. "But I'm excited, ready to get it going."
Longmire will be joined at state by teammates Bronson Ashjian (103), Yosnay Malvarez (125), Travis DeGroat (130), Colbey Garrison (135), Jason Schuele (140), Brogan Ashjian (145), Kevin Mendoza (160) and Aaron Garcia (189).
"Every one of those guys, they've just come so far," coach Mike Garcia said. "If you can't get excited for this, then something's wrong."
He declined to pick a favorite, but Garcia acknowledged his team and Las Vegas as having the inside track. The Wildcats are sending a tournament-high 11 scoring wrestlers.
"Team-wise, Las Vegas and ourselves obviously have the best shot," Garcia said. "Vegas with the larger numbers certainly set themselves up well."
Las Vegas is also trying to rekindle a dynasty. The Wildcats have won nine consecutive Sunrise Region titles but haven't taken state since winning a second straight championship in 2002.
"We're ready to go," Las Vegas coach Aric Thomas said. "We'll go up there for the last meet of the year and lay it all out on the line."
The Wildcats will be represented by Nathan Garcia (103), De'Armon Hall (112), Brett Sampson (119), Hugo Carrillo (125), Jeremy Dailey (140), Tyler Pack (145), Roman Garcia (160), Johnathan Hales (171), David Prieto (189), Trey McElhaney (215) and heavyweight Madison Hales. Heavyweight Austin Woo also will compete as an independent.
With so much depth, Las Vegas appears certain to improve on last year's ninth-place finish.
"We had a fairly young team," Thomas recalled. "We had a lot of guys who were wide-eyed when we got to the state tournament because it was their first time there."
Thomas' team has no returning state champions, but that doesn't faze him.
"It happens every year: There's a state champion (individual) one year who doesn't win it the year after," he said.
Other possible contenders are Green Valley (seven qualifiers) and Foothill (six).
Northern Region champion Spanish Springs and runner-up McQueen each will have six wrestlers at the meet.
The 3A and 2A state meets also will be in Winnemucca, with 3A Southern League champion Boulder City and 2A Southern League winner Laughlin both in the hunt.