Mountian Region: Faith Lutheran's Connor Bourne eyes region crown
February 1, 2019 - 8:42 pm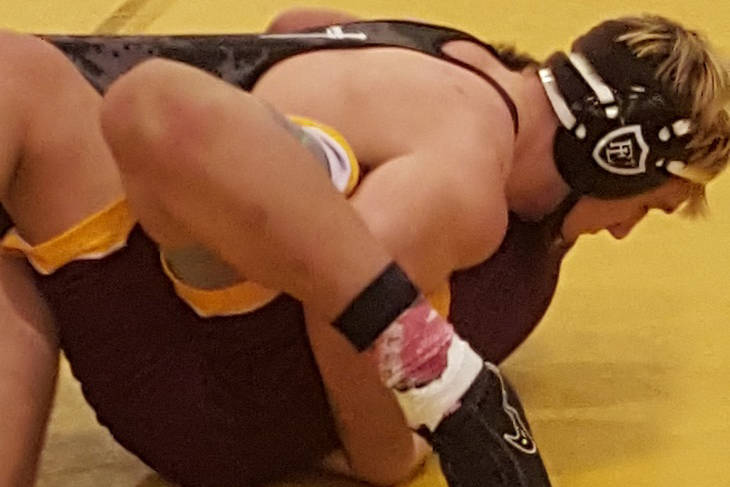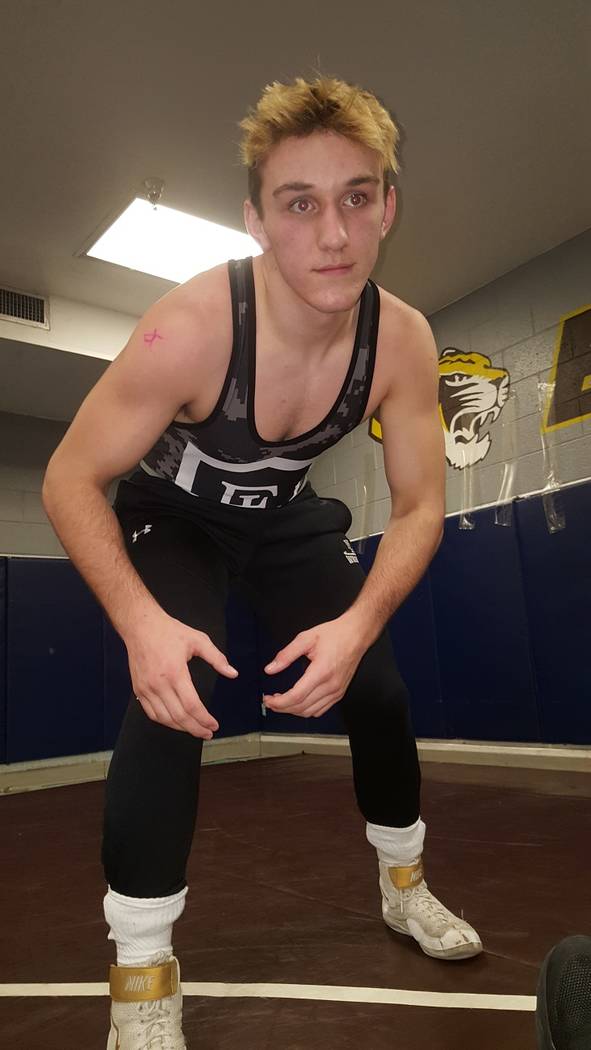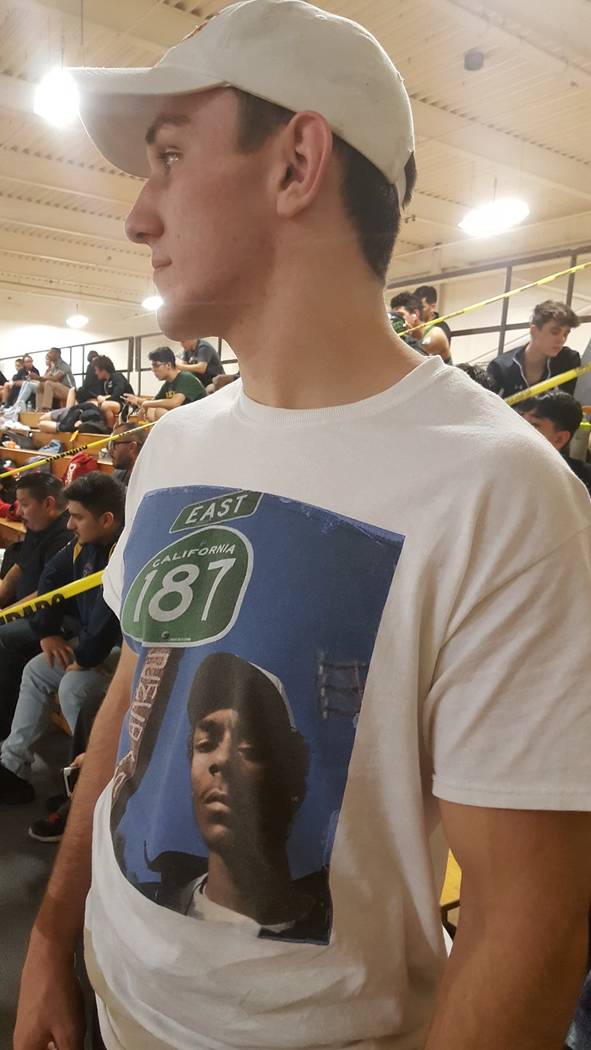 Most of Snoop Dogg's lyrics are piercing, exactly like the glare the popular rapper serves on the T-shirt Faith Lutheran wrestler Connor Bourne wore on opening day of the Mountain Region tournament Friday at Bonanza High School.
It's a glare Bourne donned as he watched the event unfold, eagerly awaiting his matches.
Bourne, who has a 171-29 record during his high school career after pinning Eldorado's Marques Anaya-Casarez in the 182-pound quarterfinals on Friday, will face Centennial's Ike Edwards in Saturday's semifinal round, which begins at 10 am at Bonanza.
Shadow Ridge leads the team competition with 86½ points, while Cimarron-Memorial isn't far behind with 78. Faith Lutheran in a distant third with 54. And while it appears the team title will come down to either Shadow Ridge or Cimarron, everybody knows the road to the 182-pound title rolls through one guy.
Bourne, who is 54-3 with 36 pins this season, has won three consecutive region titles — one at 170 pounds, the last two at 182. Of his 171 career victories, 109 have been by pin.
"I know I can't take anybody lightly because everybody's going to be gunning for me," Bourne said between matches on Friday. "Even on my worst day I have to be locked in focused."
It's how he's been his entire career, even when he was unsure of how he'd fare when first starting out as a freshman.
"I honestly didn't think I was going to do this well," Bourne said. "I had been wrestling for a few years, I was decent, but I never thought I'd be committed to be going to college or this good. I've been blessed by being around great teammates, great coaches and working hard."
Faith Lutheran coach Rayes Gonzales counts on Bourne in the wrestling room to make his job easier, whether it's taking direction, or leading by example.
"He gets our guys going, he's the leader of our team, everybody follows him," Gonzales said. "He doesn't have to be too vocal, he leads through his actions. I count on him to get the guys going. That's what it takes, it's got to be team-led, it's got to be somebody that's that leader. They can hear it from me all day, but if somebody's not jumping on board and they're not drinking the Kool Aid, then my job is a lot harder."
Bourne conceded this has been one of the toughest weeks for him as he closes out his high school career, which is why he is trying to soak up every minute of every match.
"I'm excited for the next chapter but I'm sad this is ending because I made some great memories here," Bourne said. "I'm grateful for everything that's happened, all the highs, the lows, the wins, losses and everybody I've experienced that's helped me. It's a big coming-of-age moment. You look back at all you've done and hope that you're proud."
Mountain Region Tournament
At Bonanza
Shadow Ridge 86 ½, Cimarron-Memorial 78, Faith Lutheran 54, Centennial 51, Las Vegas 51, Palo Verde 44, Rancho 39, Arbor View 34, Cheyenne 32, Desert Pines 24, Bonanza 23, Legacy 10, Canyon Springs 9, Eldorado 5
Quarterfinals
106–Duarte, RAN, p. Vernon, FL, 1:20; Najera, LV, d. Rosencrans, AV, 9-5; Watts, DP, p. Alejandro, CEN, 4:36; Gallardo, SR, p. Monzon, CHY, 1:19.
113–Gomez, DP, p. Kramer, CEN, 5:23; Villano, FL, p. Ackermann, AV, 2:11; Gerard, RAN, d. Creswell, CIM, 11-9; Soares, SR, received a bye.
120–Agabin, CHY, p. Suzuki, RAN, 0:59; Montoya, CIM, p. Watts, DP, 1:17; Gonzalez, DP, p. Saribay, PV, 1:47; Talledo, SR, p. Torres, AV, 2:41.
126–Estrada, SR, d. West, RAN, 7-3; Wilson, AV, p. Pectol, LV, 0:58; Everett, LV, p. Austin, CEN, 3:44; Curtis, SR, p. Rubio-Ramirez, ELD, 0:53.
132–Law, LV, p. Johnson, CS, 0:59; Driscoll, FL, d. Packer, RAN, inj. Def.; VanRiel, SR, p. Stewart-Johnson, CS, 4:25; Rodriguez, CIM, p. Ruggeroli, FL, 3:19.
138–Kimball, CIM, p. Perkins, CHY, 4:22; W. Presser, SR, p. Dias, FL, 2:37; Lee, PV, p. Gutierrez, CS, 0:32; Vernon, FL, p. Rosa, AV, 4:54.
145–Rhoads, LV, p. Bogdanovich, FL, 0:54; Castellon, CIM, d. Pascual, 10-7; Anderson, SR, p. Federson, CHY, 3:48; Garcia; PV, p. Gurka, BON, 1:30.
152–Cook, FL, p. Hendry, ELD, 4:23; Hemintakoon, SR, p. Montenegro, BON, 3:15; D. Rodriguez, CIM, d. Alvarado, LV, 7-0; Tucker, AV, p. Deniger, RAN, 3:52.
160–Garbutt, CHY, p. Jewell, PV, 3:08; Rodgers, CIM, p. Leyva, CS, 5:30; Coffman, CEN, p. Vilches, DP, 1:33; Williams, SR, p. Moore, AV, 2:45.
170–Roach, LV, d. Garcia, CIM, 13-4; Perez, FL, p. Lefevre, CEN, 3:27; Mendoza, FL, p. Ludwig, CHY, 1:11; K. Presser, SR, p. Cruz, DP, 0:12.
182–Love, CIM, p. Dunn, LV, 5:55; King, SR, p. Wiggins, LV, 1:37; Edwards, CEN, p. Harrison, CHY, 1:08; Bourne, FL, p. Anaya-Casarez, ELD, 1:40.
195–Broadhead, LV, d. Murphy, CHY, 13-5; Hernandez, RAN, p. Garban, CEN, 1:46; Gallardo, SR, p. Tooks, CHY, 3:19; Griffin, CIM, p. Anderson, PV, 0:53.
220–Worthy, PV, p. Meza, RAN, 1:19; B. Rehmel, BON, p. Baldwin, FL, 1:23; Alip, CIM, p. Schiltz, LV, 0:47; Norris, CEN, d. Gledhill, 8-6, OT.
285–Hernandez, LV, d. Tulimasealli, BON, 6-5, TB; T. Tuinei, AV, p. Diggs, CIM, 0:54; Ieremia, CEN, p. Saldivar-Ruiz, ELD, 1:46; Alonso, CIM, p. Guadarrama, CHY, 1:16.