MUSTANG STAMPEDE: Scarpati leads comeback, but Temecula tops Shadow Ridge
December 13, 2014 - 10:50 pm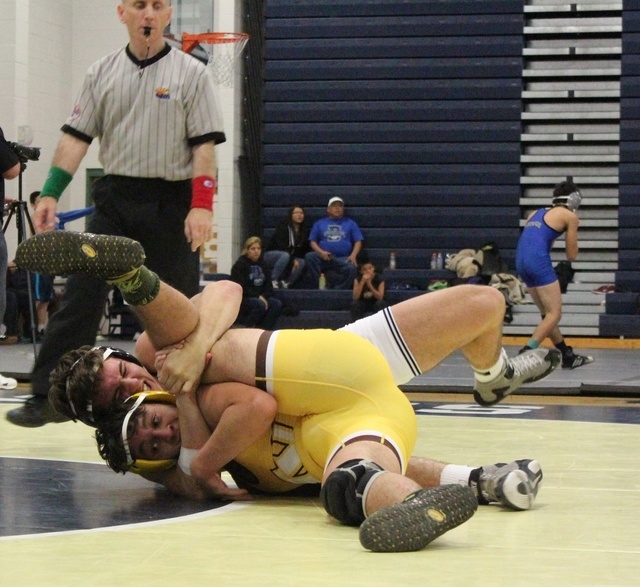 It's quite clear who the leader of Shadow Ridge's wrestling team is this season, as senior John Scarpati looks to return to the state tournament, where he took third place as junior.
He doesn't do a lot of chirping from the bench. Instead, he prowls the perimeter of the mat with his headphones blaring pump-up music, and simply glares at ongoing matches while visualizing his job when he steps to the center. He may occasionally say something to one of his teammates before they go on the mat, but he saves most of his energy for his own matches.
Then he explodes.
Saturday, with his team trailing Temecula Valley (Calif.) 19-0 in the championship match of the Gold Bracket in Shadow Ridge's Mustang Stampede, the 182-pounder manhandled Stephen Sparacino, twisting him in every direction and dictating the pace of the match. He won, 15-4, sparking three straight wins by the Mustangs, and five of six matches to get them back in the dual.
It wasn't quite enough, as Temecula Valley beat the Mustangs 34-28 to claim the tournament title.
Shadow Ridge's Kevin Henry won his 195-pound match in overtime, and teammate Tyler Carter pinned his 220-pound opponent just 27 seconds into his match. After Temecula Valley's Mario Galvan won by pin at 285, Shadow Ridge 106-pounder A.J. Bautista pinned his foe in just 29 seconds. Alika Villatora held off his opponent 1-0 at 113 pounds to pull Shadow Ridge within three at 25-22, but Temecula Valley claimed the next three matches by decision to clinch the win.
It was the Golden Bears' third straight title in the event. Nevertheless, for the second time in three days, it was a match by Scarpati that ignited the Mustangs, while sending parents, coaches, teammates and fans into a frenzy. Thursday, during a quad meet, the Mustangs got to see Scarpati move up a weight class and challenge Centennial's 195-pound Hunter Brown, the defending state champion. Trailing 8-7 with 4.1 seconds left, Scarpati used poise and basic fundamentals to score a last-second takedown and earn the 9-8 win.
"To be the best, you have to wrestle the best," Scarpati said of taking on Brown. "I knew he was a state champion and all-American, and I wanted to challenge myself. I like to do that to see where I'm at, and to better myself. I feel like that match showed my team that anything can be done."
Bautista said: "It gave us confidence that if Johnny can go in there and beat a state champion like Hunter Brown, the way that he did, that anything is possible for us too."
Shadow Ridge coach Gus Gledhill said when Scarpati steps into the room, or onto the mat for a match, all eyes are on his team leader. Gledhill said he thinks his team has grown and matured into a group that will eventually contend for the Sunset Regional title and quite possibly a state title.
"I would just hope the kids can see what hard work does, and what confidence his own work ethic gives Johnny," Gledhill said. "I think when the kids look at a match like a John Scarpati versus Hunter Brown, I hope the kids say that's where I want to be. It's a battle every day in our room, it's almost comes to fisticuffs some days, because they get after it. And that's what we expect out of them in the room. We tell them that their hardest match needs to be in our room, before they even go out to (duals)."
But don't think for a minute Scarpati is looking to hoist the Mustangs on his shoulders, and carry the team. He has no problem giving them direction, but he expects them to put forth the effort he does at every practice and in every dual.
"What I've seen from my team at this point is we have potential," Scarpati said said. "But like I tell them all the time, we need consistency. We wrestled three straight days and then ran up against a tough team like Temecula. What we've done so far is amazing, but we still have a lot of work for the rest of the season.
"I want everyone to go out on the mat and give their all the entire time. I want this to be a team effort. This is about the Mustangs, not John Scarpati."
ADDITIONAL STAMPEDE RESULTS — In the Gold Bracket, Dobson A (Arizona) defeated Centennial, 42-36, to take third place.
In the Silver Bracket, Coronado defeated Alta A (Utah), 58-21, to win first place, while Liberty knocked off Mojave, 42-27, to bring home the third-place trophy.
In the Bronze Bracket, Dobson B knocked off Eldorado, 54-21, and it was Shadow Ridge's B team beating Moapa Valley, 54-24, for third place.
Box score:
Temecula Valley 34, Shadow Ridge 28