Wildcats clinch another Sunrise crown
February 7, 2009 - 9:02 pm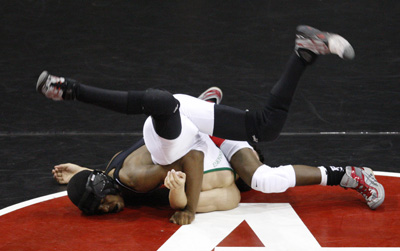 When he transferred from Mojave to Las Vegas High before the school year, Trey McElhaney joined the Wildcats well aware of their eight straight Class 4A Sunrise Region wrestling titles.
On Saturday, the dominant junior 215-pounder helped Las Vegas make it nine in a row.
McElhaney was one of six Wildcats to win Sunrise titles and 12 who qualified for next weekend's state meet at Winnemucca.
With 259 points, Las Vegas edged Green Valley (208) for the team title.
"It's crazy," McElhaney said of Las Vegas' nine straight titles. "I feel like I really did something, really contributed to something great.
"Nine (consecutive) regional titles is tough to beat."
McElhaney (57-1) won his first two contested matches at the tournament by pin in less than 30 seconds. He then earned a 13-4 major decision over Liberty's Carlos Tautoto in the finals.
"He goes for blood," Las Vegas coach Aric Thomas said of McElhaney. "He's not a guy who's out there looking to win a one-point match. He's looking to put you on your back and pin you.
"He'll work hard to do it, and he can do it from multiple positions."
Though he won by default in the finals, Las Vegas senior heavyweight Madison Hales (45-0) was named Sunrise Wrestler of the Year. Thomas took Coach of the Year.
Also winning championships for the Wildcats were Nathan Garcia (103), De'Armon Hall (112), Brett Sampson (119) and David Prieto (189).
Green Valley prevented Las Vegas from clinching the meet heading into the finals.
But when Hall and Sampson defeated Green Valley wrestlers in each of their title bouts, all doubt was removed.
"We had to work hard for this one," Thomas said. "Green Valley put up a good fight. Every time we won a match, I looked over and it seemed like they were winning a match."
Green Valley's lone champion was Daniel Allen (140), who earned a 3-0 decision in the finals over Liberty's Rudy Reveles. Seven Gators advanced to state.
"It feels good, finally," said Allen, who was third at 112 in 2008 and fourth at 103 in 2007. "After two years of trying, it actually feels good to get there and be the best."
Foothill (144) was third, followed by Basic (107) and Canyon Springs (107).
Others to win titles were Foothill's Joel Olivas (125) and Chad Orum (130), Liberty's Michael Reveles (135), Canyon Springs' Jonathan Arita-Vasquez (145), Basic's Kelly Kofford (152) and Valley's Roland Hodge (160) and Joshua Neiry (171).
The top three placers at every weight advanced to state. The Nevada Interscholastic Activities Association will announce the draws today.
"Our goal was to get six (Sunrise) champions and qualify 10 for state," Thomas said. "We got six champions and qualified more than 10 guys, so our goal for this week was accomplished."