Wrestling holds Hales family
January 14, 2009 - 8:26 pm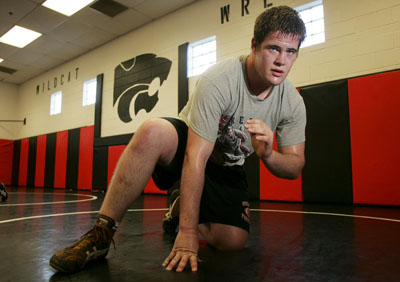 Madison Hales was learning lessons in Las Vegas High's wrestling room years before he even stepped on a mat for the Wildcats.
As a third-grader at Kirk Adams Elementary School, he and younger brother Johnathan would head to Las Vegas High after school to grapple with Wildcats wrestlers wearing uniforms they envisioned themselves in one day.
Now, Madison Hales is a 28-0 senior heavyweight gunning for a state championship — a title that would be the first in his family's storied history at Las Vegas.
"Me and my brothers are always arguing over who's the better wrestler," Madison Hales said. "Hopefully, this is a chance to prove that I'm the best in my family. But my older brothers were really good."
Both Jacob and David Hales had second-place finishes at state, with Jacob later becoming a star defensive tackle at UNLV.
And junior 171-pounder Johnathan Hales is 27-9 this season.
"It's a good family they've had run through here," Las Vegas coach Aric Thomas said. "They have a lot of pride in the school, and it seems like they have an admiration for their older brothers."
At 215 pounds last season, Madison Hales claimed the Sunrise Region title but failed to place at state with a 1-2 record.
A ninth-place team finish was equally disappointing for the Wildcats, who have won two state titles and the Sunrise every year since the region's inception in 2001.
"I think he uses stuff like that as motivation," Thomas said.
That and a move up to the heavyweight division have worked marvelously for Hales, who has racked up 23 pins.
He already has won championships this season in the Las Vegas Holiday Classic at the Las Vegas Convention Center, the El Cajon (Calif.) Invitational and the Bulldog Grappler at Centennial.
His dominance has led the Wildcats to a 17-5 record in dual meets, and the team appears poised for a ninth straight Northeast League title.
"It's all good that you're winning," Hales said, "but you can't lose focus of the state tournament because that's really what you're working for."
And Hales, a starting offensive guard in football whom Thomas described as "a big weight-room guy," has put in the work.
Though the 6-foot-3-inch Hales competes at heavyweight, he said his weight is somewhere around 245 pounds.
The switch to heavyweight enabled him to capitalize on quickness others in the division don't possess, Thomas said.
"He's quick like a 215-pounder, but he's stronger than most heavyweights," Thomas said. "His legs are extremely strong. He can lift big guys off the mat and get underneath guys."
Hales has succeeded at pushing the pace of matches, working on his defense and focusing on certain moves instead of trying to master them all.
"Last year, I lost a lot of matches because I wasn't wrestling smart," he said. "This year, I'm just sticking to the basics and making sure I'm wrestling smart."
Hales has left his college future open because he plans to embark on a two-year Mormon mission after high school.
For now, a state title is all he wants.
"Last year, I won the regional tournament (but) didn't win state," he said. "That was kind of a learning experience, for me to try to get to know what I needed to work on in the offseason. So hopefully I can finish out the season better than last year."