Nevada Sen. Manendo resigns chairmanship amid investigation
Updated May 22, 2017 - 4:10 pm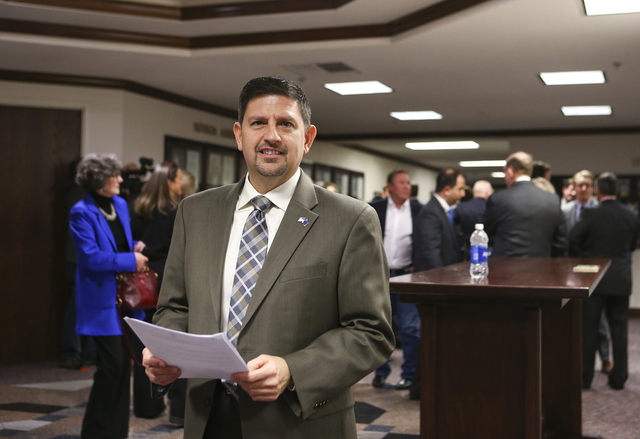 CARSON CITY — Nevada state Sen. Mark Manendo on Monday resigned his chairmanship of the Senate Transportation Committee amid a growing investigation into sexual harassment allegations.
Manendo, a Las Vegas Democrat who represents District 21, refused immediate comment after his resignation was announced by Majority Leader Aaron Ford at the end of a Senate floor session.
"Today, after consulting with Sen. Mark Manendo, he and I agreed that he should resign his position as chair … pending completion of the investigation into complaints about his conduct," Ford said, adding that more allegations have been made since an investigation was launched a few weeks ago.
Ford this month confirmed he hired an independent investigator to review sexual harassment claims lodged against Manendo this session.
"Because the investigation is ongoing, I want to make it clear that I am not passing judgment at this time," Ford, D-Las Vegas, said Monday. "No final findings have been provided or conclusions reached. While I had hoped the investigation could be completed by now, more allegations have been brought forward since commencing the investigation that require more time to compete the inquiry.
"Once the investigator provides final findings, I will determine whether to reinstate Sen. Manendo as chair and whether any other action is necessary," Ford said.
In the meantime, Sen. Patricia Farley, a former Republican who switched to independent, was named Transportation chairwoman. There are two weeks remaining in the 2017 session, which faces a deadline of midnight June 5 for sine die.
It is the second time Manendo has lost a leadership position because of misconduct allegations. Manendo lost a chairmanship in the Assembly following the 2003 legislative session after being accused of sexual harassment. In 2010, some Democrats had sought to push for a new harassment allegation, which Manendo denied.
In the latest probe, Manendo hired Las Vegas attorney Richard Wright to represent him. In a statement after the investigation was revealed, Wright said Manendo was directed not to speak publicly about the allegations, and added, "We remain confident that he will ultimately be exonerated."
Ford said leadership takes "allegations of misconduct seriously, and we continue to be committed to conducting a thorough, fair investigation free from any concerns regarding intimidation, retaliation or bias."
Contact Sandra Chereb at schereb@reviewjournal.com or 775-461-3821. Follow @SandraChereb on Twitter.
RELATED
Senate Republicans want Manendo off committees amid sex harassment allegations
Investigator to review sexual harassment claims against Nevada senator