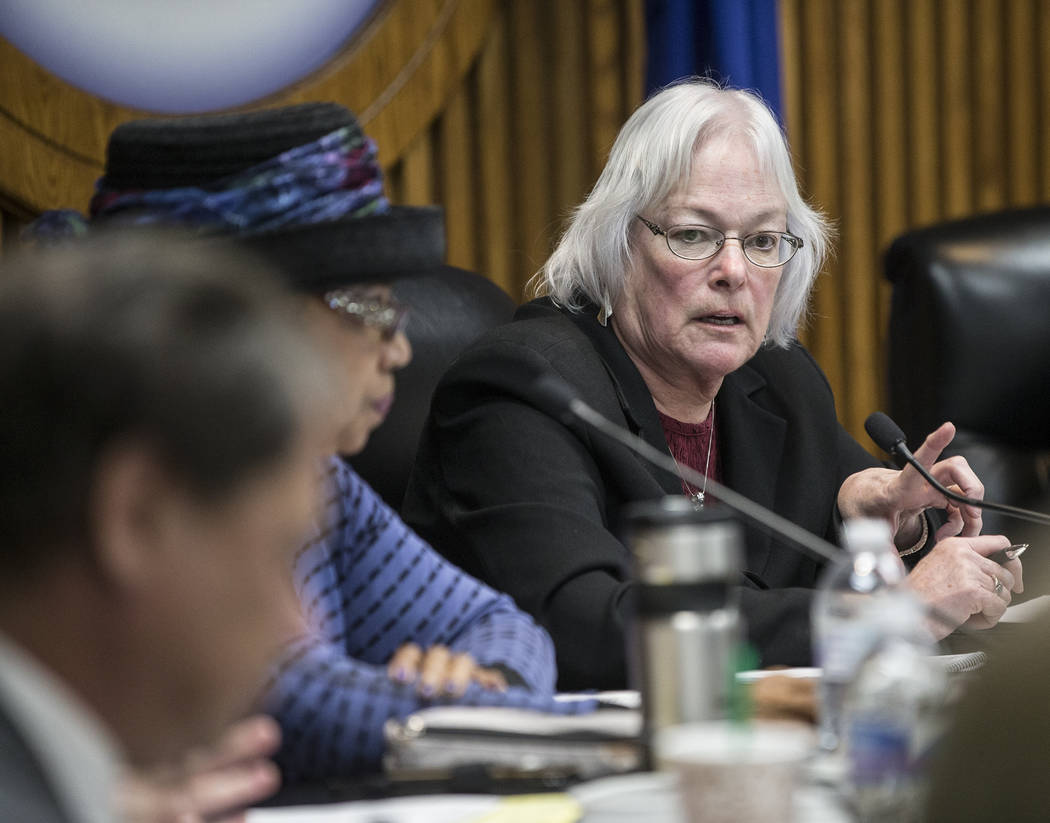 A majority of Clark County School Board trustees say they are open to renegotiating a contract provision that allows sexual misconduct allegations to be scrubbed from teachers' personnel files.
A Review-Journal investigation determined the language in the system's contract with the teachers' union is a key reason behind the system's sexual misconduct crisis. Since July, 12 school district employees have been arrested on suspicion of sexual misconduct or inappropriate behavior, including Thursday's arrest of a South Academic Center substitute teacher.
"I would say if we have one child who's damaged, then we haven't done enough — it's not OK," Trustee Carolyn Edwards said of the longstanding, systemic problem.
Only two of seven trustees – Kevin Child and Chris Garvey — initially responded to requests for comment on last week's three-part Broken Trust series. Four others returned the Review-Journal's calls this week to discuss the series, leaving Erin Cranor as the only board member who has not responded to the investigation.
Of the six who commented, four indicated they would consider trying to renegotiate a clause in the union contract that allows teachers with a history of bad behavior to move from one school to another.
The clause requires the district to scrub a teacher's personnel file of civil or criminal proceedings if the teacher is cleared of a charge — a provision that one expert said was in violation of the federal Title IX law, because those investigations should not be pre-empted by what happens in court. Only violations of district policy and regulations related to such proceedings can enter a teacher's file if they are known to have occurred beyond a reasonable doubt.
'Worth some serious conversation'
"I think that it's worth some research, worth some serious conversation," Board President Deanna Wright said of re-working that clause. "I would definitely be open to it."
But the union might not support changing or eliminating the contract language. Clark County Education Association Executive Director John Vellardita previously stood by the clause as a protection for teachers against false accusations.
The Review-Journal's investigation was published amid growing public concern over inappropriate behavior between staff and students.
As documented in the series, the issue within the Clark County School District appears to stem largely from three factors: restrictions in the Clark County School District's contract with the teachers union, flawed background checks and inadequate training that lags behind programs in other large urban school districts.
"I would say that obviously we don't do enough because we do have instances where things happen," said Trustee Lola Brooks. "There are things that we can improve."
The trustees were more skeptical about whether more training would prevent staff from behaving inappropriately with students.
"Do you believe that the training is going to change those people?" Edwards asked. "I'm not sure it will. It might just make them more cautious in their behavior."
But experts counter that good training does not simply tell staff members to avoid inappropriate behavior. It includes prepping staff on how to spot and report problematic behavior among their peers.
The Review-Journal series also found that the school district does not have a clear social media policy, although other large districts such as Los Angeles have had them for years.
Skepticism over ban on social media contact
Some trustees argued that it is acceptable for students to interact with staff on social media or through text messages — but only under certain circumstances.
"A lot of times teachers are texting students about 'Hey, you need to turn in this assignment,'" Brooks said. "So there are legitimate reasons for students and teachers to have conversations outside the classroom."
Amid public scrutiny, the district announced a 27-member internal working group in April that has met several times to develop policies on sexual misconduct and social media. That group includes district officials, principals and union representatives, but no parents.
"The internal working group included people who have expertise on issues related to this policy, including legal impacts, our negotiated agreements, state statues, plus representatives of administrators, teachers, and students," school district spokeswoman Melinda Malone said in a statement.
The group will present its initial recommendations at a public roundtable in mid-June.
Contact Amelia Pak-Harvey at apak-harvey@reviewjournal.com or 702-383-4630. Follow @AmeliaPakHarvey on Twitter.