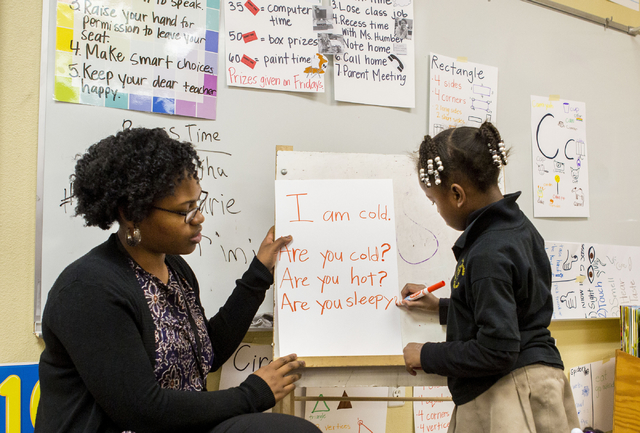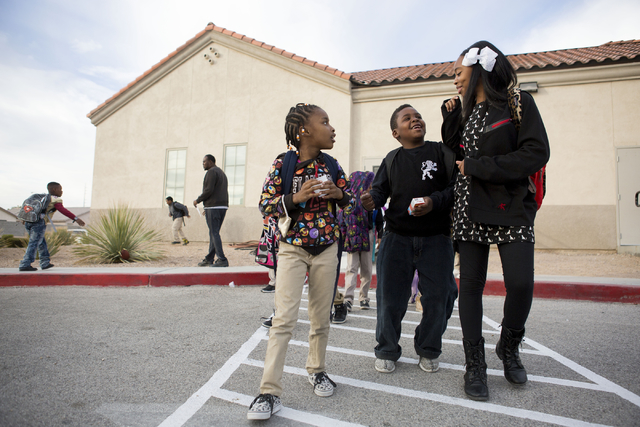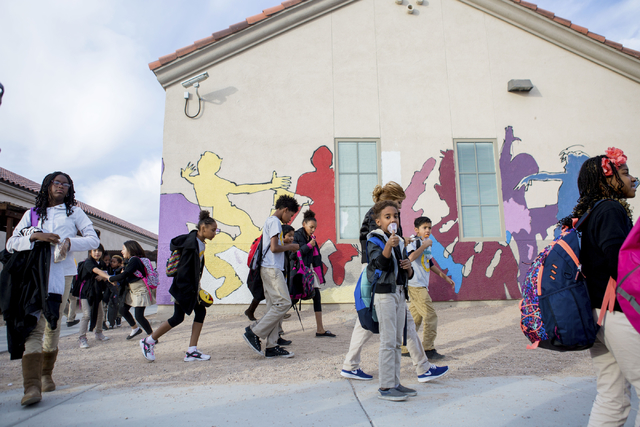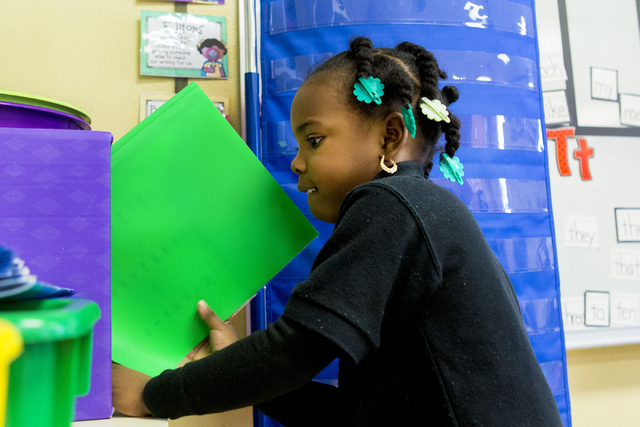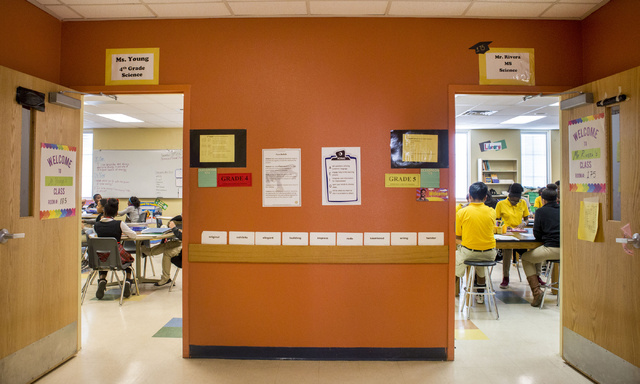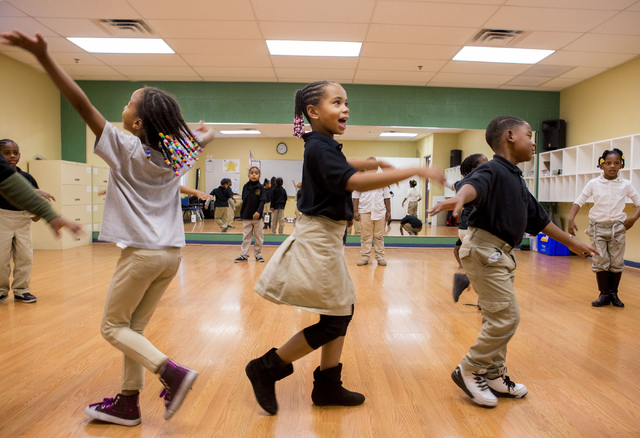 Two years ago, 100 Academy of Excellence Principal Rachelle Conner inherited a mess.
Parents roamed the hallways taking videos of teachers they didn't like, she said. Class sizes swelled to over 30 students. The elementary school was stuck in one-star status in the state's accountability system.
So Conner engineered an overhaul. She let go of roughly 80 percent of the teachers, instilled order with planners and color-coded subjects and laid groundwork to focus the school on science, technology, engineering and math.
As a charter school principal, she doesn't fall under the restrictions of a union when deciding which staff to keep.
One teacher, she said, had forced a student to eat out of the trash can. Another teacher was caught on camera grabbing a student.
"I don't have to fight with one organization to get those unsafe people away from children," said Conner, who has her own children in the school.
Yet all these changes still didn't spare 100 Academy from placement on the state's underperforming list this year. Proficiency rates in math were 16.7 and 3.4 percent for its elementary and middle school, respectively, while reading levels stood at 26.7 and 19.7 percent, according to test results from the state Department of Education.
What the charter school is spared, however, is automatically being placed under consideration for the Achievement School District that's left the traditional public school community in turmoil.
Up to six underperforming Clark County schools will be paired with a charter operator in a six-year turnaround effort that requires teachers to re-apply for their jobs.
Charter schools aren't automatically under consideration for the special district. Opponents of the initiative are wondering: How can the state create more charters in Clark County when existing charter schools already are underperforming?
Some of these underperforming charters offer the same arguments as traditional public schools facing potential takeovers — the analysis of student test data is unfair; they serve unique populations; their students frequently move in and out of schools.
And like their traditional-school counterparts, their test scores show poor results.
Among the underperforming elementary and middle school charter schools in Clark County, math proficiency levels on the 2016 Smarter Balanced assessment ranged from 3.4 percent to 24 percent. Reading proficiency ranged from 18.8 percent to 46.1 percent.
Yet Department of Education officials stress that the underperforming charters are different from the charter operators approved for Nevada's achievement district. They note that the district has denied a majority of charter applicants in an effort to recruit the best.
"We have gone out and sought and recruited high-quality operators," said department spokesman Greg Bortolin.
Four charter schools on the list are sponsored by the state authority. Another five are sponsored by the Clark County School District.
As authorizers, both the district and the state authority have the power to renew each school's charter or shut it down. The schools can also opt to join the achievement district, an option Agassi Prep is considering.
"The CCSD Board of Trustees will be reviewing the performance of the charters it sponsors in an upcoming meeting and making recommendations in accordance with the results and the law," the Clark County School District said in a statement.
Meanwhile, the online state-sponsored Nevada Connections Academy has fought back, filing suit against the threat of closure.
The school refused to sign a contract with the State Public Charter School Authority that would waive its right to a judicial review of a state takeover. Its high school was put on notice for a 2015 graduation rate of less than 60 percent, at 35.6 percent.
A Carson City judge did not grant the preliminary injunction to stop the public hearing set for Dec. 16 that could decide whether to keep the school open.
The school argues that it accepts many credit-deficient students who alter its graduation rate — roughly 50 percent of its students in the 2015 class were behind in courses, the school explained in its court filing.
"The way the graduation rate is being considered for these closure procedures is penalizing schools for accepting credit-deficient students," said Laura Granier, the school's attorney. "They are holding the wrong school accountable."
The online state-sponsored Beacon Academy of Nevada also faced the possibility of closure due to a low graduation rate, but has since decided to work with the state on improvement.
The school is working toward becoming an alternative school, one in which 75 percent of students are roughly two years behind in credits, said Principal Tambre Tondryk.
Placement in the alternative school framework means Beacon Academy would be measured differently than others, taking into account the more challenging population.
"We're excited to be able to stay true to our mission and really work with this underserved population," Tondryk said.
Silver State High School in Carson City is in state receivership.
Though they're exempt from the achievement district, some charters argue that they accept the students that don't survive in traditional public school. Their graduation rates and scores, they claim, suffer as a result.
Odyssey Charter, which had a 2015 graduation rate of 58.8 percent, still believes in accountability, said Superintendent Tim Lorenz.
"We're going to have to continually look at the needs of the students and we're going to have to continually provide the supports that are needed for the students that come to Odyssey," he said.
Contact Amelia Pak-Harvey at 702-383-4630 or apak-harvey@reviewjournal.com. Follow @AmeliaPakHarvey on Twitter.
Proficiency rates for underperforming charter schools in Clark County
School name/Math/Reading
Agassi Prep (middle) — 8.1 /25.1
Delta Academy (middle) — 7.8/18.8
100 Academy (elementary) — 16.7/26.7
100 Academy (middle) — 3.4/19.7
Innovations International (elementary) — 21.1/33.9
Discovery (elementary) — 24/46.1
Source: Nevada Department of Education 2015-16 Smarter Balanced scores