Area 51 security guard's long fight for compensation for toxic fume exposure may be nearing end
August 24, 2016 - 1:36 pm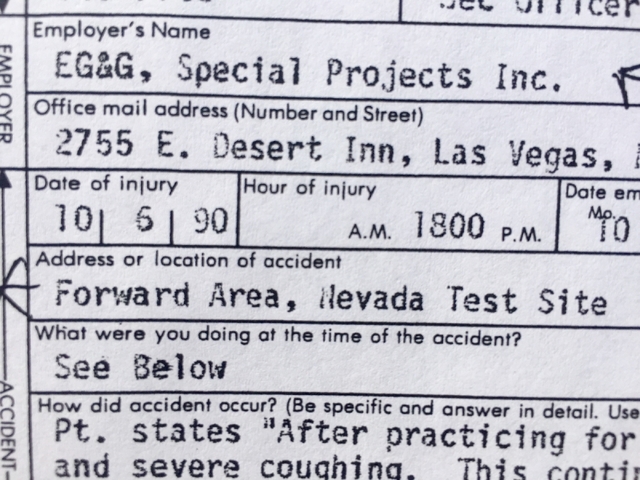 Former Area 51 security officer Fred Dunham sleeps better now that he's got a gadget to force air into his lungs if it detects that he's about to stop breathing during the night.
He says he also sleeps easier because a federal judge in Washington, D.C., will be reviewing a motion that he expects will establish his eligibility to receive $250,000 or more from an Energy Department employee compensation program over exposure to toxic materials at Area 51 that he blames for his breathing problems.
A summary judgment motion was filed late Tuesday with U.S. District Judge Emmet G. Sullivan in Washington, D.C., by Cold War workers advocate Donna Hand, of Tampa, Florida, after the agencies that rejected Dunham's claim — the departments of Energy and Labor — failed to meet a deadline to provide documents she requested through the Freedom of Information Act.
"There is no documentation that EG&G Special Projects (Dunham's employer) were not DOE contractors/subcontractors in the Department of Labor's records," reads the 10-page motion for summary judgment.
It asks the court to compel the departments to acknowledge that all former EG&G Special Projects workers including Dunham, a nonsmoker, are eligible to participate in the compensation program and are entitled to relief provided through the program.
Hand's motion notes that the agencies failed to back up their assertion that EG&G Special Projects was a Defense Department subcontractor, which would make Dunham ineligible to receive redress under the Energy Employees Occupational Illness Compensation Act.
If Hand prevails, it could pave the way for about 50 other former Area 51 workers or their families to pursue compensation.
Dunham, who suffers from chronic obstructive pulmonary disease, said he thinks "it's time the government gives up."
While the agencies didn't provide any documents, Hand obtained a DOE list of contractors at the Nevada Test Site, which included Area 51, that names EG&G Special Projects. The Nevada Test Site became the Nevada National Security Site in 2010.
In addition, during the nine years that Dunham worked at Area 51 in the 1980s, he needed a Department of Energy identification badge with a dosimeter for monitoring radiation exposure to access the then-classified installation 90 miles north of Las Vegas, where radar-evading stealth aircraft were tested.
The 38,400-acre rectangle known as Area 51 belonged to the Energy Department and its predecessor agencies until President Bill Clinton signed the Military Lands Withdrawal Act of 1999. It had been used by the Air Force under an agreement dating to 1958, when the land was withdrawn from public use by the Atomic Energy Commission, a forerunner of the Energy Department.
Dunham, 65, of Las Vegas, said even though he expects the judge to rule in his favor, he anticipates the federal government will extend the legal battle.
"I feel good but am still real skeptical because I tend to believe the agencies will petition the court for more time or even take the judge's ruling to the Supreme Court," he said.
His toxic-exposure claim goes back more than a decade. In 2007, he broke 17 years of public silence by revealing at a Labor Department hearing that dioxin-laced stealth coatings were disposed of at Area 51 when he worked at the top-secret site, which he had previously only referred to as "the location."
Dunham blames his pulmonary disease on toxic fumes he inhaled when stealth coatings and scraps were burned at night in open pits.
"There was an inverted layer of dark, brown smoke hanging over this pristine valley in the middle of nowhere," he recalled earlier this year, describing the burn pits near the dry Groom Lake bed. "When I'd come home, my wife would say, 'How come my uniform stinks so bad?'"
Hand's request for documents related to Dunham's case under the Freedom of Information Act was filed May 16. It lists the Labor Department's Office or Workers Compensation Program and the Energy Department's Office of Legacy Management as defendants.
Her action is related to a 2014 case in the U.S. Court of Appeals, District of Columbia Circuit, in which she represents Cold War workers. She wants the court to clarify the compensation act and review the agencies' more restrictive policies on lung tissue scaring caused by exposure to beryllium, a material used in some nuclear bomb designs.
She believes the departments' policies and practices to deny claims have violated the workers' right to due process and the intent of Congress when it established the Energy Employees Occupational Illness Compensation Act.
The Labor and Energy departments did not immediately respond to a request for comment on the case early Wednesday.
Contact Keith Rogers at krogers@reviewjournal.com or 702-383-0308. Find him on Twitter: @KeithRogers2.