Veterans Day parade packed with tributes in downtown Las Vegas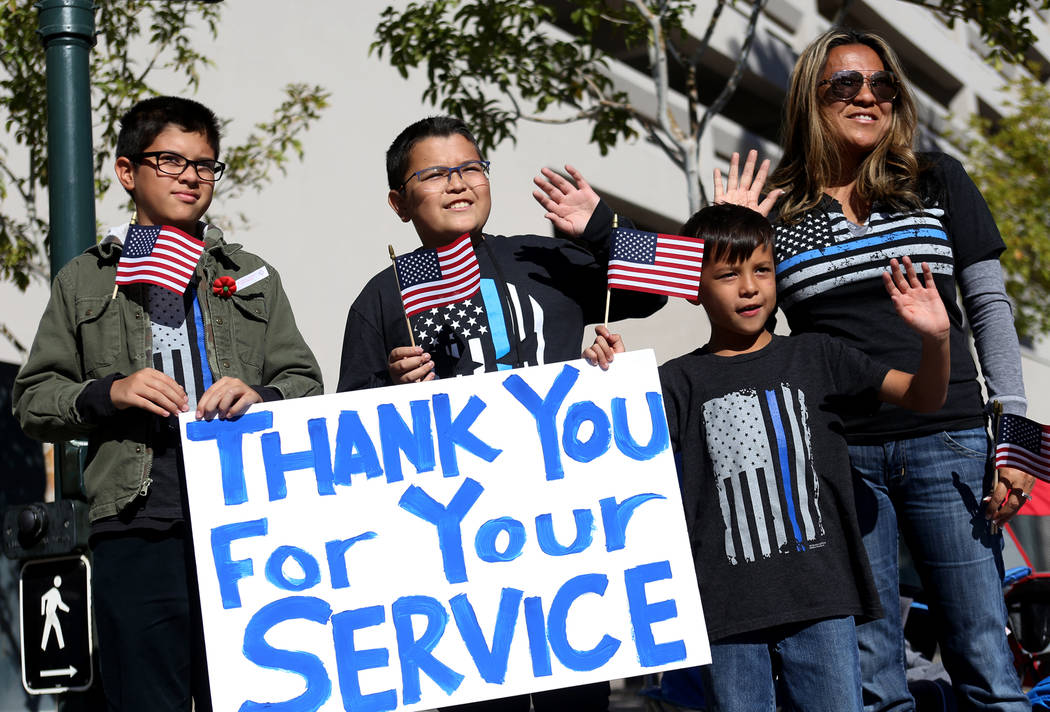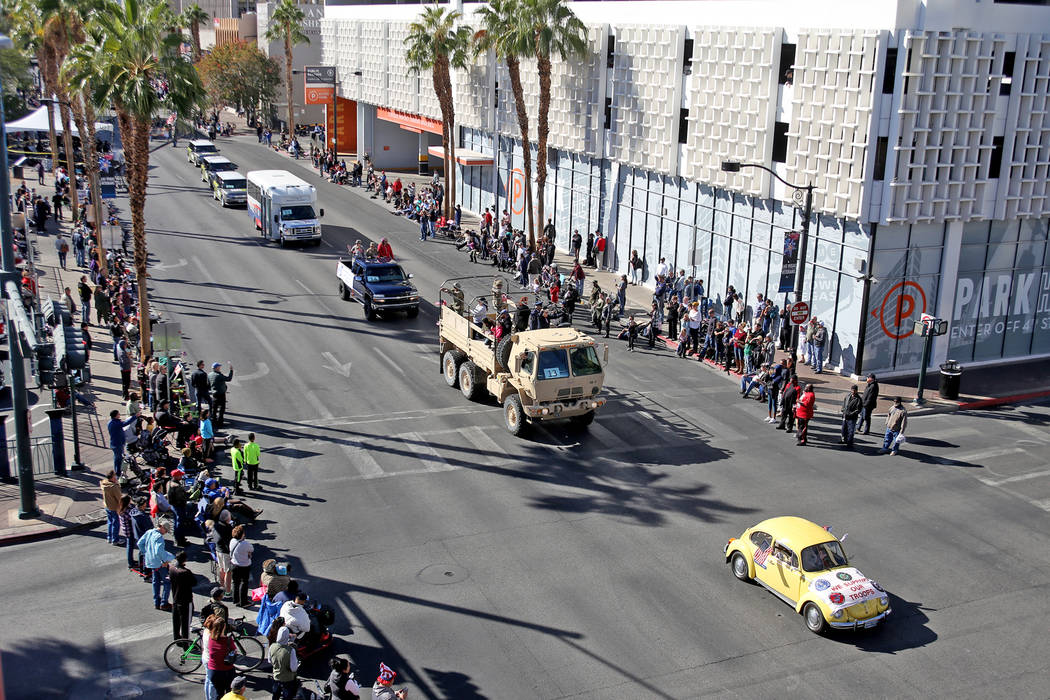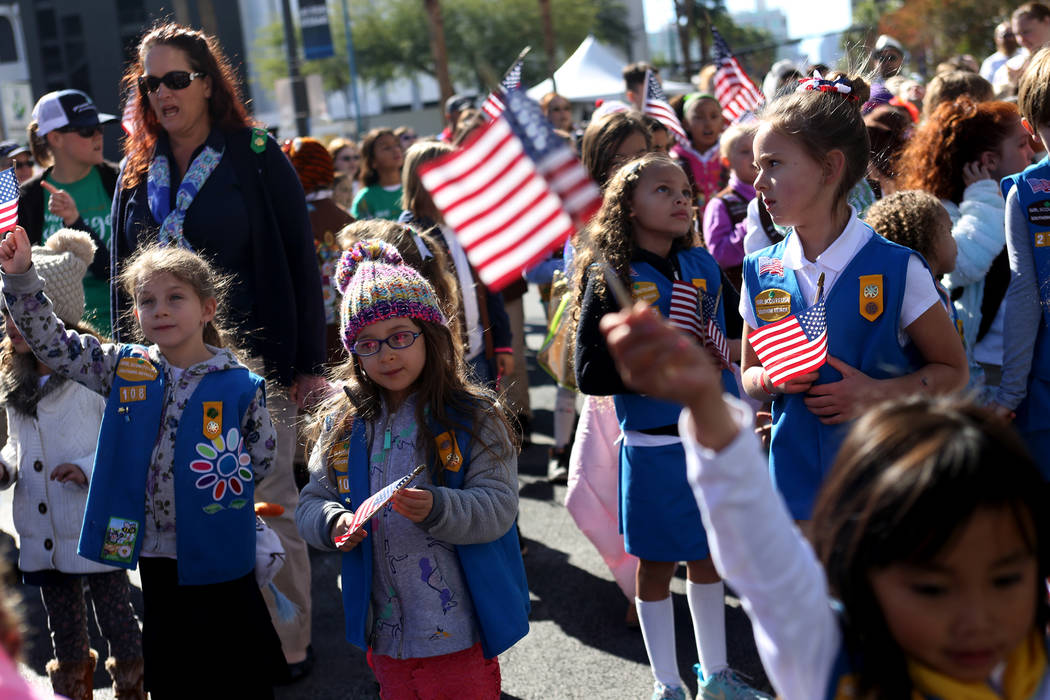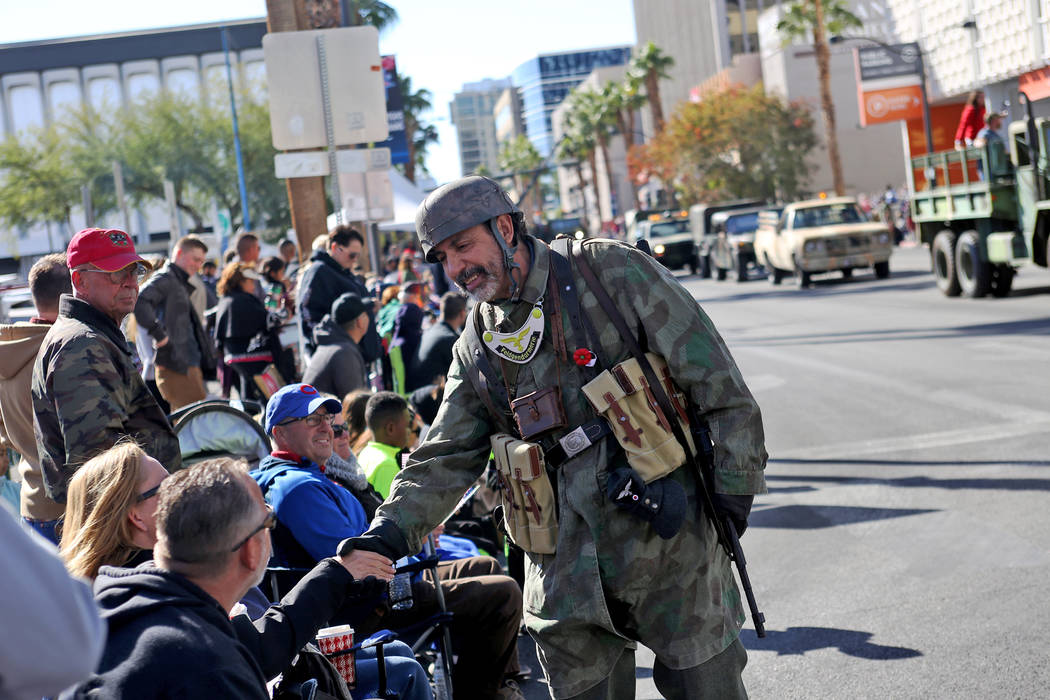 Through the thudding of bass drums, the blaring of truck horns and the marching of junior ROTC cadets, onlookers shouted words of appreciation, and some held handmade "Thank You" signs.
Thousands of spectators lined Fourth Street in Downtown Las Vegas to honor service members during a Veterans Day parade Sunday morning.
The event, billed as the largest Veterans Day parade west of the Mississippi, lasted about two hours and featured more than 100 parade groups, including Mayor Carolyn Goodman and her husband, former Mayor Oscar Goodman. Sunday's event was the 23rd put on by the nonprofit Veterans Action Group.
Large military trucks and classic cars rolled through downtown, prompting cheers by attendees waving small flags. Smartphone cameras turned to the sky as two military helicopters flew above the parade route.
Among those involved was Forgotten Not Gone, a group that works to prevent veteran suicides. The nonprofit uses recumbent trikes to encourage veterans to get physically active.
Co-founder and Air Force veteran Peter Guidry rode around the group in his trike, outfitted to look like a warplane. He said the parade offers an opportunity to reconnect with other veterans.
"Sometimes we just isolate," he said. "Life gets in the way, but this is like a center point every year. It's like I normally see everybody at least this time."
Marc Villagran Jr., a Navy veteran from St. George, Utah, said he drove to Las Vegas with his family to salute fellow veterans and celebrate being bonded by service.
"By being here, it shows that we're are not as divided as people think," he said. "We're united."
But the parade is not just for meeting up with old friends and honoring fellow vets. It also has value for people who have not served in the military.
"You've got to see that there's a cost to freedom," Guidry said. "At the end of day, if we want to preserve the quality of life that we have, somebody has to fight for it. And we come back home broken."
Jerry Adams, an Air Force veteran and the parade's chairman, said the event gives veterans a face.
"I don't think people realize what veterans really are, or who they are. … It's important that people see that veterans are your neighbors, the people you work with, and that they're a special group of people …" he said.
Contact Blake Apgar at bapgar@reviewjournal.com or 702-387-5298. Follow @blakeapgar on Twitter.