North Las Vegas couple still assist veterans, but remotely
October 10, 2018 - 4:43 pm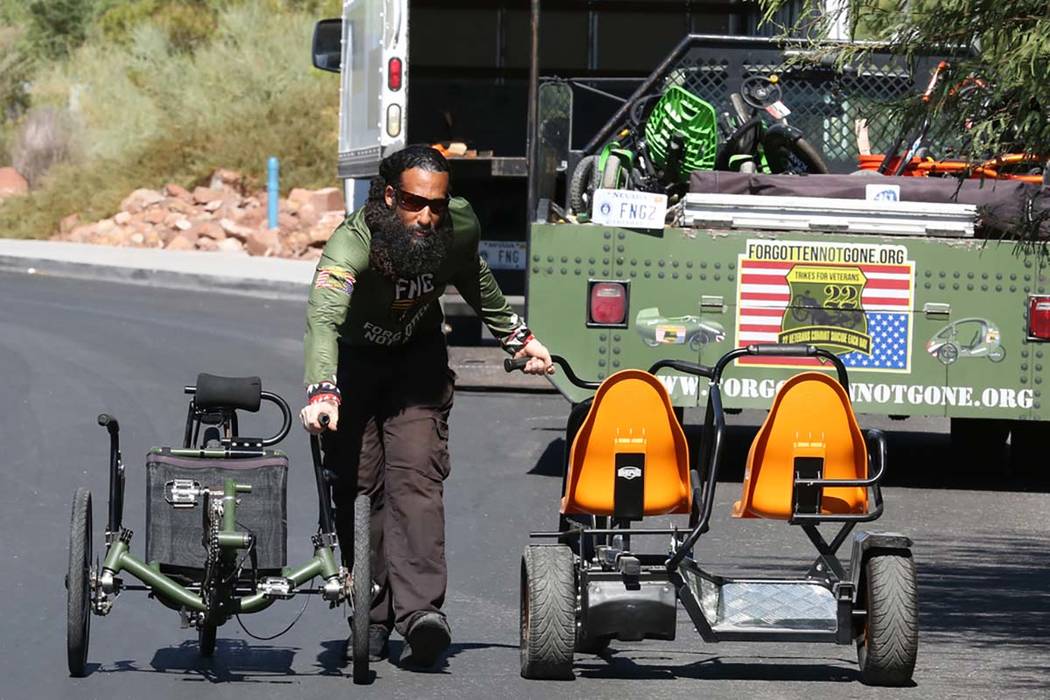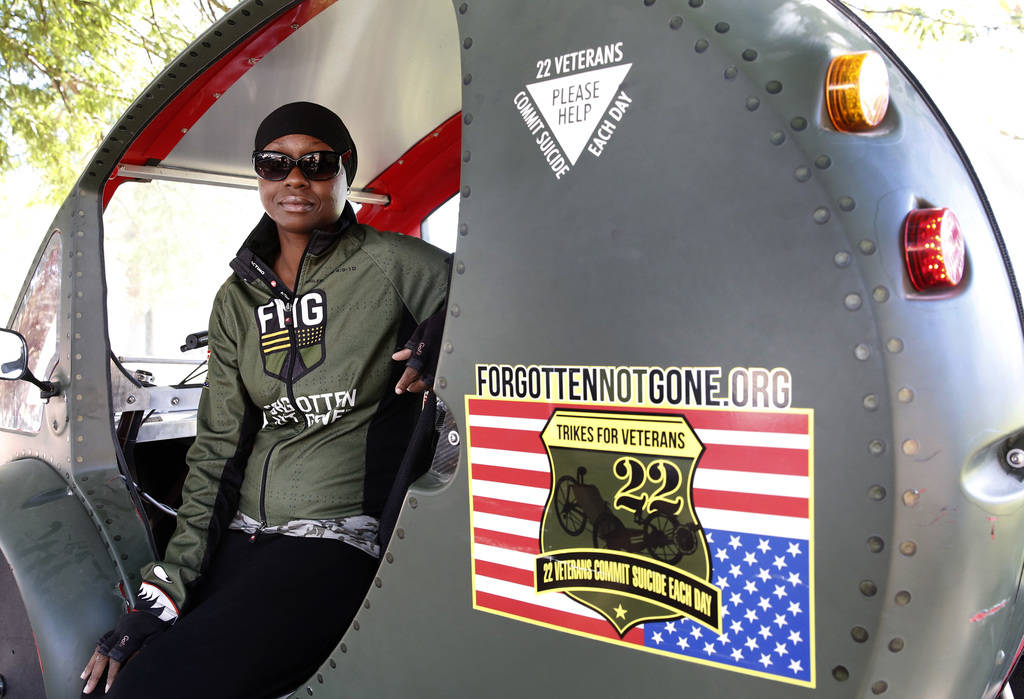 Nearly a year after couple Kelley and Peter Guidry lost their North Las Vegas commercial space for Forgotten Not Gone, a nonprofit group dedicated to preventing veteran suicides, the pair are working remotely from their new home near North Decatur Boulevard.
"We can't provide the counseling aspect of our services here; that's definitely a challenge we're facing," Kelley Guidry, 44, said of their new home. "There were veterans who would visit the location we had late at night, just to talk."
Teresa Ulring, 50, of North Las Vegas was one of the veterans who regularly visited — frequently participating in the organization's weekly therapeutic group rides on large bicycles and tricycles. Her first ride was during the Las Vegas Veterans Day Parade in 2016. Once the space closed, she said, "everything changed."
"For me, it was a really big deal," Ulring said. "That's about the only thing I did to get out of the house … other than going to school. I was on my computer in my cave most of the time. Good things come from being out. The biggest thing is connection; we need to feel connected, and those rides provided that."
The Guidrys, both disabled Air Force veterans, still host rides at Patriot Park when they can and speak regularly with other veterans via phone. Kelley conducts holistic assessments each week, but the absence of commercial space has hindered their reach, she said.
"It's been good and bad," Peter, 41, said. "The bad thing is that we lost the building to constantly meet the veterans. Apart from that, it's just me and her — takes us an hour to load up those bikes to go and meet people. … We're still doing it, just can't do it every single day."
Navy veteran Nelson Ramirez, 44, met the couple in 2014 while attending the College of Southern Nevada. He did media-relations work for the organization in its early stages.
"We were all upset when it closed," Ramirez said. "It was a tightknit community of veterans — felt like a family and still does. … There aren't any other veterans facilities here that provide what Peter and Kelley do, and they fund most of it themselves."
The Guidrys recently were featured in a Netflix documentary titled "Leaf of Faith," which delves into the opioid epidemic in America and an herbal pain remedy. In the film, the two detail their experiences with addictive pain relievers and stress the importance of organic therapy.
"We're hoping the film will give us exposure, get people nationwide interested in what we're doing," Peter said. "We have 150,000 veterans in our community in Las Vegas. We need to continue getting out there."
The couple said they're willing to occupy a commercial space again, but cost is a prohibitive factor.
"We raise money through fundraisers," Kelley said. As for a potential location, "We love North Las Vegas, but … we'd be willing to go anywhere. Wherever it is, it really doesn't matter. We just want to serve the community."
Contact Mia Sims at msims@reviewjournal.com. Follow @miasims___ on Twitter.
Forgotten Not Gone
The nonprofit organization is dedicated to helping to save veterans and their families from suicide through riding recumbent bikes. For more information, visit forgottennotgone.org.