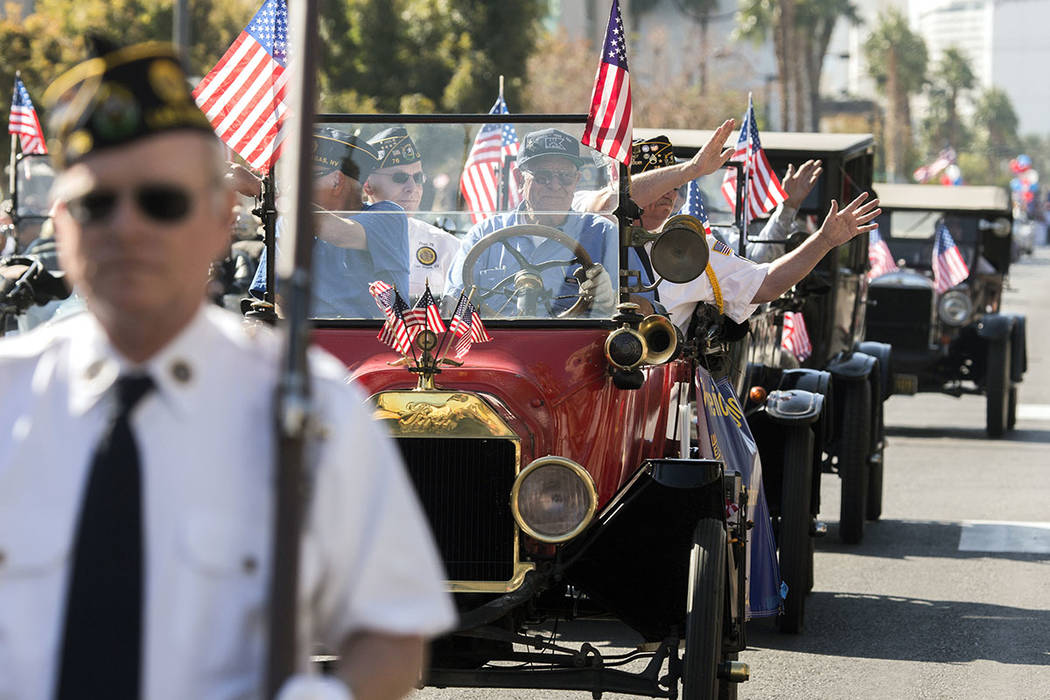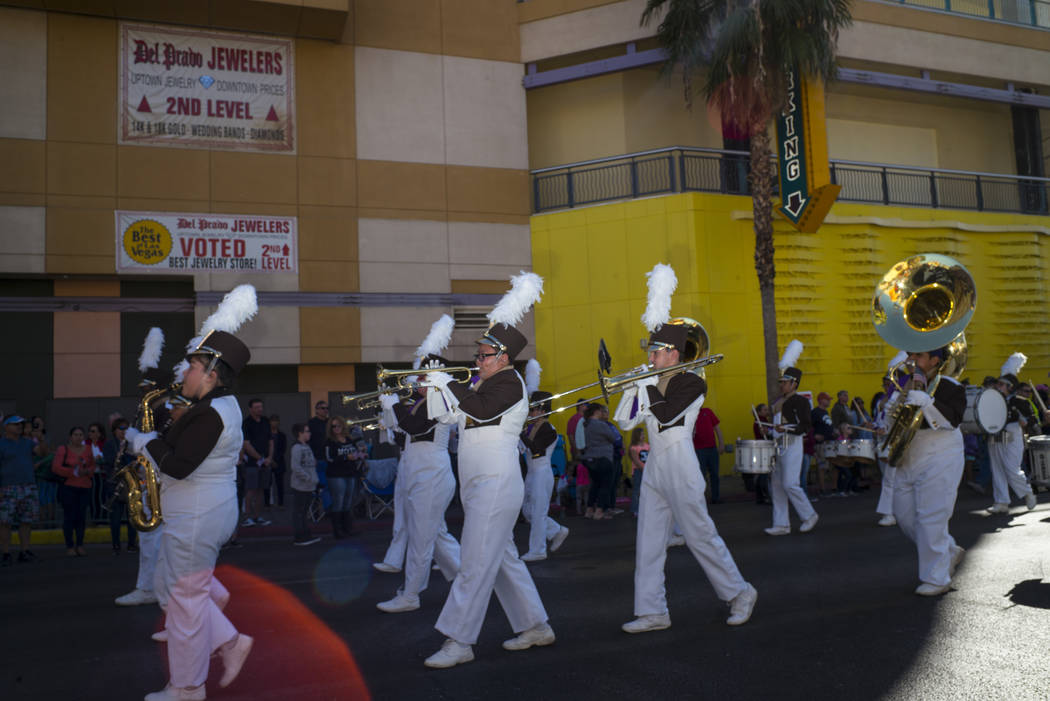 For the 23rd straight year, a Las Vegas nonprofit will host the "largest Veterans Day parade west of the Mississippi" downtown on Sunday.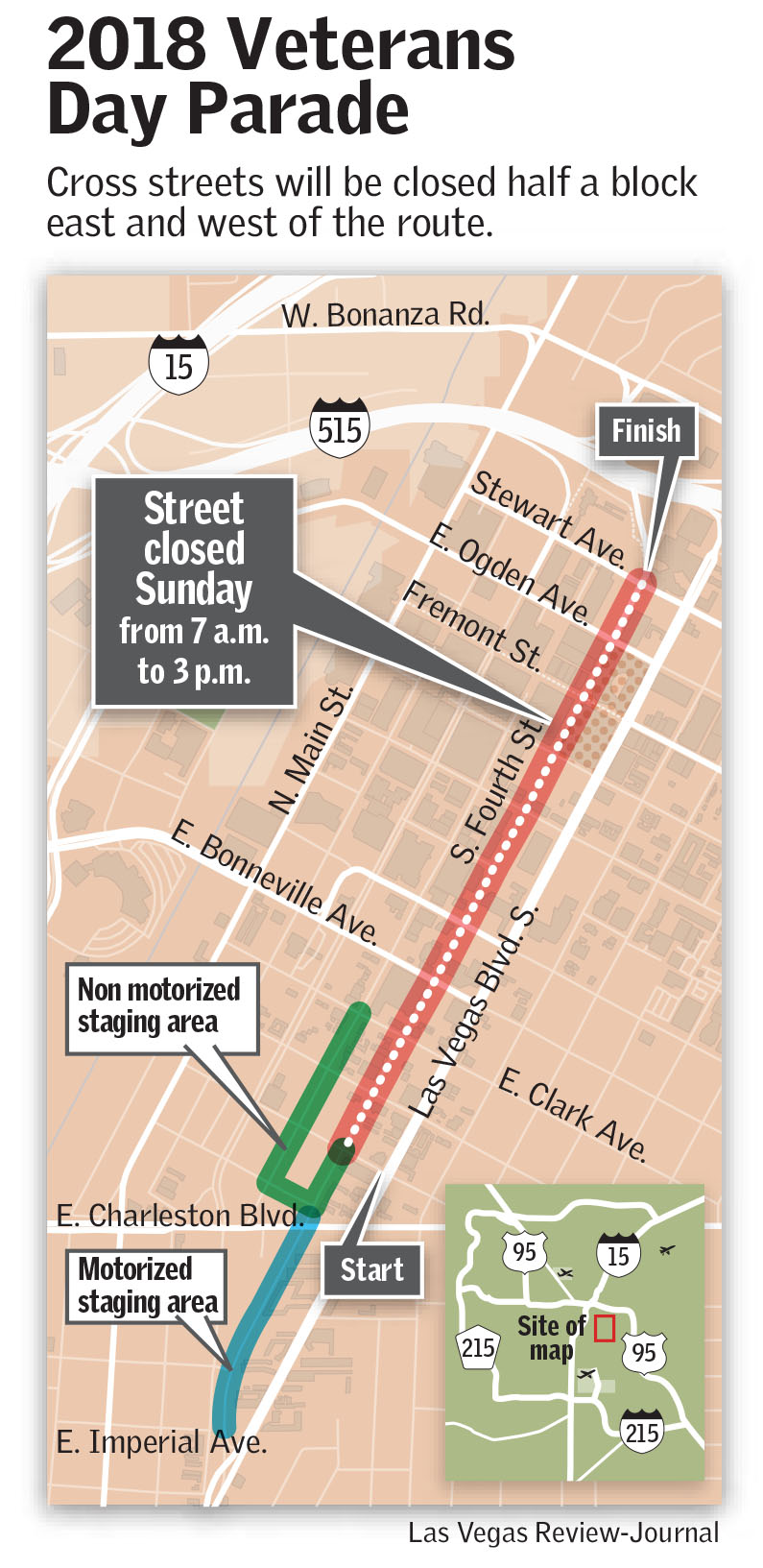 This year's parade organized by the Veterans Action Group is expected to draw a crowd of more than 30,000 with an estimated 102 entries, said Jerry Adams, the parade's chairman.
The parade will set off at 10 a.m. on Sunday from the intersection of Fourth Street and Gass Avenue and head northeast along Fourth under what the National Weather Service predicts will be sunny skies and crisp temperatures.
The parade includes a color guard, active and reserve components of all military branches, marching bands, the 300th Army Band, Girl Scouts, Boy Scouts, members of ROTC programs, a Wells Fargo stagecoach, horses and commercial entries, Adams said.
There will also be 10,000 American flags given out for people to wave during the parade.
Road closures downtown will begin at 7 a.m. with Fourth Street closing between Coolidge and Ogden avenues. Portions of Ogden east and west of Fourth and cross streets extending a half block in either direction from the parade route will also be closed.
If you can't attend in person, Cox Communications, Las Vegas, will broadcast the parade on Sunday live on Cox Channels 14 and 1014 HD and air rebroadcasts on Nov. 18 at 10:30 p.m., Nov. 19 at 11 p.m., Nov. 21 at 10:30 p.m., Nov. 24 at 3 p.m., Nov. 25 at 10:30 p.m., Nov. 26 at 11 p.m., Nov. 28 at 10:30 p.m. and Dec. 1 at 3 p.m.
Adams, a 68-year-old Air Force veteran, said that it's important to celebrate Veterans Day and teach younger generations about respect for our nation's heroes, because some service members, especially from the Vietnam War, were not always welcomed home the way that they deserved.
"I couldn't get a job, sometimes a girl wouldn't go out with me, I was told to put my civilian clothes on in the airport before I flew home," he said. "We do this for the veterans because we don't want that to ever happen again."
For more information on the parade, visit http://www.veteransparade.com.
Contact Briana Erickson at berickson@reviewjournal.com or 702-387-5244. Follow @brianarerick on Twitter.
Boulder City event
The Nevada State Veterans Home in Boulder City will hold a day-long Veterans Day event to mark the 100th anniversary of the end of World War I. The event will feature the following:
— A book signing at 9 a.m. by New York Times best-selling author and combat historian, Patrick O'Donnell. His latest work focuses on the Unknown Soldier and World War I.
— World War I displays and exhibits by the Nevada State Museum, State Archives and private collectors.
— At 1:30 p.m., the traditional Veterans Day Ceremony will commence, with a flyover and music by the Henderson Symphony Orchestra and vocalists Laura Shaffer and Phil Esser.
— A limited number of 100th Anniversary WWI pins will be given to attendees.
Those wishing to "save their seat" can do so online: http://bit.ly/2O0pa2p or by calling 775-825-9748.
Click here for a list of discounts and free food specials for Veterans Day.