Clark County DA spending big to defend seat against challenger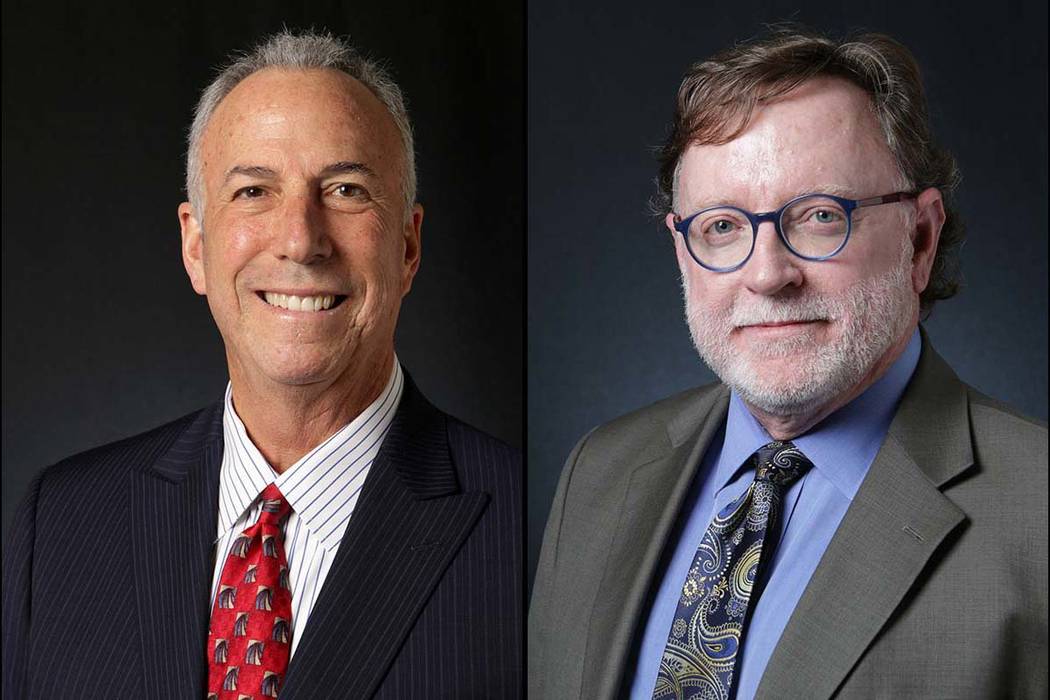 The Clark County district attorney's race was uncontested until a challenger entered the race on the final day of candidacy filing. Now, campaign spending records show, incumbent Steve Wolfson is spending big to keep his seat.
Wolfson has spent almost double the money this election cycle that he did during the 2014 election, which he won with 72 percent of the vote, records show.
The man looking to unseat him in Tuesday's primary election, longtime defense attorney Robert Langford, has spent much less but has the backing of two of the county's biggest unions. He's also benefited from spending by political action committees seeking to oust Wolfson.
Wolfson has collected about $885,000 since the beginning of 2017 and spent nearly all of it, about $858,000 in the current election cycle. And he has spent nearly $780,000 since Langford entered the race.
He's spent about $400,000 in television advertising this year, the records show.
Wolfson, appointed to the position in 2012 and elected in 2014, spent about $440,000 during the 2014 election cycle.
He said he is spending more this cycle to counter third-party spending in the race.
In comparison to Wolfson, Langford has collected $60,615.23 and spent $57,771.24, financial records indicate.
"The only way he could even come close to mounting a campaign is to use (funding from) out-of-state billionaires and PACs," Wolfson told the Las Vegas Review-Journal.
Langford declined to comment for the story.
The attorney with a civil rights background has the backing of the Service Employees International Union, Local 1107 and Culinary Local 226, which represent about 19,000 and 57,000 members, respectively. The culinary union is particularly well-known for its ability to mobilize members to vote.
Political action committees such as Nevada Law &Justice PAC and Peoples' PAC have sent mailers targeting Wolfson, who's received financial support from casinos, attorneys and law firms in the Las Vegas Valley.
Records show that the Nevada Law &Justice PAC received a $1.2 million contribution from a Washington, D.C., firm on May 31 and has spent more than $530,000 on races in the state this year. The Peoples' PAC received a $300,000 donation from a California entity and has spent more than $550,000 on Nevada races this year.
Bail reform
Both candidates are Democrats, although Langford positions himself as the more progressive choice with calls to end mass incarceration and a cash bail system he said disproportionately affects people of color.
Langford, 59, pledged to stop prosecuting cases lacking sufficient evidence and focus on violent crime rather than nonviolent drug offenses, according to his campaign website.
"I believe Clark County needs criminal justice reform," Langford said in a Review-Journal voter guide video.
Eliminating bail would take time and would require changing the Nevada Constitution, Wolfson said.
"It's something that I would look at, but it can't be done overnight," Wolfson said.
Wolfson, 64, emphasized a focus on juvenile programs already in place to keep children in school and out of prison.
He touted a quick turnaround time for jailed offenders to face a judge and praised a risk-assessment program, implemented in part by his office, that determines who should be released without posting bail.
"Keeping the right people in jail and letting the right people out of jail," Wolfson said.
The winner of Tuesday's primary election will win the seat because there is no opposition party candidate. As a result, nearly 60 percent of registered voters in Clark County will not be able to vote for their next DA.
Early voting in the election ended Friday.
Background
Wolfson had no challenger until a Review-Journal investigation revealed that he did not press charges against a longtime aide who stole nearly $42,000 from his campaign in 2014. Audrie Locke, 45, was allowed to repay the money she had taken and is employed as Wolfson's spokeswoman.
Langford entered the race the next day.
Wolfson denied that Locke had received special treatment as an employee, pointing to diversionary programs available to offenders living with addiction.
"We already do treat many, many people the same way," Wolfson said.
A federal lien was issued against Langford in April over his failure to pay his taxes in full. Langford owes the government $66,145 in interest, penalties and unpaid taxes from 2011, 2012, 2013, 2014 and 2015.
"It wasn't that I didn't pay any taxes. It's that I didn't pay enough taxes," he told the Review-Journal on Tuesday.
Langford worked as an assistant district attorney with the county from 1990 to 1997 and has experience litigating civil rights and criminal cases over a 28-year career. He has served as a defense attorney in capital murder cases and worked with the ACLU of Nevada on addressing racial profiling.
Prior to his appointment as DA, Wolfson served on the Las Vegas City Council for nearly eight years. He has experience with several legal organizations and committees and worked as a criminal defense attorney for about 25 years.