Clark County coroner John Fudenberg retiring in August
Updated July 18, 2020 - 7:06 pm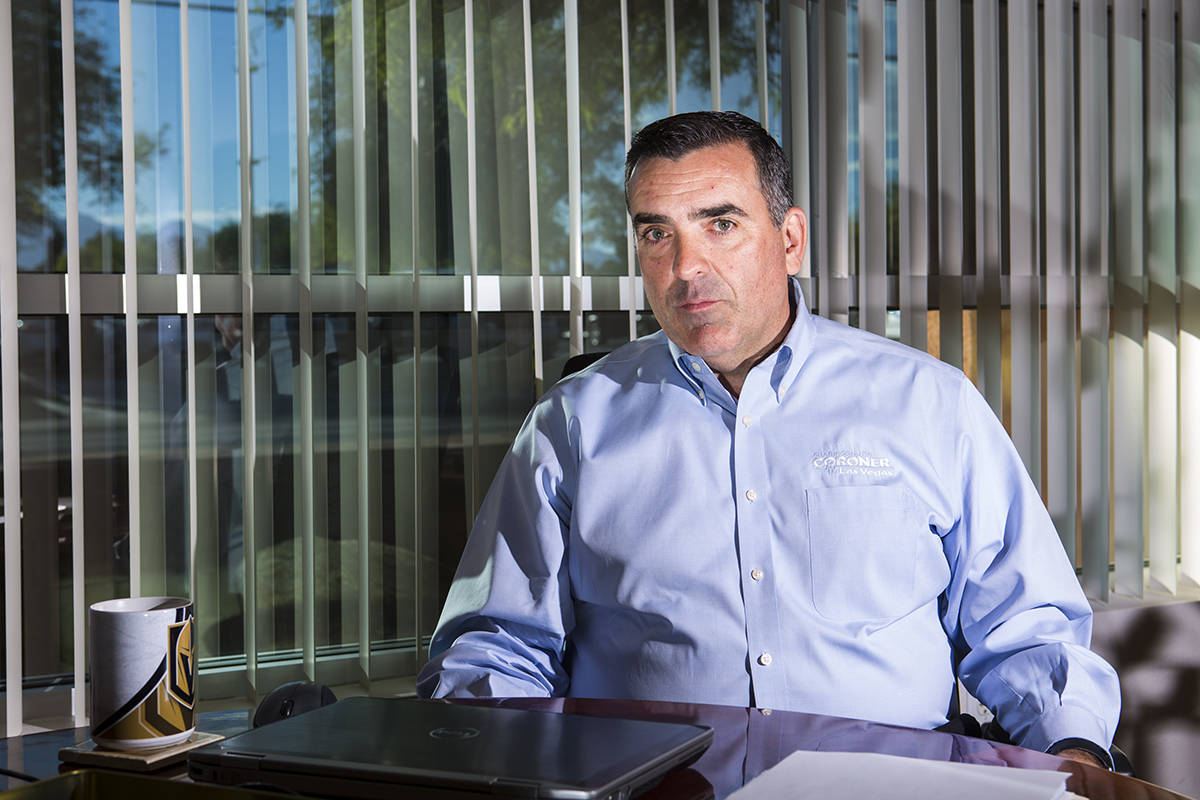 Clark County Coroner John Fudenberg is retiring after five years spent in the position, he said Saturday afternoon.
He is retiring through a voluntary separation agreement with Clark County, which he said was a cost-saving measure due to budget issues from the coronavirus pandemic. But with nearly 30 years working for the county, Fudenberg said in a phone interview Saturday that he was planning on retiring soon anyway.
"I'm most likely going to continue to work in some way shape or form. I'm just not really sure what I want to do quite yet," he said.
John Fudenberg is a true professional, leading the Clark County Coroner's Office with a deep sense of professionalism and compassion, especially after #1October. His retirement leaves behind a big loss and I wish him nothing the best in his future endeavors. https://t.co/5Y0vFGJCvc

— Governor Sisolak (@GovSisolak) July 18, 2020
Clark County spokesman Erik Pappa said about 420 employees are voluntarily retiring.
Fudenberg's last day will be Aug. 7, he said.
"We're evaluating what to do about his position in the office," Pappa said in an email to the Review-Journal.
Fudenberg said he took the voluntary retirement because the timing made sense. He said he's worked for the county and city of Las Vegas for nearly 30 years, the last 17 of which were in the coroner's office. He took over as Clark County coroner after Michael Murphy left the position in March 2015.
"I've been very lucky," Fudenberg said. "The entire city of Las Vegas has been very, very good to me."
Three years of Fudenberg's tenure as coroner were spent in a legal battle between the county and the Review-Journal, which sued after Fudenberg sought to keep autopsies exempt from the Public Records Act.
The Nevada Supreme Court in February ruled that the autopsies are public records, after the county spent more than $80,000 to block releasing the reports. The court also ruled that the coroner could withhold some "sensitive, private information."
"We appreciate the Supreme Court for its thoughtful ruling on this sensitive and important matter and its acknowledgement that autopsies may include private medical and health-related information that is confidential," Fudenberg said in a statement shortly after the ruling. "We look forward to a determination by the District Court on what should remain confidential in order to protect the privacy rights of the decedents and their families."
Before the ruling. Fudenberg testified to lawmakers that journalists wanted autopsy reports only to sell newspapers.
Clark County in March declined to make Fudenberg available for a follow-up interview regarding lobbyists' push to combat a public records bill. On Saturday, Fudenberg said that despite his disagreements with the newspaper, he prefers "to just keep it positive."
After the Route 91 Harvest music festival mass shooting, a District Court judge had to order the coroner's office to release the autopsy reports of the 58 people killed, along with the shooter.
Nearly a year after the shooting, Fudenberg opened up to the Review-Journal in an interview in which he described the aftermath of the concert grounds. He documented body after body while phone screens lying on the ground lit up with calls from loved ones.
"We call ourselves the last of the first responders," Fudenberg said in 2018. "When the police are done securing the scene, when the firefighters and hospitals are done saving who they can, we're just getting started."
His staff worked for months afterward. In September 2018, he said the aftermath of the shooting gave him a greater sense of community and fondness for Las Vegas.
Now that the end has come for his role as coroner, Fudenberg said he's looking forward to spending time with his family. He wants to drive his daughter to her freshman year of college, where she's going to play golf.
"I'm going to spend a little time watching my daughter," he said.
Contact Katelyn Newberg at knewberg@reviewjournal.com or 702-383-0240. Follow @k_newberg on Twitter.