'Super convenient,' marriage license pop-up bureau operates at Reid airport
Updated February 13, 2023 - 5:22 pm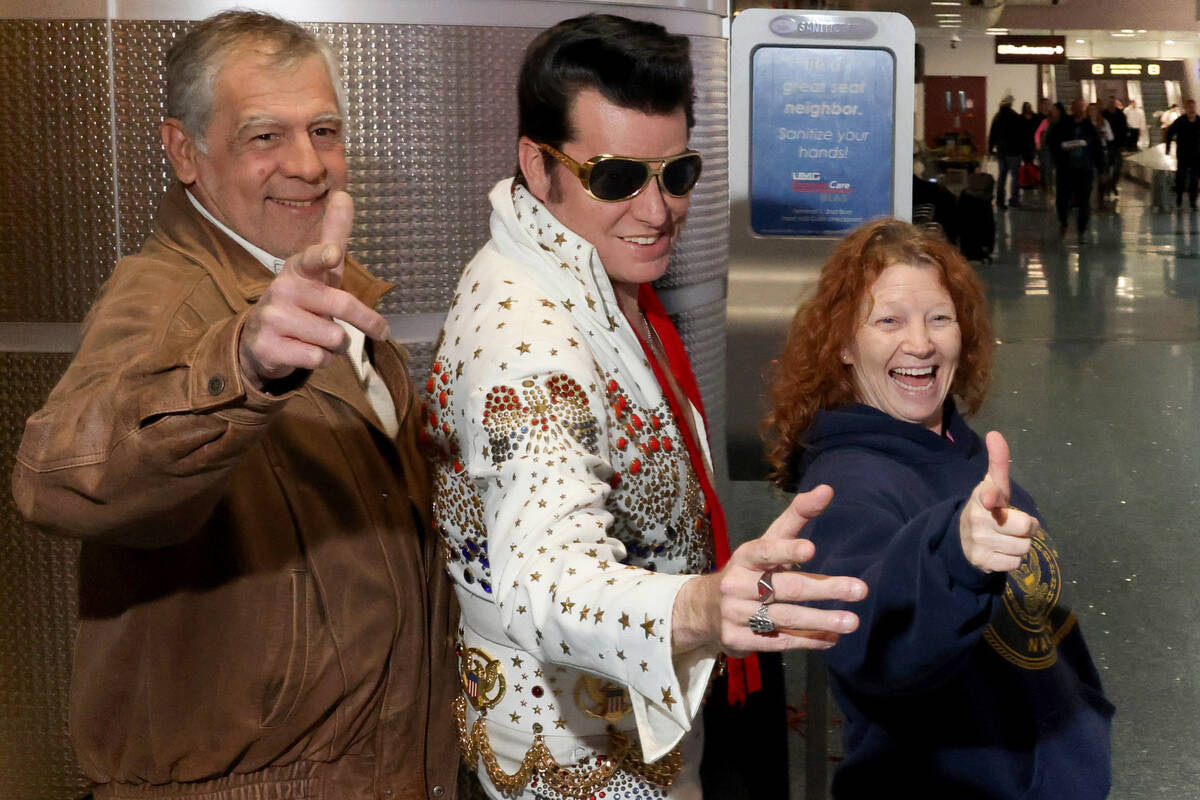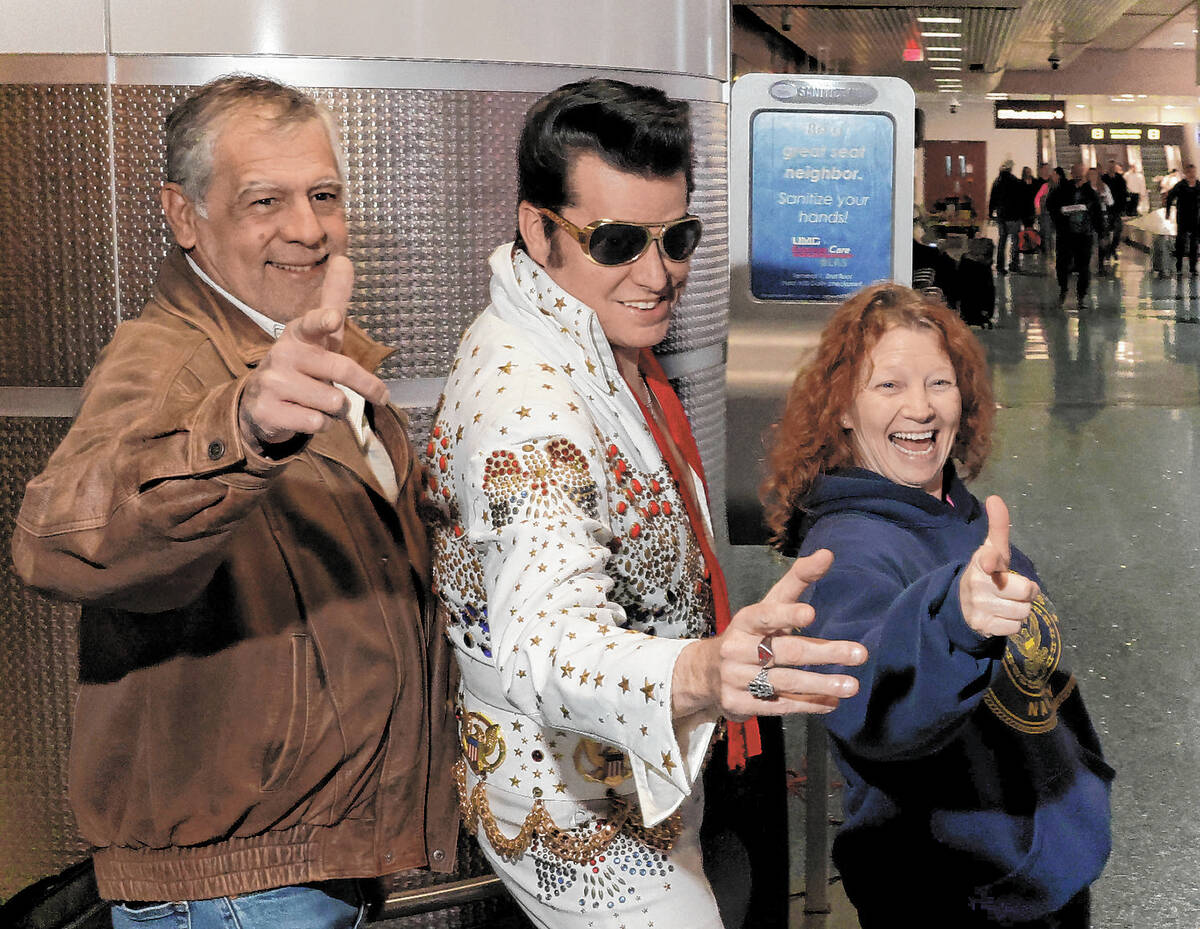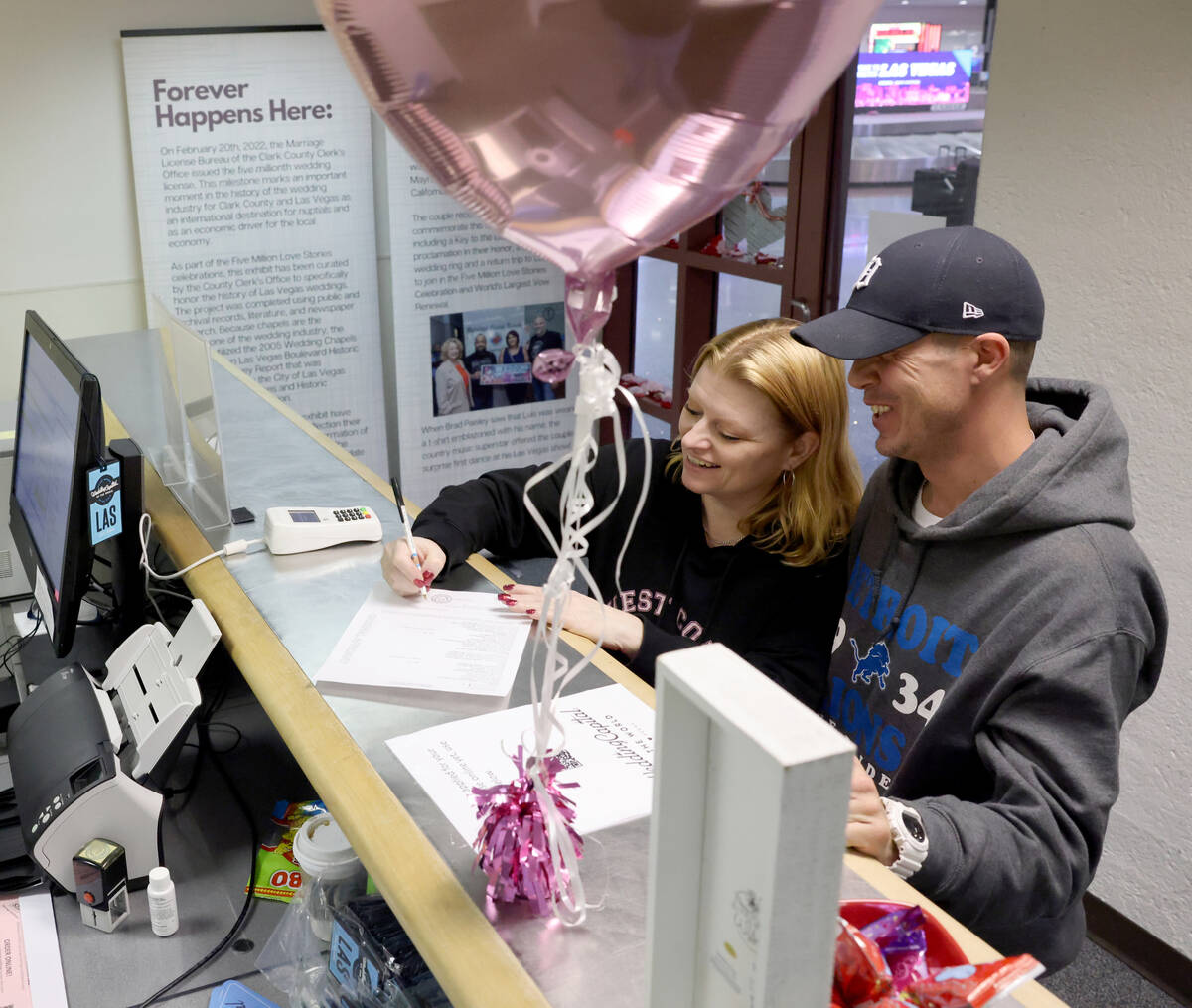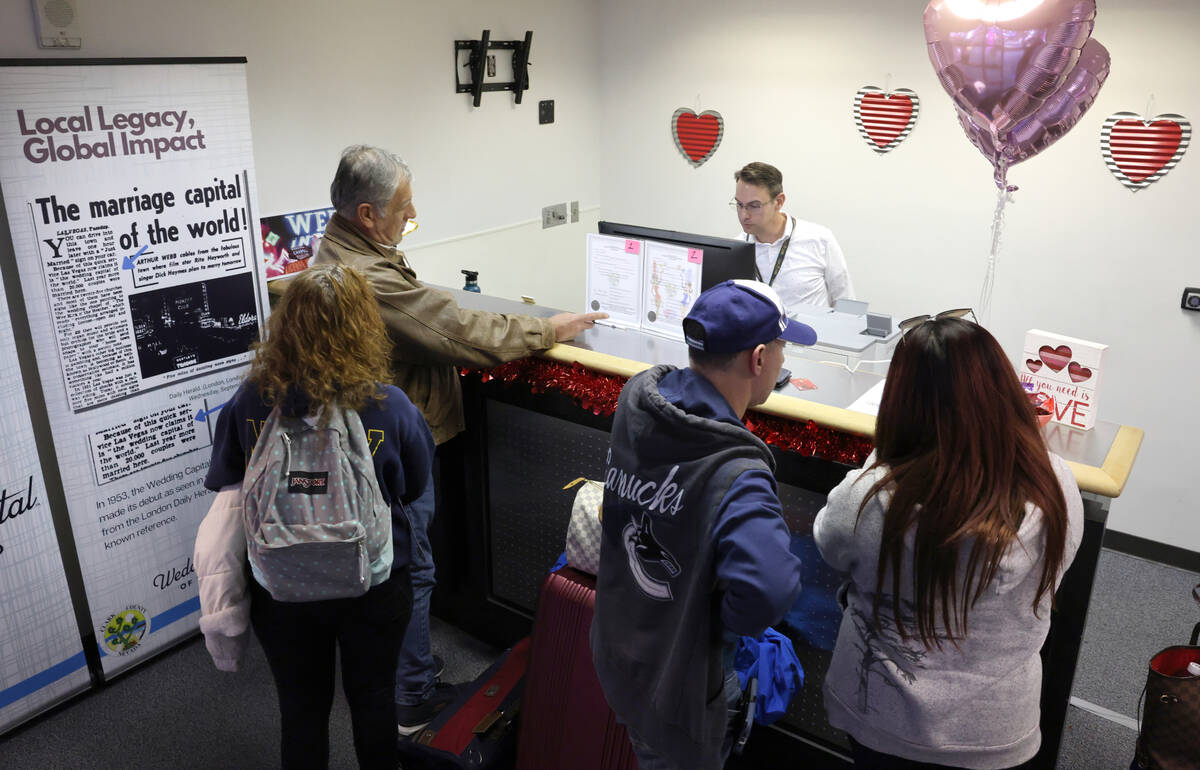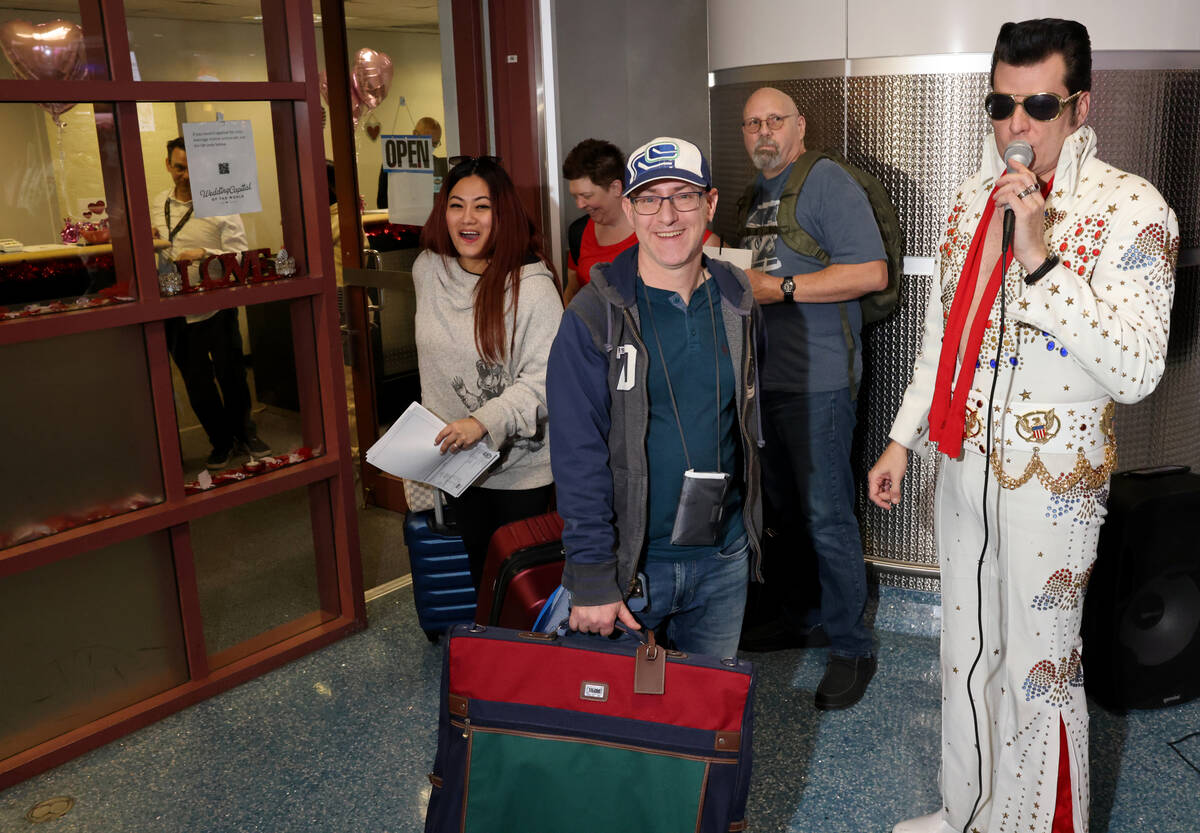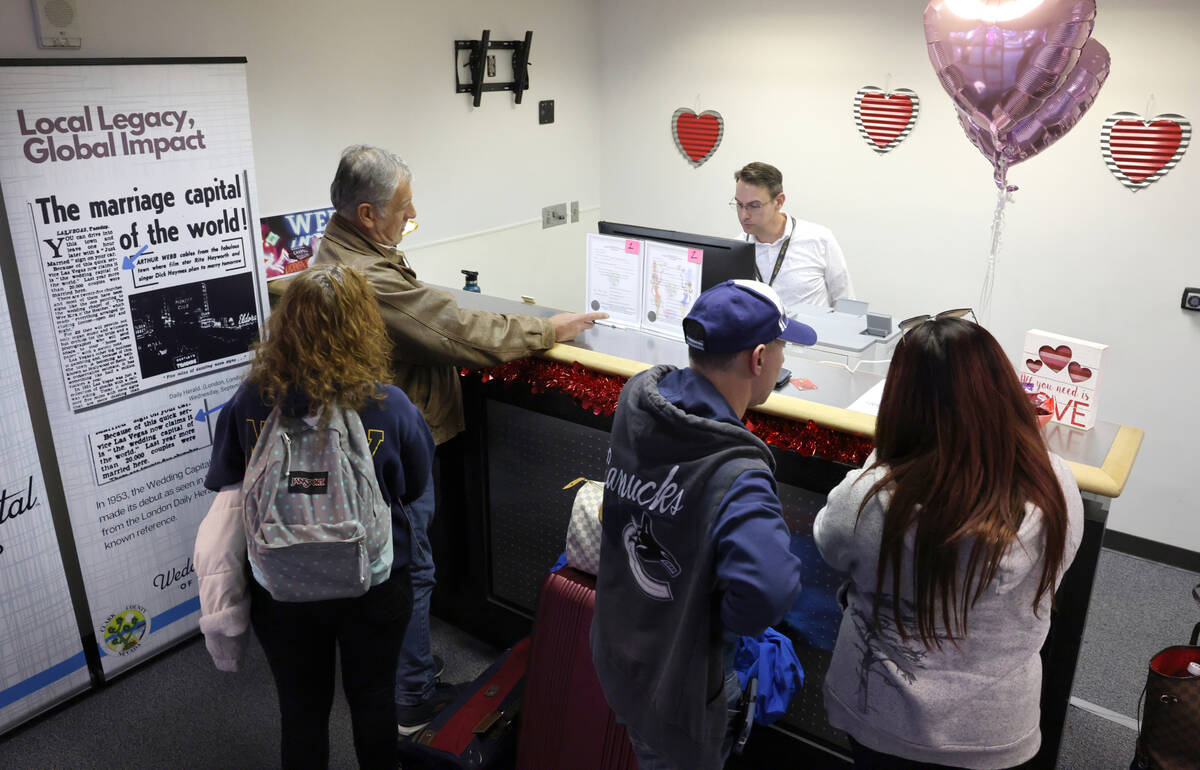 Smitten, smiling and hauling their luggage, visiting couples marched midday Monday through the bustling Harry Reid International Airport and into wedded bliss.
An Elvis Presley impersonator took creative freedoms as he crooned the iconic "Fools Rush In (Where Angels Fear to Tread)."
Brian Mills — who often dresses as Presley when he officiates weddings — played with the lyrics to try to persuade couples in town looking to tie the knot in the days leading up to Valentine's Day to get the $102 marriage certificate right there in the airport, touting the convenience.
"We're the cheapest place to get married, we're the funnest place to get married, we have the most options of anywhere in the country," Mills said in an interview about the "Wedding Capital of the World."
So, the love birds made their way into the office space in the luggage pickup area for the apparently seamless process.
Denise and Glenn Peterson planned on marrying each other for the fourth time Tuesday to mark their 30th wedding anniversary.
The Middlesex, New Jersey, couple quickly recognized Mills, who presided over their third wedding five years ago. It was one of nearly 20,000 ceremonies he's overseen in the past couple of decades, he said.
The Petersons met at an emergency medical services "disaster drill" on April Fools Day in 1990. They shared an ambulance for the exercise and eventually fell in love.
"He just seemed very nice," the bride said.
Vacation wedding(s)
What began as a joke to renew their nuptials in Las Vegas the previous time "turned into a vacation," she said. They enjoyed it so much that it's now a tradition.
Denise Peterson was diagnosed with a now-benign brain tumor in 2020, which can create complications in the future, she said.
"We'll just keep doing it as long as we can," she said about future major-anniversary weddings. "I'm hoping for 40," she said about their fifth go at the altar in a decade.
"Through good times, bad times, you have to stick together, support each other, and you make it work," the groom said about marriage longevity. "If you truly love somebody, you'll make it work."
His bride agreed: "Just work together, say 'please' and 'thank you.' Just because you're married doesn't mean you forget that," she said.
220 licenses and counting
The temporary office is being operated by Clark County from Feb. 2 through Tuesday.
The county clerk's office issues about 80,000 marriage licenses each year. It's opened the pop-up location at Harry Reid since 2018 (with the exception of 2021, a pandemic year).
"Couples love the convenience of the Pop-Up Marriage License Bureau as it gives them even more time to enjoy the variety of experiences we offer in Las Vegas," said Clark County Clerk Lynn Marie Goya in a statement.
By Monday afternoon, at least 220 marriage licenses and two vow renewal certificates had been issued there, a county spokesperson said.
"It seems unlikely that we'll beat last year's numbers," Erik Pappa said. "But the big driver of (423) licenses then was the 2/2/22 wedding date."
Mills, who says he still gets excited marrying couples, said Las Vegas is an ideal wedding destination, where couples can wed in small ceremonies or the more traditional, expensive ones.
"Whatever you want, Vegas has it," he said.
The wedding industry here, he said, has proven to be recession- and pandemic-proof.
"Weddings have always been here, we're going to still continue to be here, just don't forget us," he said.
The couples spotted at the pop-up bureau Monday came from all across North America.
'Super convenient'
Ricel Leigh and Byron Eleniak met "at the mall" in Vancouver, Canada, 12 years ago.
"She's so beautiful," the groom said. "I was captivated."
Las Vegas, where they'll marry Wednesday, is "just a great place to come and party," he said. And the process at the airport was "super convenient."
Ben Makkinje echoed the sentiment. He found love at the onset of the pandemic at the dairy plant he and Kerry Riehl worked at in Colorado Springs, Colorado.
"I was taking his temperature," she quipped. "It just happened," he said. "Just talking, seeing each other every other day in the morning … that was it."
He expects a smooth wedding: "short, sweet, Elvis, three songs, limo."
Couple Michelle Morin and Reynier Vilela also met at work in Miami three years ago. The groom, a native of Cuba, said they chose Las Vegas for their wedding because it's a world-famous destination.
They said their personalities instantly clicked and they fell in love. They share a mixed family of four children.
"For me, love signifies union, respect, it signifies family," said the bride, a native of Venezuela, in Spanish.
"Get married in Las Vegas," she said — flashing a peace sign — when asked if she had a message to other lovers looking into marriage.
Contact Ricardo Torres-Cortez at rtorres@reviewjournal.com. Follow @rickytwrites on Twitter. Review-Journal photographer Kevin Cannon contributed to this story.