Fallout continues over Steve Wynn sexual misconduct allegations
January 28, 2018 - 7:27 pm
Updated January 29, 2018 - 12:44 pm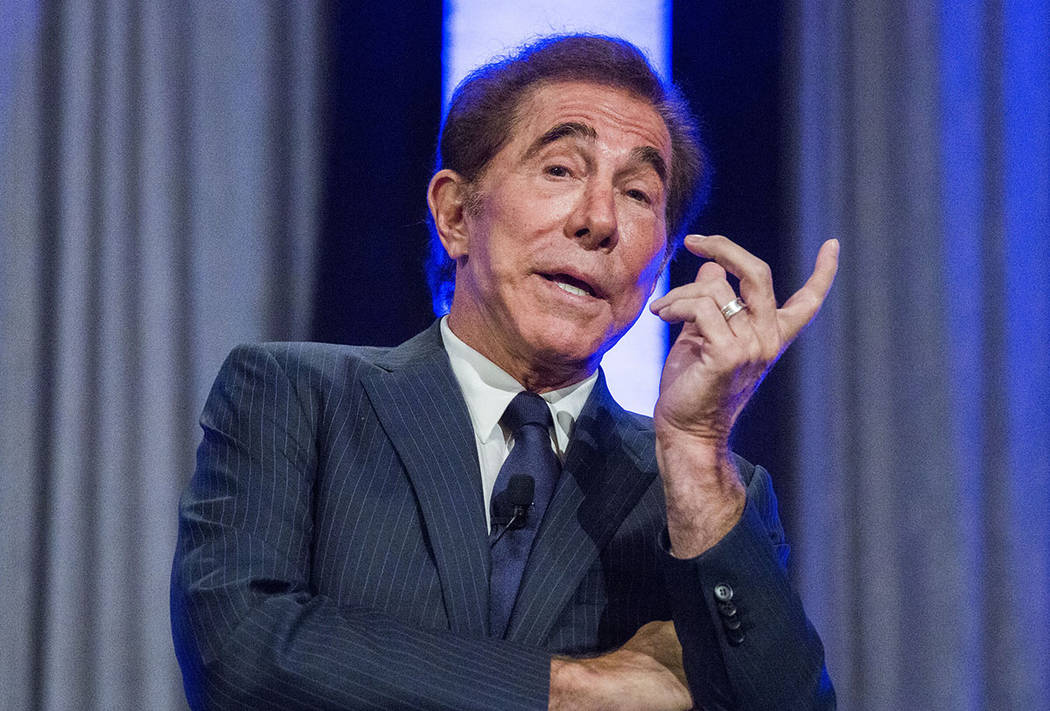 Fallout over sexual misconduct allegations and the resignation of Steve Wynn as Republican National Committee fundraiser mounted Sunday as calls increased for lawmakers and groups to return contributions and disavow support.
The Asian office of Las Vegas-based Union Gaming also downgraded the stock rating of Wynn Resorts' Macau subsidiary on the Hong Kong Stock Exchange, and a Wynn company executive told employees he supports Chairman and CEO Steve Wynn.
Morning television talk shows in Washington also buzzed about the scale of the allegations and Wynn's Saturday resignation as RNC finance chairman. He has denied the claims.
Wynn Las Vegas President Maurice Wooden, in a Friday email to employees, repeated Wynn's account that a blistering story in The Wall Street Journal was brought upon by Wynn's ex-wife, Elaine Wynn, as a litigation strategy.
Wooden also told employees, "We are all supportive of Mr. Wynn and his leadership and while it is unfortunate that the news media has been used to assail Mr. Wynn and us in this way, we are doing everything we can to protect our employees from these types of attacks and publicity."
Complaints about media
A spokesman for Wynn Resorts said Wooden was referencing current and former employees's complaints that they have been repeatedly called at home and on their personal cellphones, and that reporters have come to their homes and the homes of family members and friends multiple times, even after the reporters have been told they don't want to speak with them.
The Wynns are embroiled in a court battle over a company share agreement stemming from the couple's 2010 divorce.
Through a spokeswoman Sunday, Elaine Wynn repeated that she had nothing to do with the Journal's graphic story alleging the builder of The Mirage, Bellagio and the international company that bears his name demanded sex from and assaulted several resort employees over three decades.
Among the international properties in the Wynn portfolio are Wynn Macau and Wynn Palace in Macau. On Monday in Hong Kong, Union Gaming published a report downgrading shares of Wynn Macau Ltd. to "hold" status for five reasons, one of which was "the uncertainty surrounding recent allegations against the company's chairman and CEO and (a) subsequent parent board investigation announcement."
Steve Wynn holds those executive positions both for Wynn Resorts Ltd. and Wynn Macau. A special committee to be headed by board member and former Nevada Gaming Commission member Pat Mulroy was ordered by the 10-member Wynn Resorts board of directors. No timetable for the committee investigation or details of who else is on the committee have been disclosed, but an independent outside counsel will assist.
Drop in stock value
The Union Gaming report, authored by Macau-based Grant Govertsen, also cites the stock's drop in value — in the United States on Friday, Wynn stock shares, trading on the Nasdaq exchange, fell more than 10 percent to $180.29 a share, a $2 billion loss in market value. The stick continued to sag on Monday, dipping under $165 a share in afternoon trading.
The report also noted a near-term elimination of Wynn Macau's historical premium valuation, a potential review by Macau's Gaming Inspection and Coordination Bureau, known as the DICJ, on top of a regulatory review anticipated in Massachusetts, and investors cycling out of Wynn exposure and into Galaxy Entertainment Group of Hong Kong and Las Vegas-based Las Vegas Sands Corp.
Govertsen said the company's Macau operations are likely to be unaffected and he still expects above-market growth in 2018.
"However, given the uncertainties relating to the recent events, we expect the historical Wynn premium multiple to be removed and expect the stock to trade at an in-line market multiple until such time as there is resolution to the recent events," the report said.
Talk shows buzzing
On Sunday morning shows, Sen. Susan Collins, R-Maine, and Sen. Lindsey Graham, R-S.C., said the RNC should return money from Wynn, or donate it to worthy causes.
The RNC was quick to condemn the Democratic National Committee for taking money from Hollywood mogul Harvey Weinstein when allegations of sexual assault and misconduct surfaced about him.
RNC Chairwoman Ronna Romney McDaniel, who led the criticism of the DNC over the Weinstein allegations, issued a one-paragraph statement Saturday saying she had accepted Wynn's resignation as RNC finance chairman.
But Graham told ABC's "This Week" that "we should do of ourselves what we ask of the Democratic Party if these allegations have merit. I don't think we should have a double standard for ourselves."
And Collins told CNN's "State of the Union" that Republican groups that have accepted large cash donations from Wynn should return the money if those funds have not been spent.
Heller asked to disavow
In Las Vegas, Rep. Jacky Rosen, D-Nev., called on Sen. Dean Heller, R-Nev., once again to disavow an endorsement he received from Wynn and $5,400 he received for his 2018 re-election.
Rosen is seeking the seat held by Heller, considered one of the most vulnerable Republican senators up for re-election.
"Instead of standing with the women who bravely came forward, Sen. Heller is refusing to comment at all on these repulsive allegations of sexual misconduct against one of his biggest supporters," Rosen campaign spokesman Stewart Boss said.
A spokesman for the Heller campaign said Monday that the $5,400 donation from Wynn to Heller for the 2018 Senate reelection campaign would be donated to charity.
Requests for comment on the allegations from the Heller campaign since Friday have gone unanswered.
Last year, Heller immediately condemned Rep. Ruben Kihuen, D-Nev., and urged the congressman to step down after allegations of misconduct were published by BuzzFeed.
Kihuen has denied the allegations, but has announced he will not seek re-election to his congressional seat.
Big contributor
Wynn was once was a contributor to Nevada politicians in both major political parties. In 2000, he gave $20,000 to the Democratic National Campaign Committee, according to the Center for Responsive Politics, which tracks money in the electoral process.
Most recently, Wynn has been a major Republican fundraiser, making large donations to the RNC, National Republican Senatorial Committee and the National Republican Congressional Committee.
The casino mogul's influence is well-known in Washington.
Wynn attended a Senate Republican caucus lunch at the Capitol when GOP lawmakers last year tried to craft a bill to repeal Obamacare that could muster the necessary GOP votes to pass. The bill failed.
Wynn also has contributed to a number of candidates.
A spokesperson for Rep. Karen Handel, R-Ga., told Time on Sunday that the freshman lawmaker donated a contribution to her campaign from Wynn to a nonprofit center that deals with domestic violence and sexual abuse.
Wynn took the position of RNC finance chairman immediately after President Donald Trump was sworn into office last January. Since then, he has helped the RNC raise about $130 million.
No comment from Trump
Trump, who also has been accused of sexual misconduct, has not commented on Wynn or his resignation from the top fundraising post for the party.
A wave of allegations have toppled politicians from both political parties in recent months.
Sen. Al Franken, D-Minn., and Rep. John Conyers, D-Mich., both stepped down following allegations of misconduct.
Men in other industries, including entertainment and the media, also have been forced to resign or fired for improper behavior.
The Review-Journal is owned by the family of Las Vegas Sands Corp. Chairman and CEO Sheldon Adelson.
Contact Richard N. Velotta at rvelotta@reviewjournal.com or 702-477-3893. Follow @RickVelotta on Twitter. Contact Gary Martin at gmartin@reviewjournal.com or 202-662-7390. Follow @garymartindc on Twitter.
No signs of cancellations
While social media was active with Wynn Reosrts customers vowing they won't return to Wynn properties in light of allegations of sexual impropriety by Chairman and CEO Steve Wynn, the company says there have been no more reservation cancellations than normal.
On Twitter, most of the feedback was against Wynn, while other tweets defended him or said he was at least deserving of due process through the investigations promised by a special committee of the Wynn Resorts board of directors and the Massachusetts Gaming Commission. The state Gaming Cointrol Board in Nevada hasn't indicated whether its own investigation is forthcoming, noting officials are aware of the allegations.
A spokesman for Wynn Las Vegas said there were no more cancellations at the hotel than normal over the past three days.