Steve Wynn resigns as RNC finance chairman amid allegations
Updated January 27, 2018 - 7:10 pm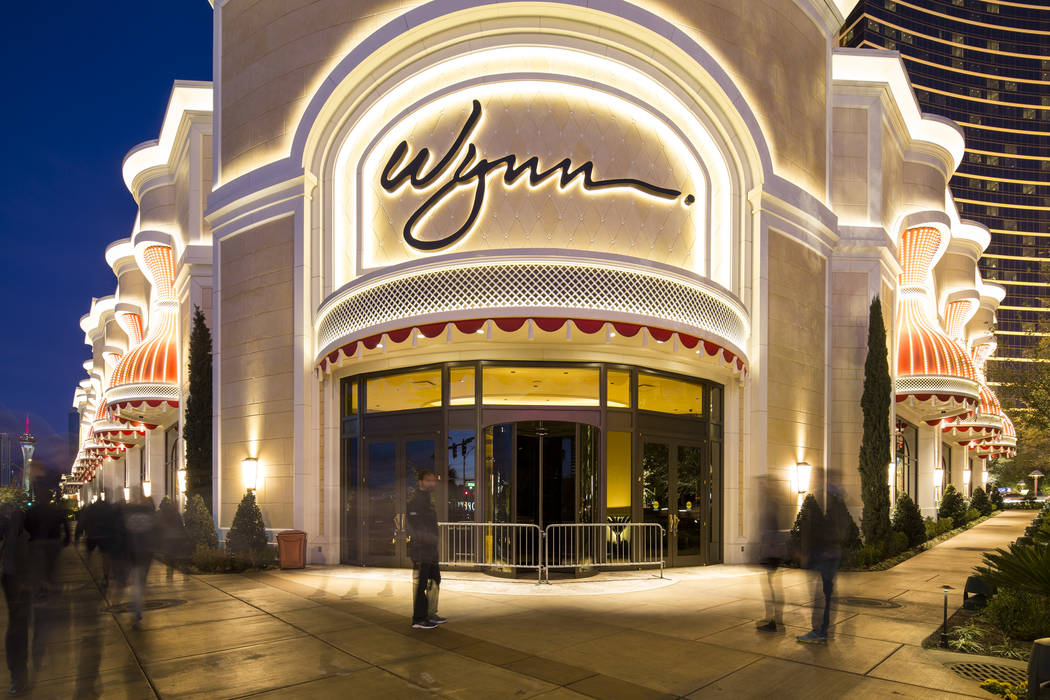 Steve Wynn stepped down Saturday as Republican National Committee finance chairman amid allegations of sexual misconduct.
In a related development, Pat Mulroy, a former Nevada Gaming Commission member, has been selected to head a special committee appointed Friday by the Wynn Resorts board of directors to investigate the allegations.
RNC chair Ronna Romney McDaniel confirmed Wynn's departure from the committee in a statement Saturday. "Today I accepted Steve Wynn's resignation as Republican National Committee finance chair," she said.
Later Saturday, Wynn affirmed the resignation with his own statement.
"Effective today, I am resigning as finance chairman of the RNC," said the statement, emailed through a Wynn Resorts spokesman. "The unbelievable success we have achieved must continue. The work we are doing to make America a better place is too important to be impaired by this distraction. I thank the president for the opportunity to serve and wish him continued success."
The resignation, first reported by Politico, comes one day after the Wall Street Journal's report alleging the Wynn Resorts chairman and CEO demanded sex from and assaulted several of his resort employees over three decades.
Wynn Resorts officials have not indicated who else will serve with Mulroy on the special committee comprised of independent directors and what its timetable is to complete its investigation.
Mulroy, who was general manager of the Las Vegas Valley Water District from 1989 to 2014 and general manager of the Southern Nevada Water Authority from 1993 to 2014, is the only woman on the 10-member Wynn board of directors. She has served on the board since October 2015.
The board, chaired by Steve Wynn, is comprised of members with diverse business backgrounds and its longest-serving member is former Nevada Gov. Bob Miller, who first joined in October 2002.
Other board members include a retired U.S. Navy admiral, a trustee for the University of Southern California and a long-time ambassador to the People's Republic of China.
Massachusetts gaming regulators also indicated they would investigate allegations that Wynn, builder of The Mirage, Bellagio and the international resort company that bears his name.
Wynn denies the allegations, saying they were false and a smear campaign orchestrated by his ex-wife, Elaine Wynn, with whom he's embroiled in a court battle over a company share agreement stemming from the couple's 2010 divorce.
Elaine Wynn declined comment, but in court documents filed with the Nevada Supreme Court, her lawyers said she learned of one incident of alleged sexual misconduct with an employee as she was preparing for divorce proceedings with her husband in 2009.
Wynn is the most recent high-profile figure from the business, government and entertainment worlds to be accused of sexual harassment. Hollywood producer Harvey Weinstein and actor Kevin Spacey are among those in the entertainment industry rocked by sexual harassment scandals.
On Friday, U.S. Rep. Jacky Rosen, D-Nev., said U.S. Sen. Dean Heller, R-Nev, who has received Wynn's support as well as campaign contributions, "should do what's right by rejecting Mr. Wynn's support." The Heller campaign did not immediately respond to a request for comment Saturday.
UltraViolet, an online advocacy group of more than 1 million women and men who want to expose sexism in the public sector, private sector and the media, is also calling for Wynn's ouster as company CEO.
"Steve Wynn needs to go," said Nita Chaudhary, co-founder of UltraViolet. "He is a predator of the worst kind who used his position of power to sexually coerce his female employees."
Contact Richard N. Velotta at rvelotta@reviewjournal.com or 702-477-3893. Follow @RickVelotta on Twitter. Review-Journal Washington correspondent Gary Martin contributed to this story.
Wynn Resorts' board of directors
— Steve Wynn, chairman since June 2002, and who also serves as the company's chief executive officer
— Bob Miller, director since October 2002, former governor, lieutenant governor and Clark County district attorney, founder of Robert J. Miller Consulting
— Alvin Shoemaker, director since December 2002, retired chairman of the board of First Boston Inc. and First Boston Corp. until its sale to Credit Suisse Bank
— D. Boone Wayson, director since August 2003, principal of Wayson's Properties, Inc., a real estate development and holding company
— Ray Irani, director since October 2007, former executive chairman and CEO of Occidental Petroleum Corp., and a trustee of the University of Southern California
— J. Edward Virtue, director since November 2012, founder and CEO of MidOcean Partners, an alternative asset manager based in New York
— John Hagenbuch, director since December 2012, chairman of M&H Realty Partners and WestLand Capital Partners, investment firms he co-founded in 1994 and 2010, respectively
— Pat Mulroy, director since October 2015, former Nevada Gaming Commission member, former general manager of Las Vegas Valley Water District and Southern Nevada Water Authority
— Clark Randt, director since October 2015, president of Randt & Co. and former ambassador to the People's Republic of China
— Jay Johnson, director since August 2016, retired U.S. Navy admiral and retired chairman and CEO of General Dynamics Corp.