Adam Laxalt loses endorsement after condemning Dennis Hof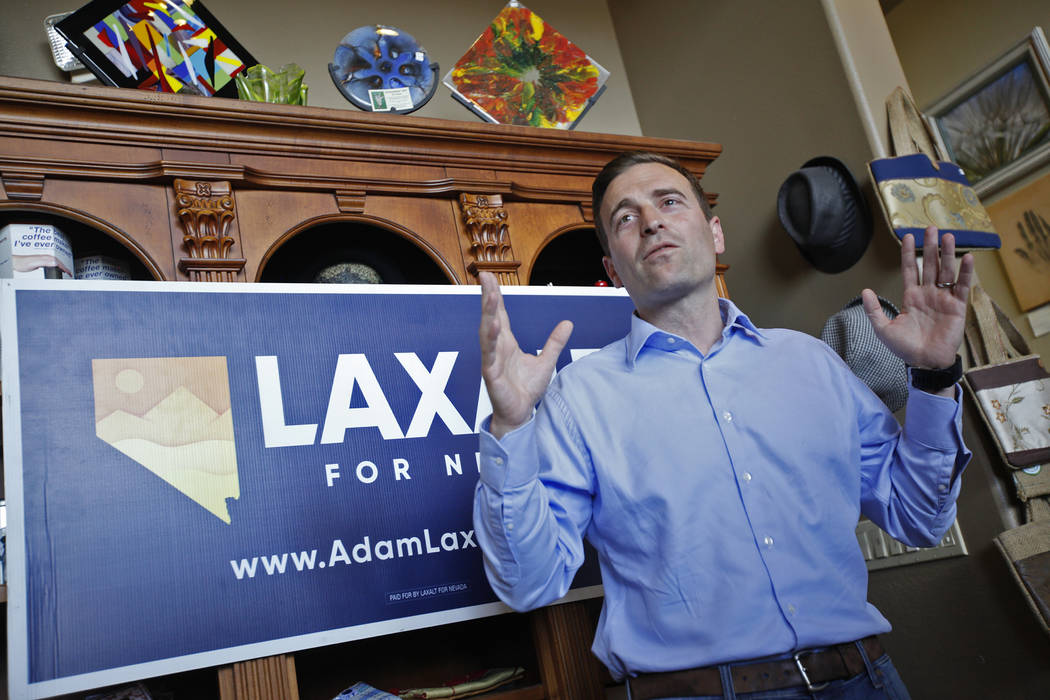 A Nye County official pulled her endorsement of gubernatorial candidate Adam Laxalt after he announced he won't support brothel owner Dennis Hof's bid for a Nevada Assembly seat.
Hof pulled off an upset by defeating incumbent Assemblyman James Oscarson in the Republican primary last week. He clinched the victory with a sweeping win in rural Nye County, the largest chunk of Assembly District 36.
But Laxalt, the state's attorney general and a fellow Republican, has distanced himself from Hof and refused to support the larger-than-life TV personality. Other leading Nevada Republicans, including Gov. Brian Sandoval and U.S. Sen. Dean Heller, followed suit.
Nye County Commissioner Donna Cox on Monday withdrew her endorsement of Laxalt, saying Nye County voters "spoke loud and clear that they want Dennis Hof for Assembly District 36."
Cox instead is endorsing independent candidate Ryan Bundy for governor.
"I will work tirelessly to help Ryan Bundy win Nye County in the general election this fall," she said.
Laxalt's campaign did not answer a list of questions, but it issued a statement about the situation.
"Adam respects the will of the voters in District 36. However, as a husband and a father of two young daughters, he has stated that he will not be supporting Mr. Hof's campaign," said Laxalt campaign spokesman Parker Briden.
Hof said Tuesday that Cox carries weight in Nye County, and losing her endorsement could hurt Laxalt's campaign for governor.
"If it hurts Laxalt in Nye County, shame on Laxalt. He brought it on himself," Hof said Tuesday.
Hof said the Laxalt campaign planted the question about supporting him during a radio interview.
"He didn't want the Democrats hanging me around his campaign," Hof said. "They're doing it because I'm not part of the establishment. I'm like Trump. I can't be bought. I can't be broken. They found that out during this race."
Cox also said Laxalt hasn't "raised a finger" to help Nye County residents fight a plan to install meters on domestic wells and charge residents if they use more than 25 percent of their allotted 2 acre-feet a year.
Democrats blasted Laxalt for speaking out against Hof, who's been accused of sexual misconduct, while remaining silent about Storey County Sheriff Gerald Antinoro, who's been accused of rape. Antinoro has endorsed Laxalt.
"Adam Laxalt clearly has one set of standards for his political allies like Sheriff Antinoro and Steve Wynn and another for everyone else," Nevada Democratic Party spokeswoman Helen Kalla said. "Laxalt's shameful silence on the horrific allegations of sexual harassment and assault against his supporters shows that he cares more about doing what's politically expedient than doing what's right."