Jacky Rosen unseats Dean Heller, is elected to US Senate
November 6, 2018 - 11:14 pm
Updated November 7, 2018 - 3:22 am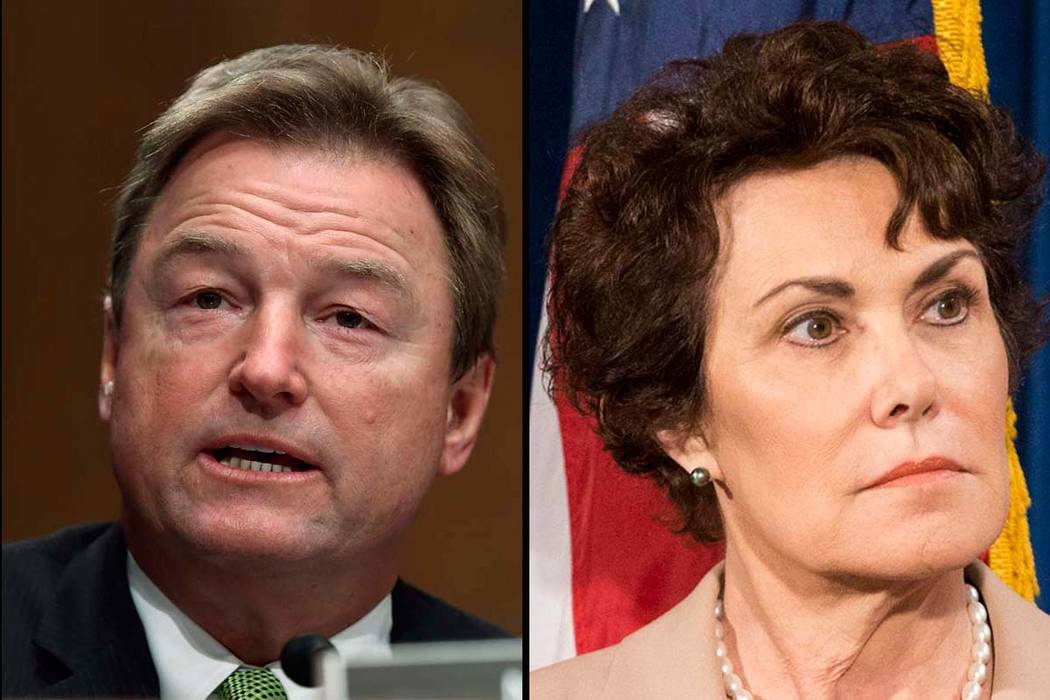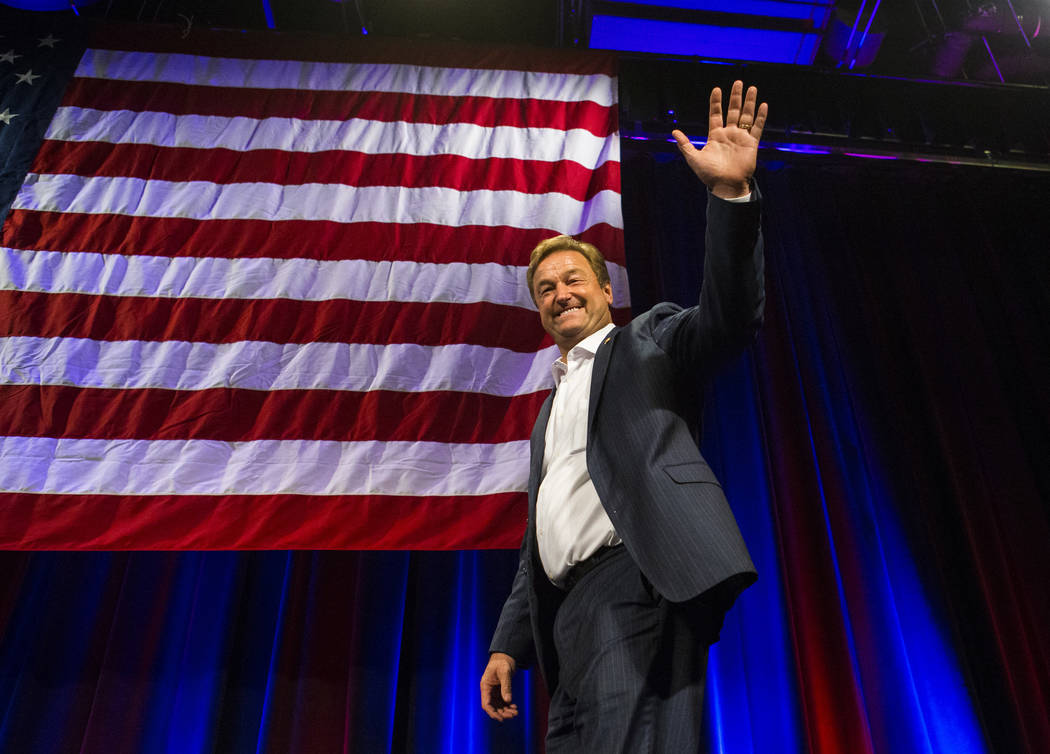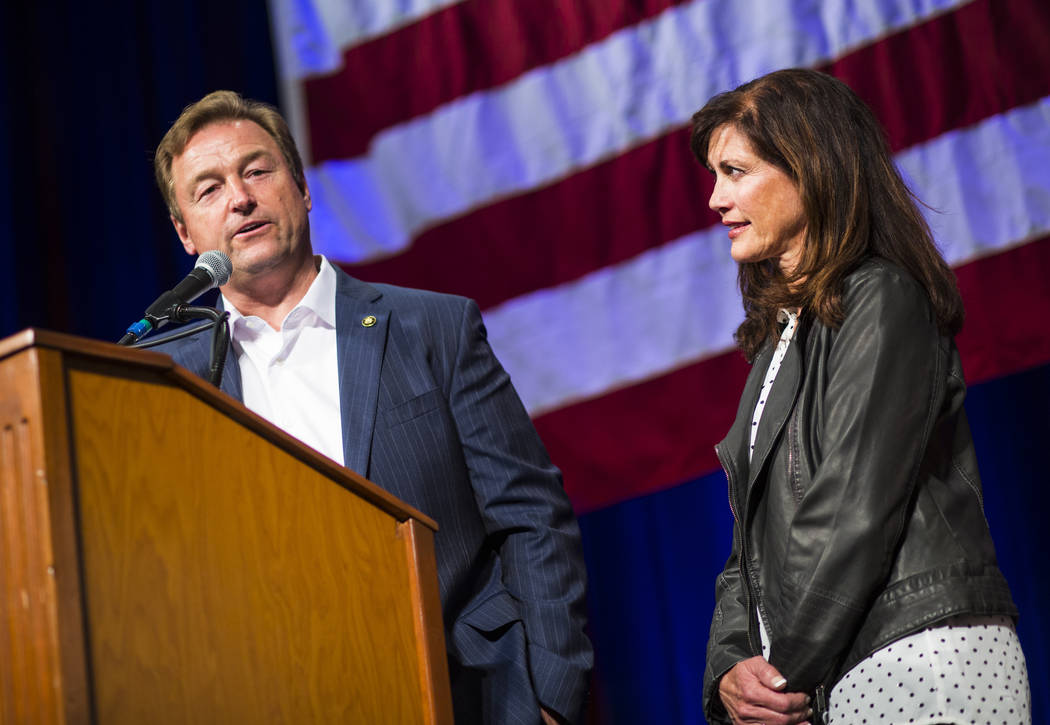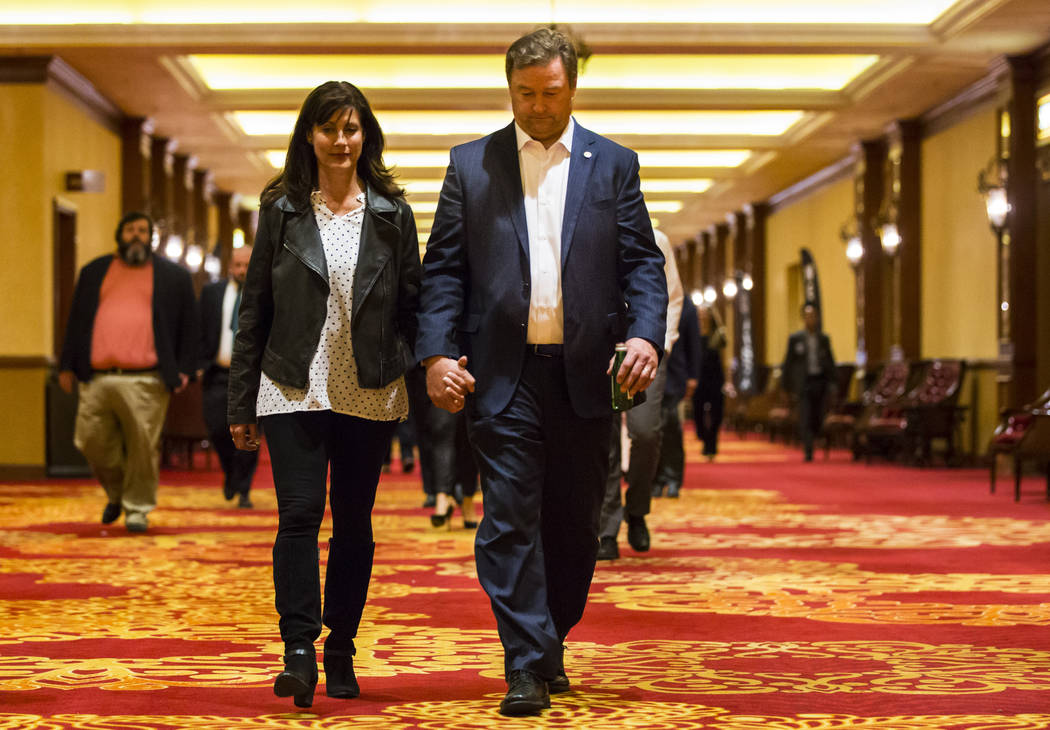 Nevada voters sent U.S. Sen. Dean Heller home, replacing the Republican with a Democratic newcomer and sending a rebuke to President Donald Trump.
The so-called blue wave swept through Nevada, signaling shifting political winds in what had been a battleground state and an uprising against an unpopular president.
U.S. Rep. Jacky Rosen led Heller by 49.7 percent to 46 percent as of 1 a.m. Wednesday. Heller conceded the race.
Heller won rural Nye, Churchill, Eureka, Esmeralda, Douglas, Story, Lander, Lincoln and Pershing counties, but Rosen won Washoe and Clark counties.
"A lot of people had doubts that this would be our victory tonight," Rosen told a crowd of supporters Tuesday night. "I want you to know, I will always put Nevada first. I will work each and every day to represent everyone in our state."
Rosen vowed to fight for a $15 minimum wage, gun safety measures and to protect against cuts to Medicare and Social Security.
In a brief concession speech, a soft-spoken Heller said he did something that he's never done in nine elections: He called and congratulated his opponent.
"I congratulated her on what she did," Heller told a crowd gathered at the South Point Casino. "What her party was able to achieve — not just in my race, but all the way down that ballot. We've hit blue waves for a couple of cycles and as a party we are going to have to come back together and decide how we're going to go forward in the future."
Heller, flanked by his wife and kids, touted his accomplishments in the Senate, including tax reform, infrastructure projects and moving the Supreme Court to the right. Heller said Rosen is "my senator" now, and he'll help her with the transition.
Heller, who faced the biggest political challenge of his career, spent Election Day retail politicking and jockeying for last-minute votes. Rosen kicked off the day firing up supporters at a Democratic field office and knocking on doors before heading to Caesars Palace — where she once worked as a cocktail waitress — to watch the election results with fellow Democrats.
Heller, 58, served in public office for three decades and had never lost an election in Nevada. He tweeted three hours before polls were set to close Tuesday that "we're going to win this, I'm confident."
Rosen, 61, a freshman congresswoman, got her start in politics two years ago after retired Sen. Harry Reid picked her to run for the 3rd Congressional District. She had no previous political experience, but with the help of the powerful Democratic Party — the Reid Machine — the former synagogue president has won two consecutive federal elections.
Heller, the only GOP senator running for re-election in a state won by Hillary Clinton, irked establishment Republicans by rebuking President Donald Trump in 2016. He later embraced the president and said they grew to "love" each other. Trump came to Nevada twice to campaign for the senator, who stood with him on key health care votes and helped author the tax plan credited by the GOP for creating jobs and electrifying the economy.
While awaiting election results, Heller took the stage at the South Point to praise Trump.
"Look at what this economy is doing thanks to this president and this Republican Congress that put America and Nevada back to work," he said.
But Rosen hammered Heller on waffling on a promise to repeal and replace the Affordable Care Act, which provided health insurance to some 200,000 Nevadans under a Medicaid expansion. Her campaign said Heller caved to pressure from Trump and Senate Republicans in voting to repeal the law. They labeled him "Senator Spineless."
Heller hit Rosen on her lack of experience and short record in Congress, as well as outside fundraising. He sought to link her to California liberals — including House Minority Leader Nancy Pelosi, an often polarizing political figure.
In the dash for cash, Rosen outraised Heller every quarter since announcing her candidacy in 2017. The congresswoman raised more than $7.1 million from July through September, federal campaign finance reports show. Heller raised $2.2 million during the same period.
Heller and Rosen ran against Independent Barry Michaels, Libertarian Tim Hagan and Independent American Party candidate Kamau Bakari.
Contact Ramona Giwargis at rgiwargis@reviewjournal.com or 702-380-4538. Follow @RamonaGiwargis on Twitter.