Laxalt makes Nevada governor bid official
November 1, 2017 - 12:36 pm
Updated November 1, 2017 - 7:51 pm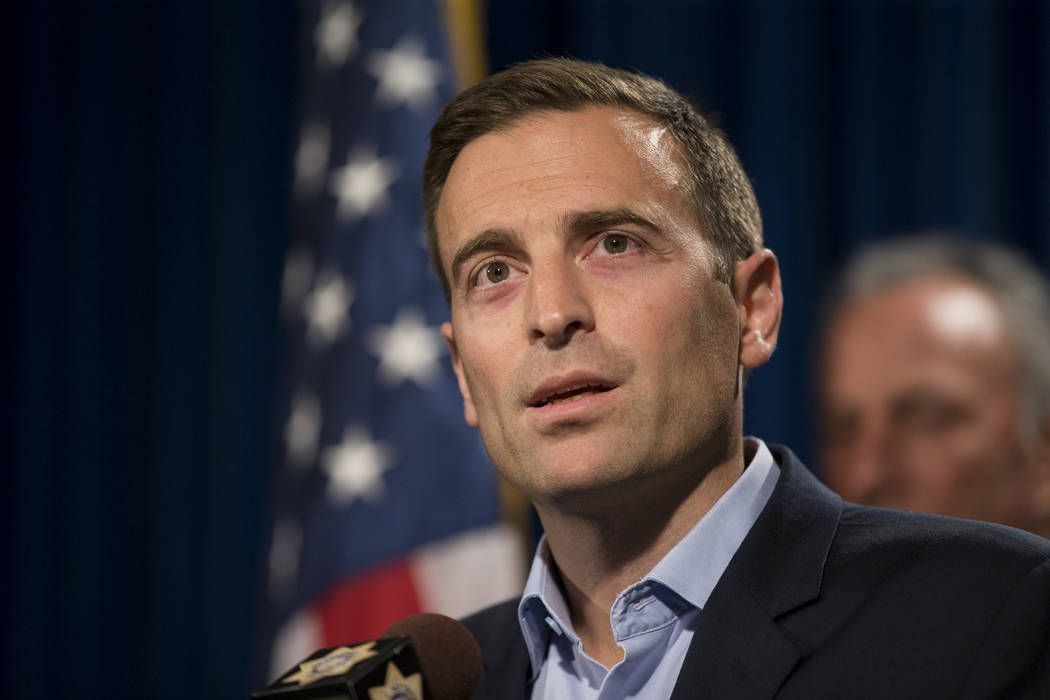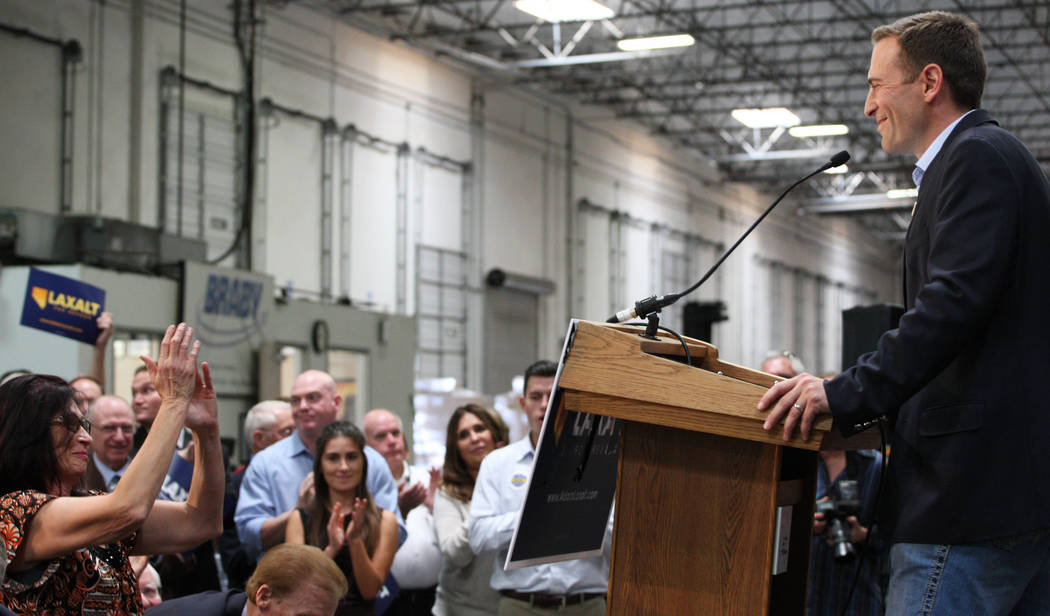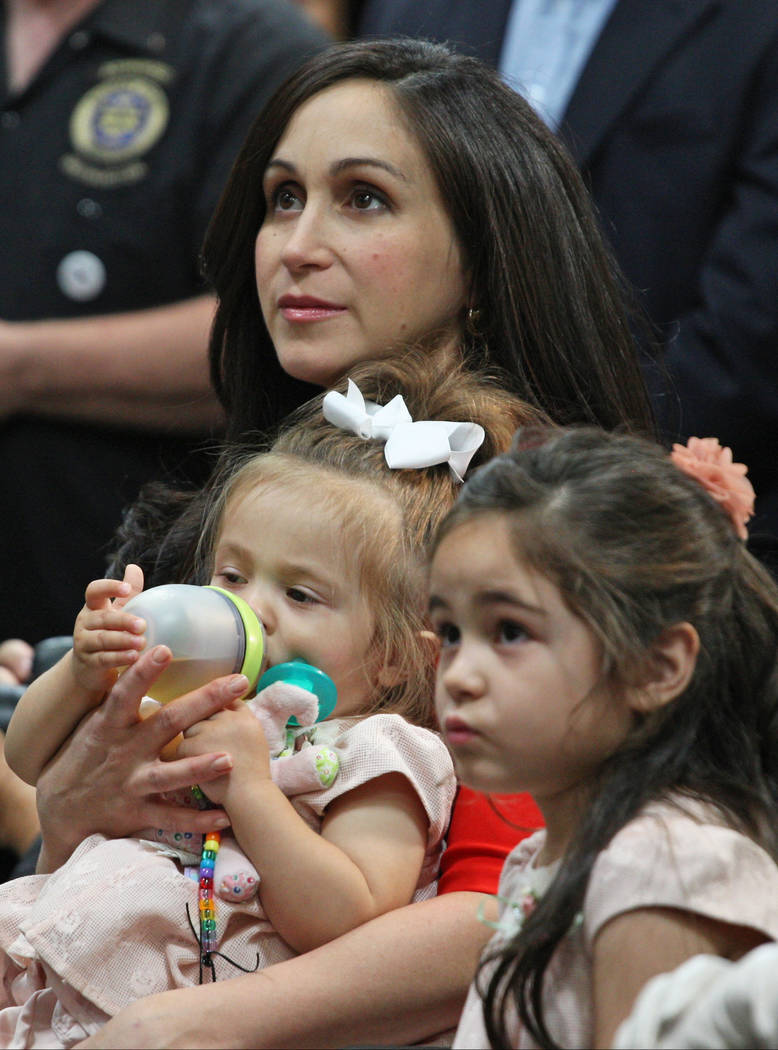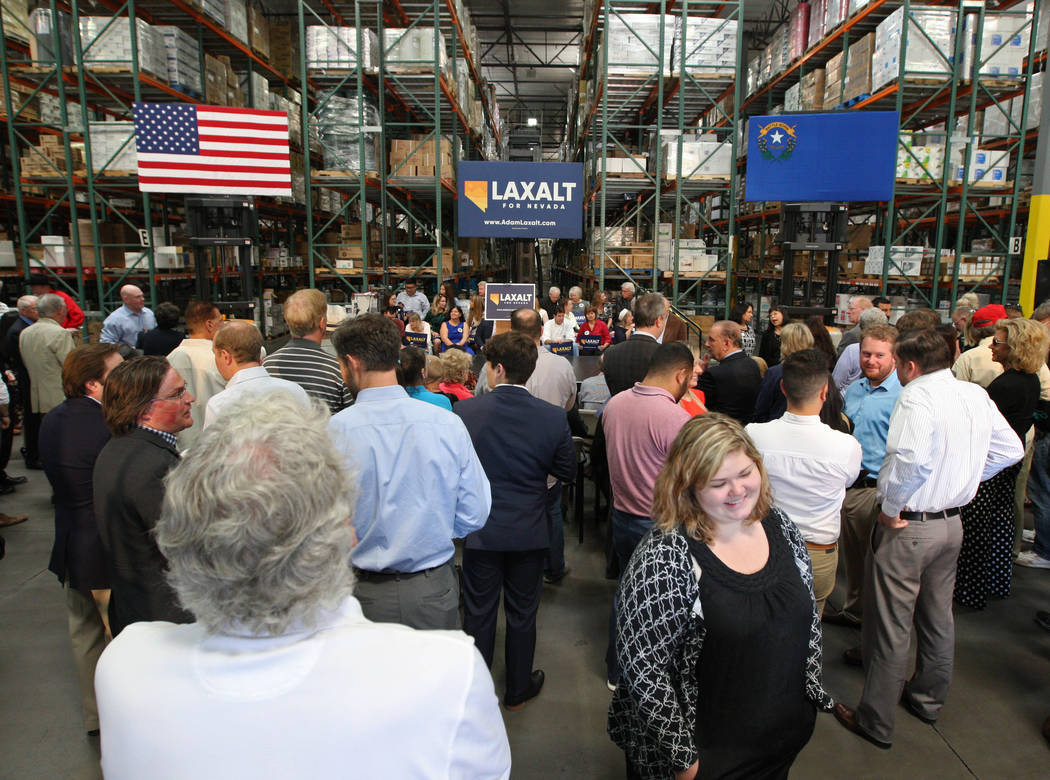 In announcing his long-expected campaign for governor on Wednesday, Adam Laxalt got strikingly personal.
Kicking off his campaign with a speech to about 200 people inside a Las Vegas warehouse, Laxalt, Nevada's 39-year-old Republican attorney general, spoke of being raised by a single mother and not knowing his politically famous father, former New Mexico Sen. Pete Domenici, until he was an adult.
"I'm proud of my family history. But like many people's histories, the reality is often more complex," Laxalt told the crowd at Brady Industries.
Laxalt recalled waking up under fluorescent hospital lights after an "alcohol-fueled fight" during his first semester in college as an 18-year-old. He remembered going home for Christmas break that year with a 1.0 GPA and said his family and support system helped pull him out of what he called the family curse of alcoholism.
And he talked about how serving in Iraq in a unit that assisted with detaining and prosecuting war criminals helped shape who he is.
"When I went to law school, I never thought I'd be in the same place as men who tried to bring the world to its knees," Laxalt said.
Laxalt also mentioned his grandfather, former Nevada Gov. and U.S. Sen. Paul Laxalt, and former President Ronald Reagan, and said that many of his core political principles come from those two and the work they did together.
The announcement kicks off a campaign tour for Laxalt, who plans to visit all of Nevada's 17 counties over the next week.
Different from Sandoval
He also touted his role in fighting sanctuary cities and defeating a federal regulation to protect sage grouses — an issue on which he clashed with term-limited Gov. Brian Sandoval.
That may be a sign that Laxalt wants to depart from some of Sandoval's landmark moves as governor.
Laxalt's campaign website says he will seek to repeal the 2015 Commerce Tax, which Sandoval championed as a boon for public education funding.
The Affordable Care Act and Sandoval's expansion of Medicaid in Nevada could also be Laxalt targets. He has been anything but shy in bashing the ACA, and it's unclear what would happen to that funding if Laxalt were to win next year.
"I'm going to wait and see what happens in Washington before we make any decisions about where we're heading with health care in Nevada," Laxalt told the Las Vegas Review-Journal.
The run for governor will be just the second election for Laxalt, a former lieutenant and attorney who narrowly defeated Democrat Ross Miller in the 2014 race for attorney general.
Lawmakers attending Laxalt's event in Reno later Wednesday praised his ability to keep his word.
"That's the important thing about Adam Laxalt," said Assemblyman Jim Wheeler, R-Gardnerville.
Assemblywoman Lisa Krasner, R-Reno, said she appreciates Laxalt's willingness to address Nevada's backlog of untested rape kits.
"As attorney general, he said he was going to address that problem and he did and I was very impressed with that," Krasner said. "He did do what he said — that's huge.
"These are real people. It's somebody's daughter, someone's mom, someone's sister."
Democrats on the offensive
The Democratic Governors Association immediately took aim at Laxalt, launching a webpage called "Wrong Way Laxalt" hours before his campaign kickoff.
The site says Laxalt wants to roll back Nevada's health care coverage, hurt public education by repealing the Commerce Tax and kill clean energy jobs, pointing to his lawsuit that Laxalt endorsed against the Environmental Protection Agency's and its Clean Energy Plan.
"Nevada deserves a governor focused on creating jobs and making progress for working families," said Jared Leopold, communications director for the Democratic Governors Association. "Wrong Way Laxalt would focus on serving his political agenda, not the people of Nevada."
2018 gubernatorial field
Laxalt enters the race as the likely favorite to get the nod as the Republican gubernatorial nominee.
Taking him on are Dan Schwartz, Nevada's self-described "bad boy" GOP Treasurer, and Jared Fisher, a local bike shop and tour company owner who advocates to protect Nevada's public lands.
Wheeler cited character when asked why he supports Laxalt over Schwartz.
"Adam Laxalt doesn't lie," Wheeler said, declining to elaborate.
Longtime Clark County commissioners Chris Giunchigliani and Steve Sisolak will square off in the Democratic primary.
Contact Colton Lochhead at clochhead@reviewjournal.com or 702-383-4638. Follow @ColtonLochhead on Twitter.
Staff writer Ben Botkin contributed to this report.