Nevada reports 698 new COVID-19 cases, but figure likely inflated
Updated April 19, 2021 - 4:32 pm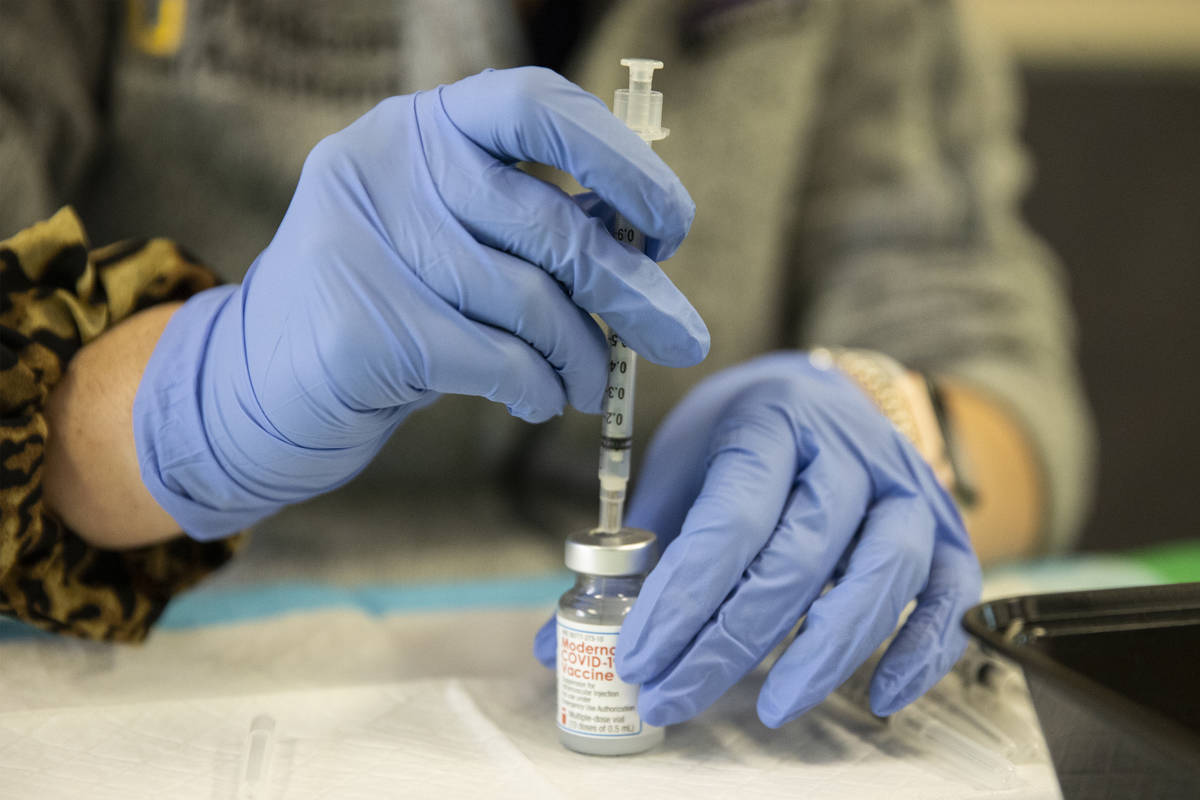 Nevada reported a high number of new coronavirus cases on Monday, but the figure was likely inflated after the state stopped reporting its key COVID-19 metrics over the weekend.
The Department of Health and Human Services added 698 cases and three deaths to totals posted on the state coronavirus website.
New cases were just over 150 percent higher than the two-week moving average of new cases, which increased to 277 per day. The new report pushed the state's case total to 310,933.
The new cases were expected to be higher than normal because the state stopped reporting numbers over the weekend, meaning Monday's updates reflected the previous three days.
But the state also reported only three additional deaths from COVID-19 over the period, which would be lower than the two-week moving average of two deaths per day when spread over three days. The latest fatalities brought the state death toll to 5,368.
Data guide: COVID-19's impact on Nevada
State biostatistician Kyra Morgan said many local jurisdictions have begun to report data to the state only during the week, which spurred the state's decision to do that for all of Nevada. But that means staff have extra work to do when they return, which likely means that some weekend figures won't be reported by the state until Tuesday, which will inflate those numbers as well.
"There's still an expectation that the local health authorities that report data up to us will need to process weekend numbers on Monday, which would imply that some of those numbers are going to trickle over into Tuesday," she said. "I'm actually not sure the magnitude yet. I think we're going to have to observe the next couple weeks exactly how that plays out."
The state's two-week positivity rate continued its recent rise, increasing o.2 percentage point to 5.9 percent from the 5.7 percent reported Friday, according to state data. That's the highest that the rate, which essentially tracks the percentage of people tested for COVID-19 who are found to be infected, has been since March 10.
Numbers posted to the state's coronavirus data page showed 404 people with either confirmed or suspected cases of COVID-19 were hospitalized in the state. Hospitalizations also have been trending higher for several weeks.
Meanwhile, Clark County's 14-day positivity rate was 5.7 percent Monday, an increase of 0.2 percentage point from the last report on Friday.
The county also reported 559 new cases, bringing the local cumulative case total to 240,307. Clark County also reported two deaths, bringing the county death toll to 4,213.
County numbers are included in statewide totals.
Contact Jonah Dylan at jdylan@reviewjournal.com. Follow @TheJonahDylan on Twitter.
Nevada vaccination numbers
— Nevadans 16 and up: 2.47 million.
— Doses administered: 1.69 million.
— Vaccinations initiated: 1.05 million.
— Vaccinations completed: 701,574.
Sources: Nevada Department of Health and Human Services, U.S. Census Bureau