Woman says Las Vegas GOP campaign adviser made her his sex slave
Updated April 4, 2018 - 8:17 pm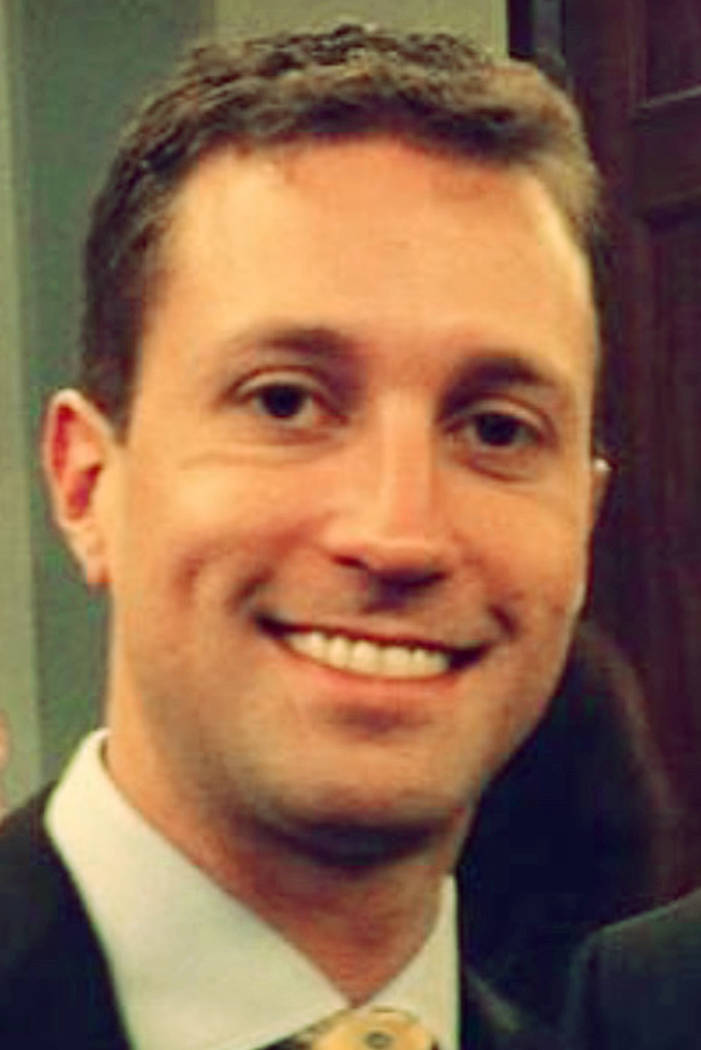 A Las Vegas political adviser who worked on national campaigns and high-profile Nevada races sexually enslaved and battered his ex-fiancée before police responded to a domestic dispute, the woman told the Review-Journal.
The 46-year-old woman provided copies of emails, text messages and a signed contract laying out her duties as a "slave in training" to Benjamin Sparks.
A Las Vegas police report shows that Sparks, who most recently worked on Republican Cresent Hardy's campaign to win back the 4th Congressional District seat he held from 2015 to 2017, evaded police after the domestic dispute at the woman's home on March 29. Officers determined there is "probable cause to arrest Sparks for domestic battery," and charges are pending.
Sparks was fired from Hardy's campaign. Hardy did not return multiple calls for comment. Sparks, 35, also was working on Republican Yvette Herrell's campaign for New Mexico's 2nd Congressional District.
When reached by phone Tuesday, Herrell declined to comment on whether she'll continue working with him.
"I'm not going to talk to you about the story at all," Herrell said. "Let me have someone call you back." The call was not returned.
Sparks' ex-fiancée, who is not being identified by the Review-Journal because she is a victim, told the Review-Journal that Sparks fled to Texas and left all his belongings behind.
Sparks did not return calls and emails seeking comment.
Sparks was political affairs director for RedRock Strategies, a political consulting firm with offices in Las Vegas and Washington, D.C. He was fired from that position last week amid the investigation into the March 29 incident.
Calls and emails to RedRock Strategies were not returned.
Sparks previously served as a spokesman and high-level staffer on a number of national campaigns, including Mitt Romney's 2012 presidential campaign and the anti-recall campaign of Wisconsin Gov. Scott Walker in 2012.
According to emails, documents and text messages obtained by the Review-Journal, Sparks and his ex-fiancée signed a five-page contract stating that she would be his "slave and property." Under the contract, the woman was forced to kneel and look down when she entered his presence, be nude at all times, have sexual relations with him whenever he wanted and wear a collar in private.
"He was very demanding and did not take no for an answer," Sparks' ex-fiancée said. "Over the last month it escalated into very rough sex where he'd actually hurt me. He back-handed me … and forced himself on me."
The relationship moved fast. The couple moved in together almost immediately after they met. According to the police report, they began dating Nov. 2. Their contract is dated Nov. 3.
In text messages sent a day before the March 29 altercation, he asked her to be bound and blindfolded and have sex with other men in front of him.
She said the request was her breaking point.
The couple argued on March 28. Sparks took off, according to the police report. They met in a Boulder City parking lot to talk things out, the report said, then returned home in separate vehicles.
Later, the woman suspected Sparks was under the influence of drugs and said she tried to leave, according to the police report. Sparks wouldn't let her leave the house for two hours, the report said. He then called 911 and claimed she tried to kill herself — which she denies. He also claimed that his ex-fiancée had battered him.
Police arrived at the Las Vegas home, but Sparks had fled. The woman lost a fingernail and had a bruise on her left thumb. She did not show signs of being intoxicated or under the influence of narcotics, according to the police report.
The report noted that she refused to complete a voluntary statement for police and that she did not attempt to call police, despite having access to her phone, during the two-hour period that Sparks was alleged to have blocked her escape.
In the wake of the #MeToo movement that has revealed sexual harassment and misconduct by political, business and media leaders, Sparks' ex said she wants the public to know the truth about him.
"I truly don't want this to happen to another girl," she said. "I'm strong and have a great support system and despite that, this almost broke me."
Contact Ramona Giwargis at rgiwargis@reviewjournal.com or 702-380-4538. Follow @RamonaGiwargis on Twitter.