WASHINGTON — President Donald Trump and congressional leaders called for unity Wednesday after a gunman attacked an American tradition — the congressional baseball game — in a deadly ambush on the Republican team's practice that stunned the nation's capital.
Congress suspended daily activities and Trump cancelled afternoon events as officials paused to focus on the victims of the shooting by an Illinois man who was shot in an exchange of gunfire with U.S. Capitol Police and later died of his injuries.
"We are united in our shock. We are united in our anguish," House Speaker Paul Ryan, R-Wis., said in an emotional speech to lawmakers after a prayer for those hurt in the hail of gunfire.
"An attack on one of us is an attack on all of us," Ryan said, prompting a standing ovation from Republican and Democratic lawmakers.
At the White House, Trump responded quickly with a call for unity.
"We may have our differences, but we do well in times like these to remember that everyone who serves in our nation's capital is here because, above all, they love our country," Trump said.
House Democratic Leader Nancy Pelosi, D-Calif., echoed Ryan's call for harmony and offered prayers to House Majority Whip Steve Scalise, R-La., and the other victims: two Capitol Police officers, a House staffer and a lobbyist.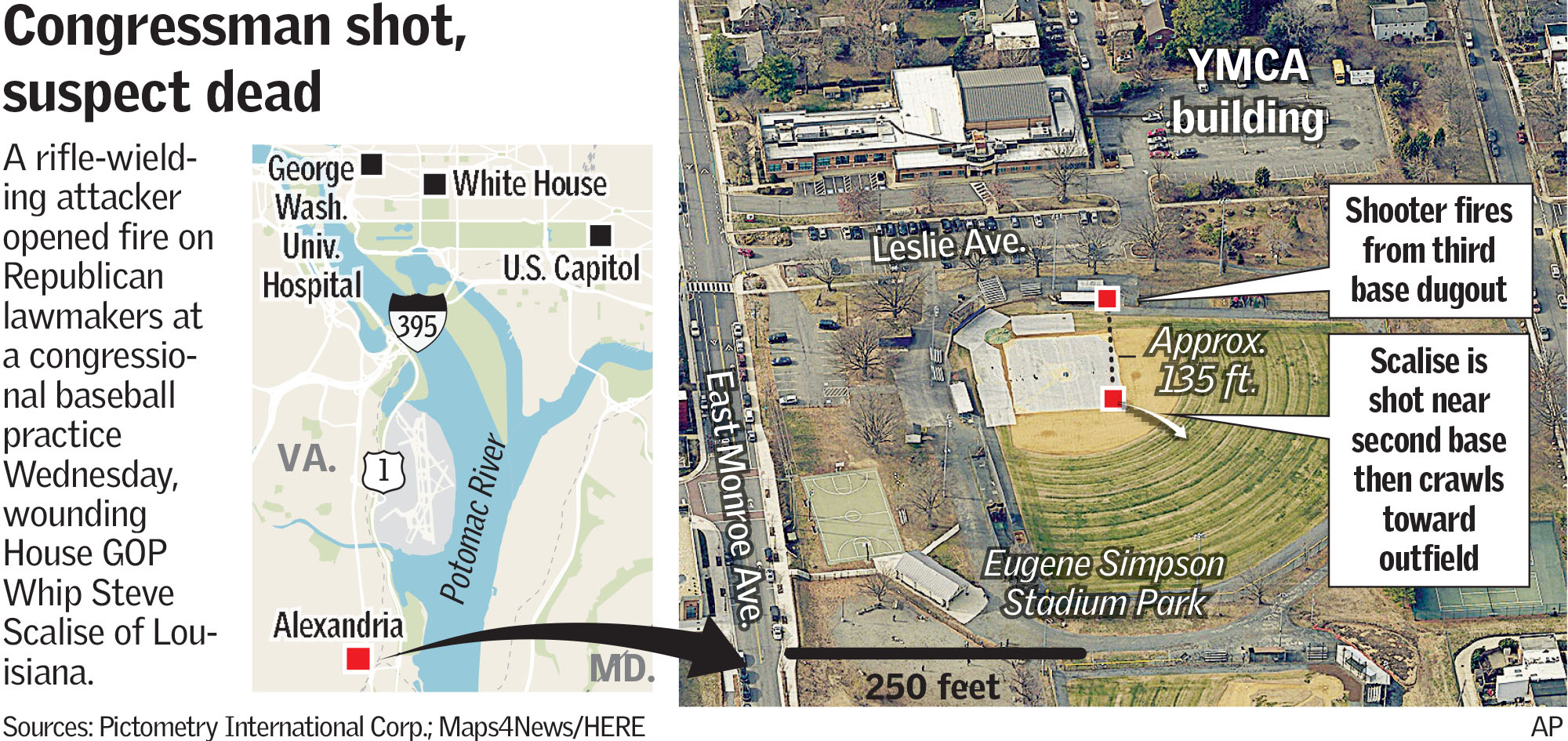 Pelosi called it an "injury in the family."
She decried the shooting, which took place at a practice for the annual Congressional Baseball Game for Charity, which began in 1909 and has evolved into event that raises funds for disadvantaged kids.
"Sports really brings us together," Pelosi said. "People come together."
Democrats' practice
Capitol Police were at the practice as a protective detail to Scalise, who was shot in the hip near second base. Scalise was recovering in a Washington hospital.
Democrats were practicing miles away in Washington, at Gallaudet University, for the charity game that will be played Thursday at Nationals Park.
There were no protective guards at the Democrats' practice, and lawmakers taking batting practice and shagging balls were unaware of the surreal events taking place across the Potomac River until their coach assembled them about 7:30 a.m.
"We warmed up and started hitting some balls, and about 30 minutes into the practice the coaches called us into the dugout," said Rep. Ruben Kihuen, D-Nev., who plays "right bench" and is a pinch base runner on the Democratic baseball team.
"We were in shock. We couldn't believe it. We weren't sure if a member had been shot. We didn't know what was going on," Kihuen said in an interview with the Review-Journal.
"Just the fact that we heard there was a shooting at the baseball practice put us in shock," he said.
The freshman Nevada lawmaker snapped a picture on his cellphone of the Democrats praying for their Republican colleagues. The players then went to the Capitol for a briefing.
Kihuen said Ryan's speech to the House struck the right tone, and the sight of Republicans and Democrats giving a standing ovation "is a sight we should see more often."
"This is the type of unity Americans want to see moving forward," Kihuen said.
Rep. Mark Amodei, R-Nev., is a former member of the GOP team. He is not playing this year and wasn't at the practice.
But Amodei took to social media immediately after the shooting to say he was keeping his colleagues and the injured "in my thoughts."
"As always — thankful for a swift response by Capitol Police," Amodei said.
'Shaken by the shooting'
Even those not involved in the games were stunned by the violence.
"I am shaken by the shooting at the Republican baseball practice," said Rep. Dina Titus, D-Nev., who wished the victims a quick recovery.
Rep. Jacky Rosen, D-Nev., said she was "horrified," and Nevada's two senators, Dean Heller, a Republican, and Catherine Cortez Masto, a Democrat, offered prayers to the victims.
The Republican team manager, Rep. Joe Barton, R-Texas, was with his 10-year-old son when the shooting broke out.
Barton, wearing a red uniform, and his son, wearing a blue ball cap, were at the Capitol for the briefing and spoke to reporters.
The Dallas lawmaker praised the Capitol Police, saying their actions "saved many, many lives."
The shooter James Hodgkinson, 66, of Illinois, was armed with a rifle and and opened up on the GOP baseball practice on a suburban field in a residential neighborhood just south of the Pentagon.
The Capitol Police officers were injured, but returned fire, striking Hodgkinson in the chest multiple times.
A social media website for Hodgkinson contained numerous anti-Trump posts. He called the president "a traitor." Hodgkinson also had served as a volunteer for Sen. Bernie Sanders, I-Vt., who ran for the Democratic presidential nomination.
A visibly shaken Sanders took the Senate floor to condemn the attack.
"I am sickened by this despicable act," Sanders said.
The shooting occurred as the nation finds itself deeply divided over political and philosophical differences exposed in the 2016 presidential election.
Cortez Masto said that regardless of political affiliation, "we all share common goals to better our nation and we must show that despite efforts to divide us, we stand as one."
"There is no doubt the country is divided," said Kihuen, who agreed that the tone of political discourse has turned toxic.
Kihuen also backed the decision to continue with the baseball game Thursday night. "We need to send the message that we stand together."
Rep. Roger Williams, R-Texas, who was at the practice when gunfire erupted, was shaken hours later when he recalled the terror of diving into a third-base dugout to avoid being hit by bullets.
Despite ankle injuries from escaping the gunman, Rogers said he planned to take the field.
"We need to play this baseball game," Rogers said.
Contact Gary Martin at 202-662-7390 or gmartin@reviewjournal.com. Follow @garymartindc on Twitter.