Trump, with 200 congregants, attends church service in Las Vegas
October 18, 2020 - 9:18 am
Updated October 18, 2020 - 3:41 pm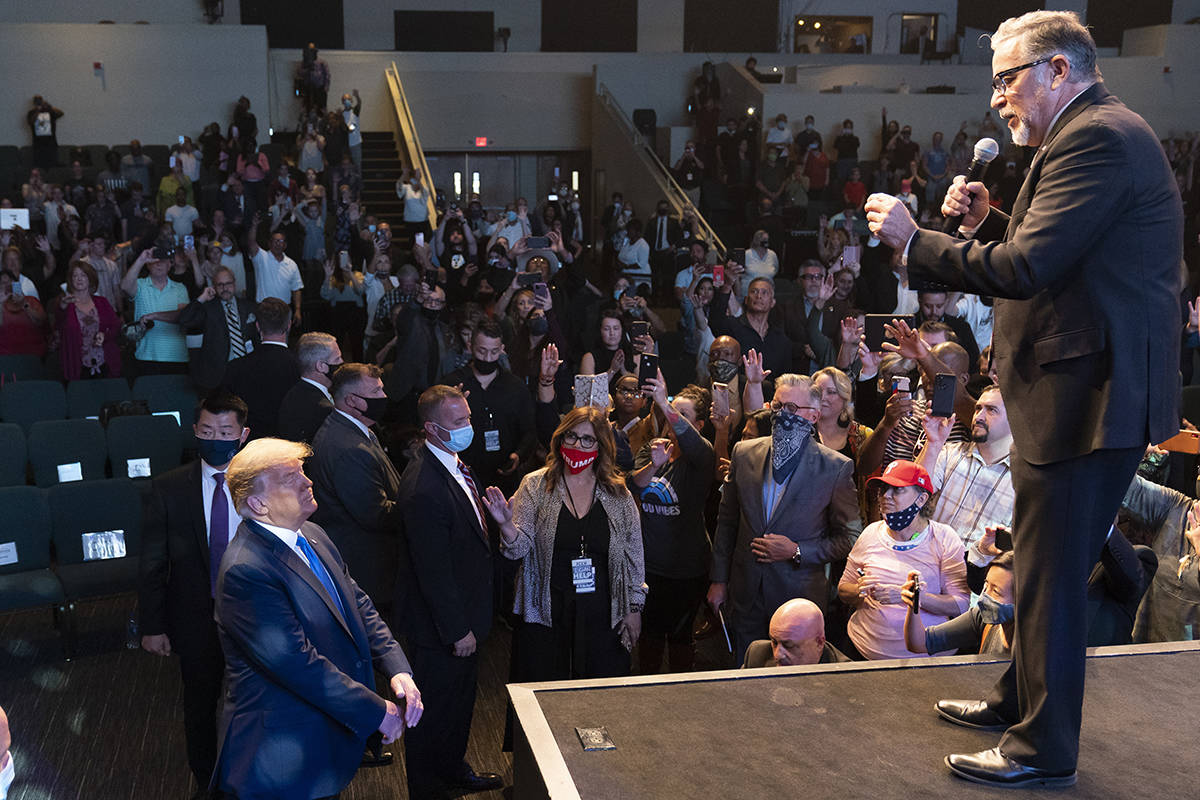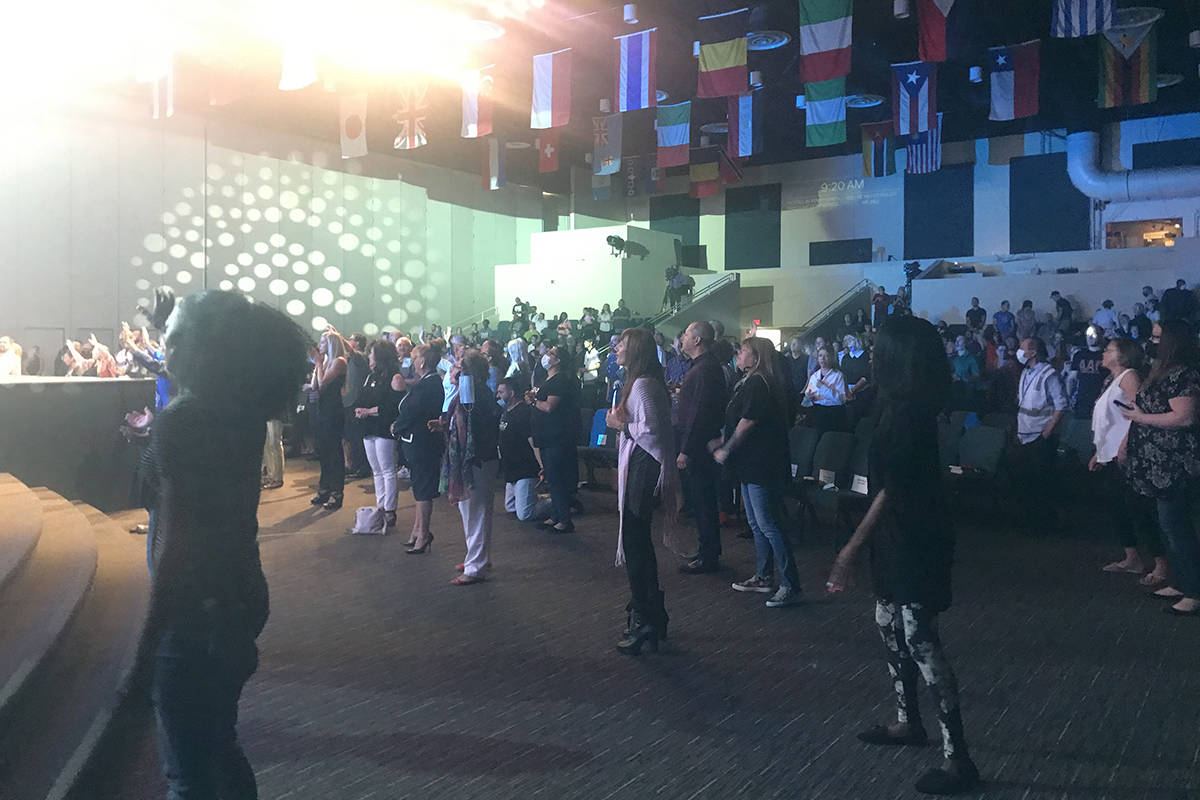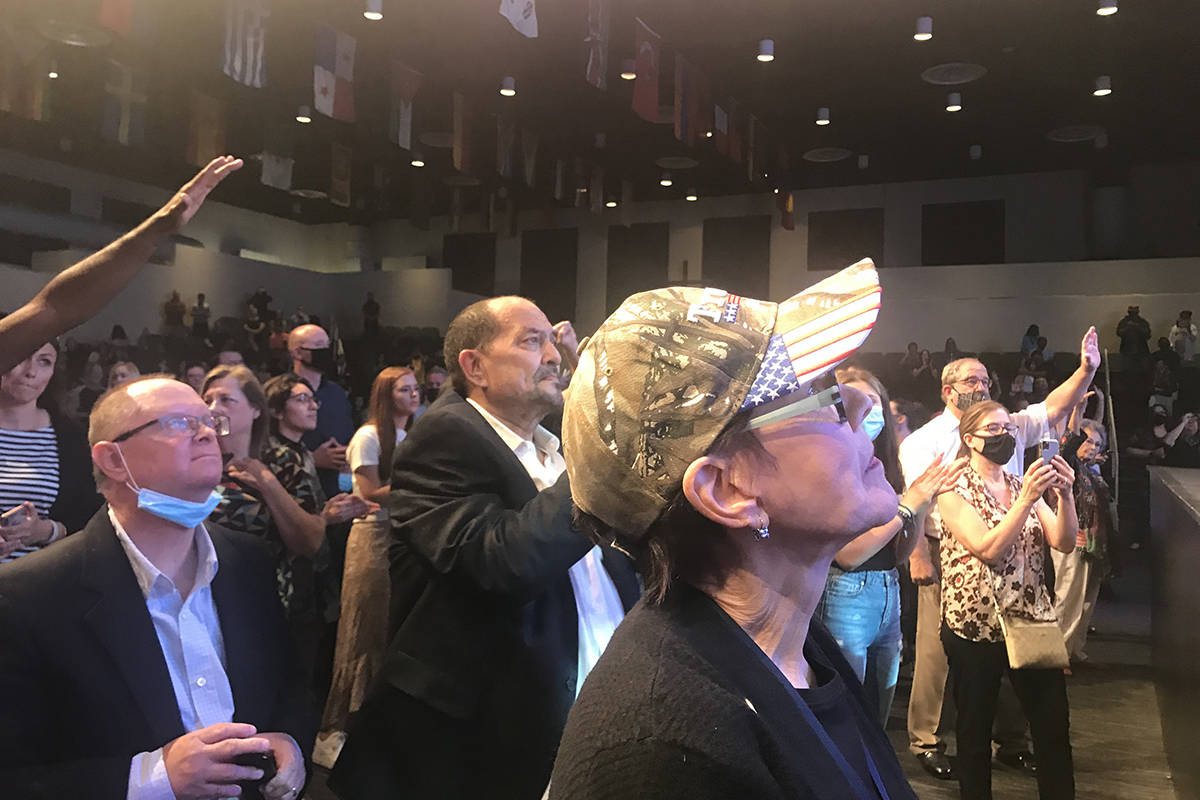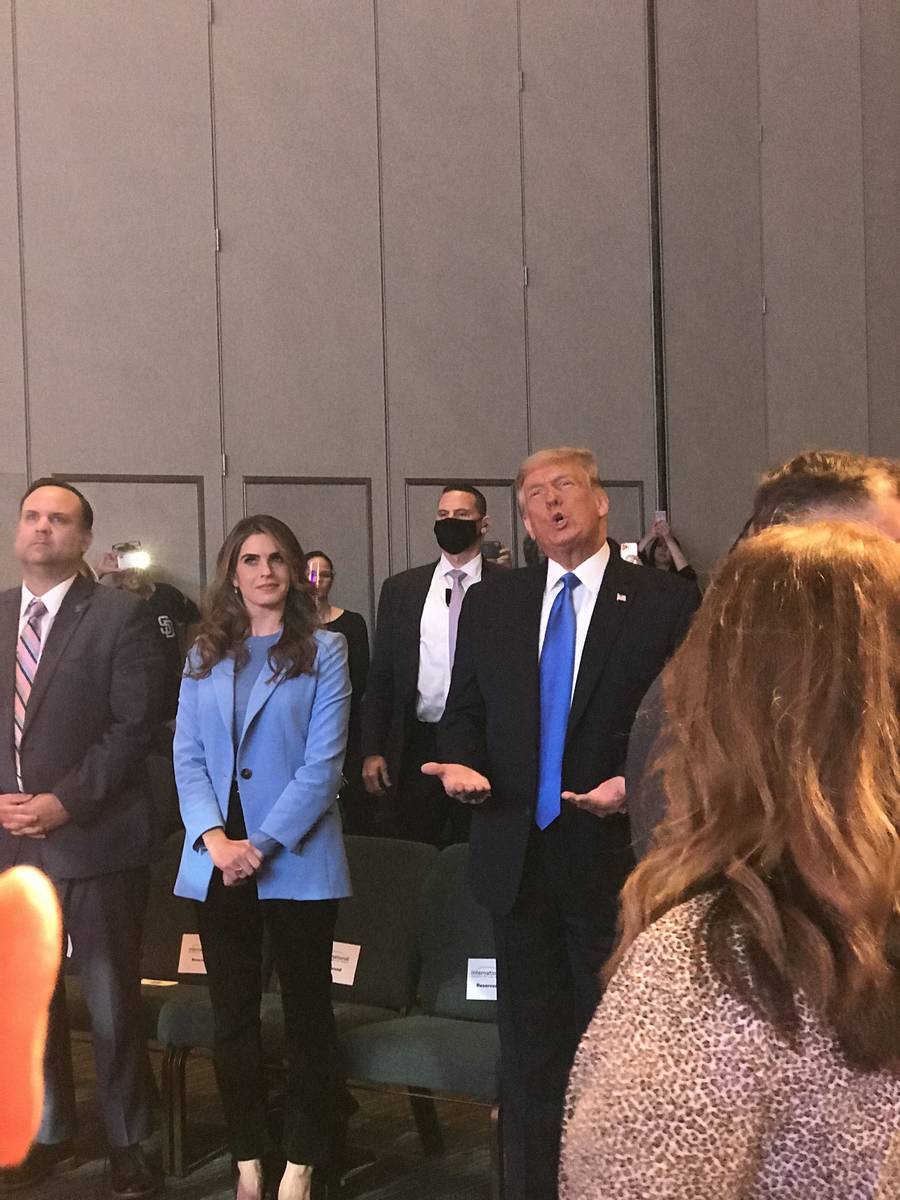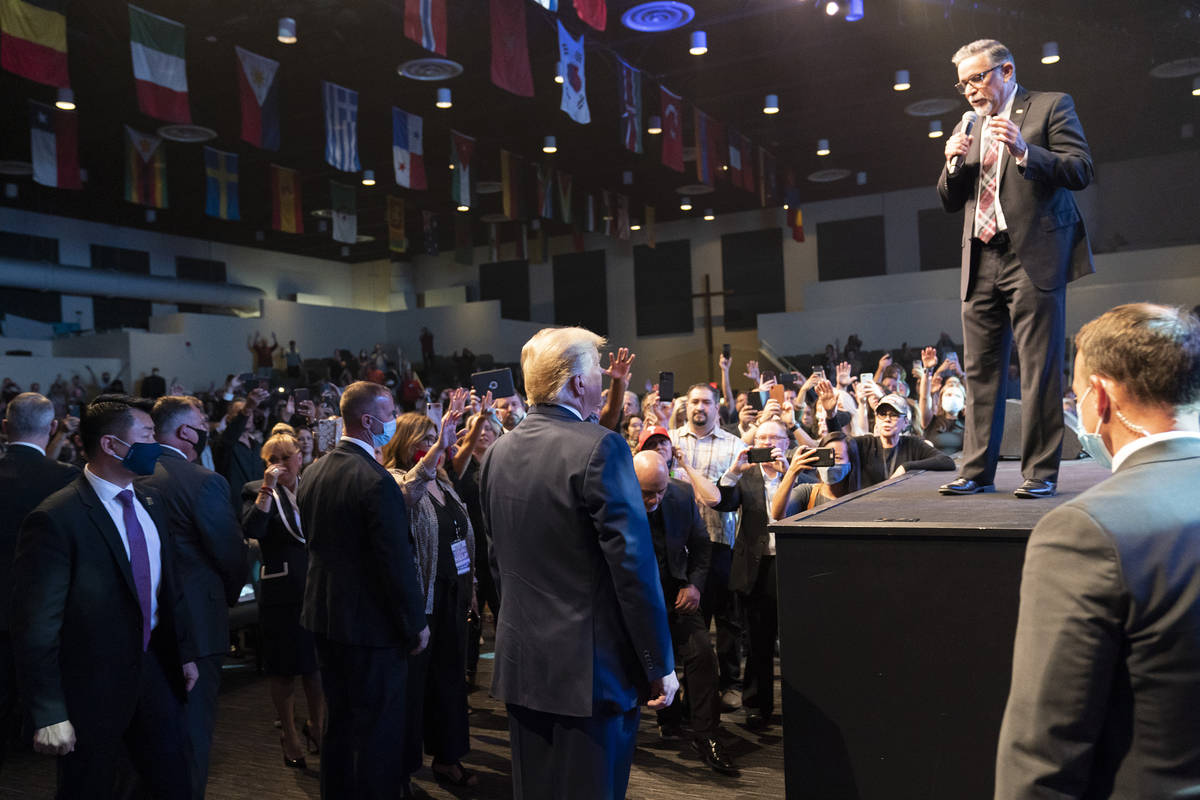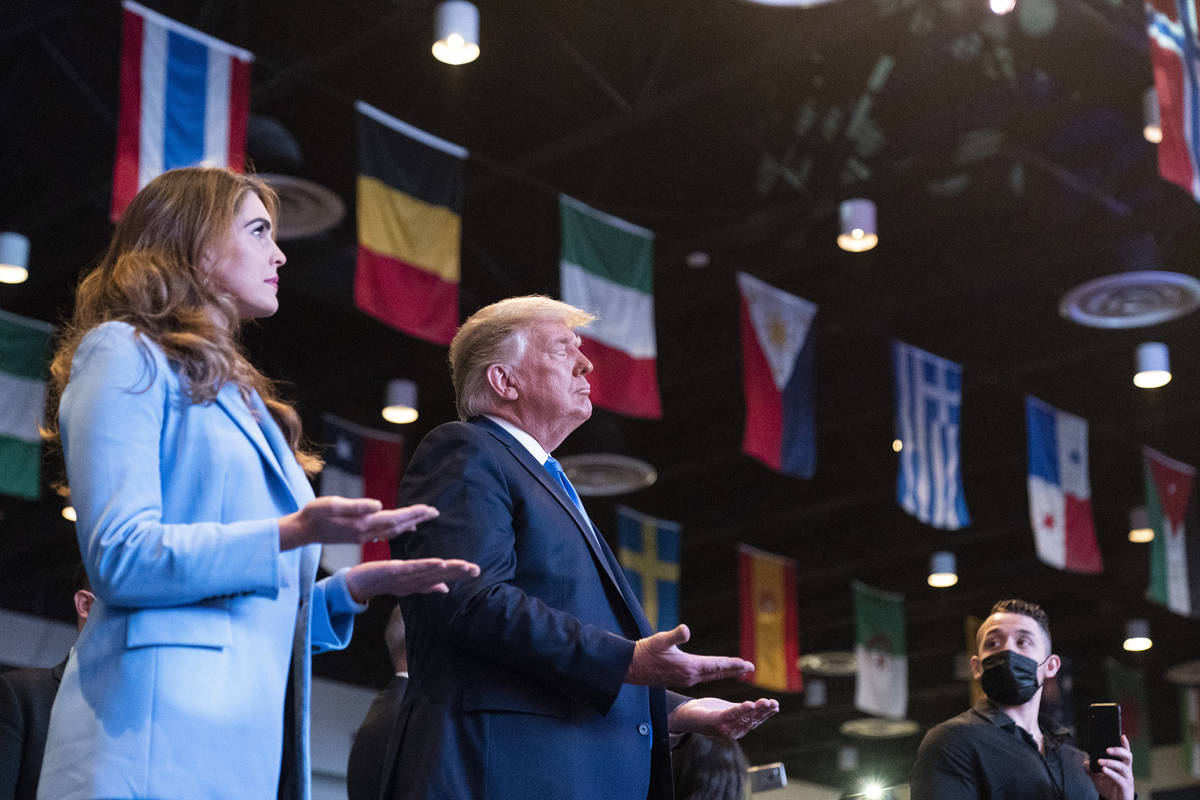 At least 200 people prayed and cheered for President Donald Trump during a Sunday morning service at a church in western Las Vegas.
The president attended the 9 a.m. service at the International Church of Las Vegas, near Summerlin. Later in the day, Trump headed to Southern California for a fundraiser and then to Carson City for Make America Great Again rally at the Carson City Airport.
During Sunday morning's service, Pastor Marc Paul Goulet praised Trump and told him, "You're doing a great job."
The service did not fill the church to capacity. Many cheered as they prayed and blessed the president. It was unclear whether the attendance exceeded the 250 people in the venue, the maximum capacity Gov. Steve Sisolak set for churches.
During the service, the president placed a handful of $20 bills into the collection bucket. Most people in the crowd weren't wearing masks; Trump also was not wearing a mask, and neither were associates sitting next to him nor Goulet and his wife, Senior Associate Pastor Denise Goulet. However, Secret Service members and others in the president's entourage were wearing masks.
Third visit
Trump's visit wasn't his first to the church, which bills itself on its website as a "multicultural, healing, prophetic church all about giving the grace of Jesus to Las Vegas."
"This is your third time here. That means you're a church member," Goulet told Trump during the service. "I don't care what anybody says. I love my president."
Trump stopped at the church in October 2016, when Pastor Denise Goulet prayed over Trump. After the Oct. 1, 2017, mass shooting in Las Vegas, Trump also visited the church.
Shortly before the end of the service, Trump took the microphone and spoke to the crowd.
"I go to many churches and I love going to churches," he said. "I will be back many times."
Trump commended the work the pastors have done in the city.
"I know you've had a rough time in terms of the city — has been a tough place — but the job you've done to get people back is really very special," he said. "These are two very special people. Your families are very, very special and you have great talent up there. Thank you all very much."
At the end of his remarks, Trump urged congregants to get out and vote.
Earlier, church attendee Flannery Stafford said she didn't know Trump was visiting the church and his presence was a pleasant surprise. She remembered pulling up into a nearby intersection just before the service started and asking police why they were there.
"They said there would be a special guest," she said. "I was just impressed and touched."
Her sons, Fisher and Tillman Stafford, said they were honored to have seen the president.
"It was really nice," Fisher said. "I've always wanted to meet him."
Northern Nevada rally
The Carson City rally drew thousands of supporters who sat elbow to elbow, cheering Trump and booing Democratic presidential candidate Joe Biden and the press. The vast majority wore no masks to guard against the coronavirus.
Trump and Biden both were on the campaign trail Sunday, with the president in California and Nevada and the former vice president in North Carolina.
The president warned that a Biden victory would lead to further lockdowns and at one point appeared to mock Biden for saying he would listen to scientists.
"If I listened totally to the scientists, we would right now have a country that would be in a massive depression," Trump said.
He also relived moments from his 2016 campaign against Hillary Clinton, revisited his long-running feud with NFL players and ranted about water management policy, which he blamed for people having to "flush their toilet 15 times."
He also claimed that, if Biden were elected, he would mandate new lockdown measures that would make Carson City "a ghost town" and "the Christmas season will be canceled."
As he surveyed his crowd, Trump expressed disbelief that he could possibly be tied (in fact losing, according to public polls) to Biden in the state.
"How the hell can we be tied?" he asked. "What's going on? … We get these massive crowds. He gets nobody. … It doesn't make sense!" Biden has held very small and virtual events in recent months because of the ongoing pandemic.
Democrats respond
In response to Trump's statements at the rally, the Nevada Democratic Party released a statement from Democratic state Sen. Yvanna Cancela.
"Donald Trump once again claimed the U.S. is 'rounding the turn' on coronavirus. As usual, Trump would rather lie to the public than tell them the truth," it read in part. "Here's the truth: coronavirus cases are once again rising in Nevada and across the country due to Trump's ineffective coronavirus response. While Trump rebuked science experts during today's speech, Nevadans know, in order to move past this crisis, we need leaders in the White House who will listen to science and face hard truths. That is why Nevadans will vote Joe Biden and Kamala Harris into office this November."
Trump and Biden are neck and neck in Nevada, with third-party candidates picking up small slices of the vote, according to new figures released Tuesday in The Nevada Poll.
The poll, conducted by WPA Intelligence on behalf of the Review-Journal and AARP Nevada, surveyed 512 likely Nevada voters from Oct. 7-11, with 44 percent saying they would choose Biden and 42 percent backing Trump. Biden's lead is within the poll's margin of error of 4.4 percentage points.
After the rally, Trump was expected to return to Las Vegas to spend the night at the eponymous Trump International Hotel where he spent Saturday evening after campaign rallies in Michigan and Wisconsin.
Monday morning, Air Force One will head for Prescott, Arizona, then Tucson for twin rallies.
Contact Alex Chhith at achhith@reviewjournal.com or 702-383-0290. Follow @alexchhith on Twitter. Contact Debra J. Saunders at dsaunders@reviewjournal.com or 202-662-7391. Follow @DebraJSaunders on Twitter.
The Associated Press contributed to this report.