Cannabis Chapel the perfect site for couple's Las Vegas 'weed-ing'
February 13, 2017 - 3:14 pm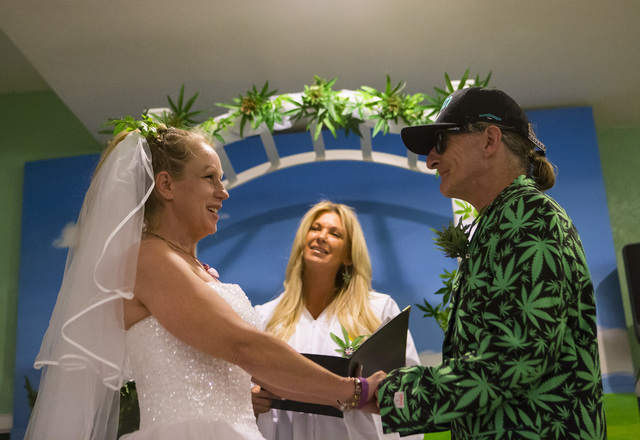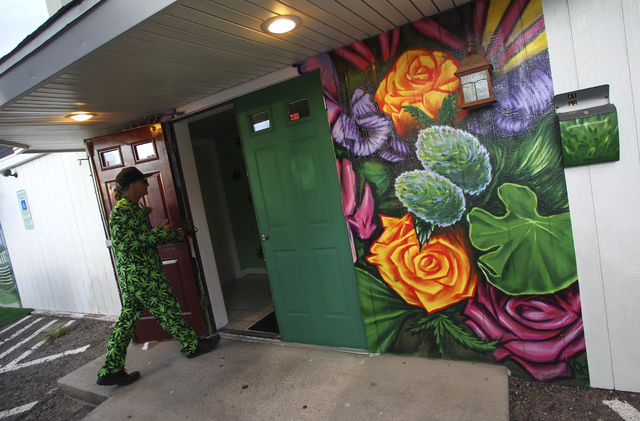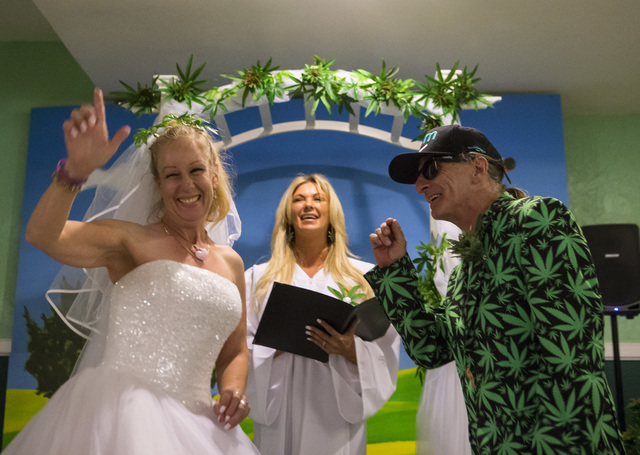 Venus Heard's wedding gown sparkled in the green-hued lights as she walked down the aisle of the Downtown Las Vegas wedding chapel.
Her groom-to-be, Jon Rothberg, stood under the white wedding arch in a black and green tuxedo. Wedding officiant Tiffany White stood beside him in a contrasting robe of (almost) all white. But the ceremony was not a traditional Las Vegas hitching.
"We are gathered here today at the Cannabis Chapel" White started, "to witness the jointing…."
"Ahem … the joining, of Jon and Venus."
The wedding's theme?
Marijuana. Every aspect of the ceremony from start to finish had some splash of cannabis.
For the Mesa, Arizona, couple, getting married at the Cannabis Chapel was the perfect "Weed-ing."
An artificial marijuana leaf in her hair, Heard, 46, walked down the aisle to a reggae version of "Here Comes the Bride." Rothberg's suit, which was provided by the chapel, was decorated with hundreds of pot leaves, and topped off with a faux-marijuana boutonnière.
Fake pot plants decorate the room and the wedding arch, and behind the arch is a painting of a cloud in the shape of a long, fluffy joint. And yes, it smoked at the end of the ceremony as Rothberg, 59, and Heard, 46, each recited the final words, "With this ring, I doobie wed."
The Cannabis Chapel, 827 Las Vegas Boulevard South, is the only marijuana-themed wedding chapel in Las Vegas. But with marijuana becoming legal on Jan. 1, the chapel's owner, Drew Gennuso, said he fully expects the "weed-ing" industry to pick up steam.
Gennuso said the chapel averages about a wedding per day since it opened on 4/20 last year. Most are booked for 4:20 p.m., he said.
And as for the upcoming "pot holiday" of 4/20, Gennuso said the chapel is almost booked for the day more than two months out.
Rothberg said the couple never planned on getting hitched in Las Vegas, but knew once they saw the Cannabis Chapel that it's where they needed to be wed.
"This is more our style," Rothberg said. "We like weed."
Contact reporter Colton Lochhead at clochhead@reviewjournal.com or 702-383-4638. Follow @ColtonLochhead on Twitter.