Marijuana conference MJBizCon draws 25,000 in Las Vegas
November 13, 2018 - 5:30 pm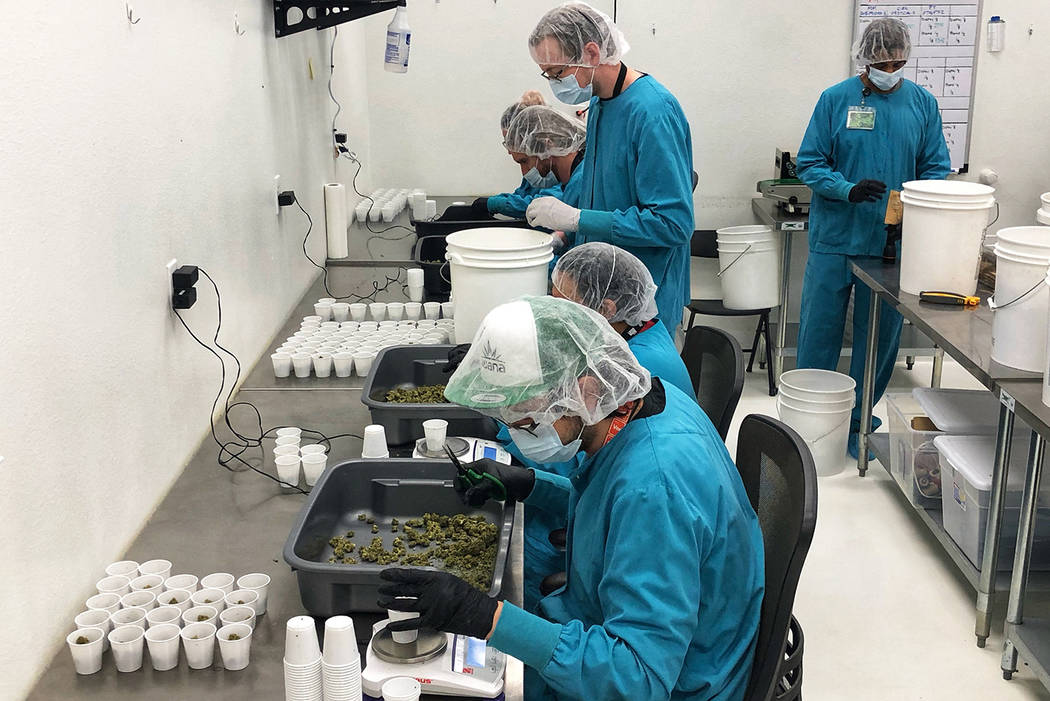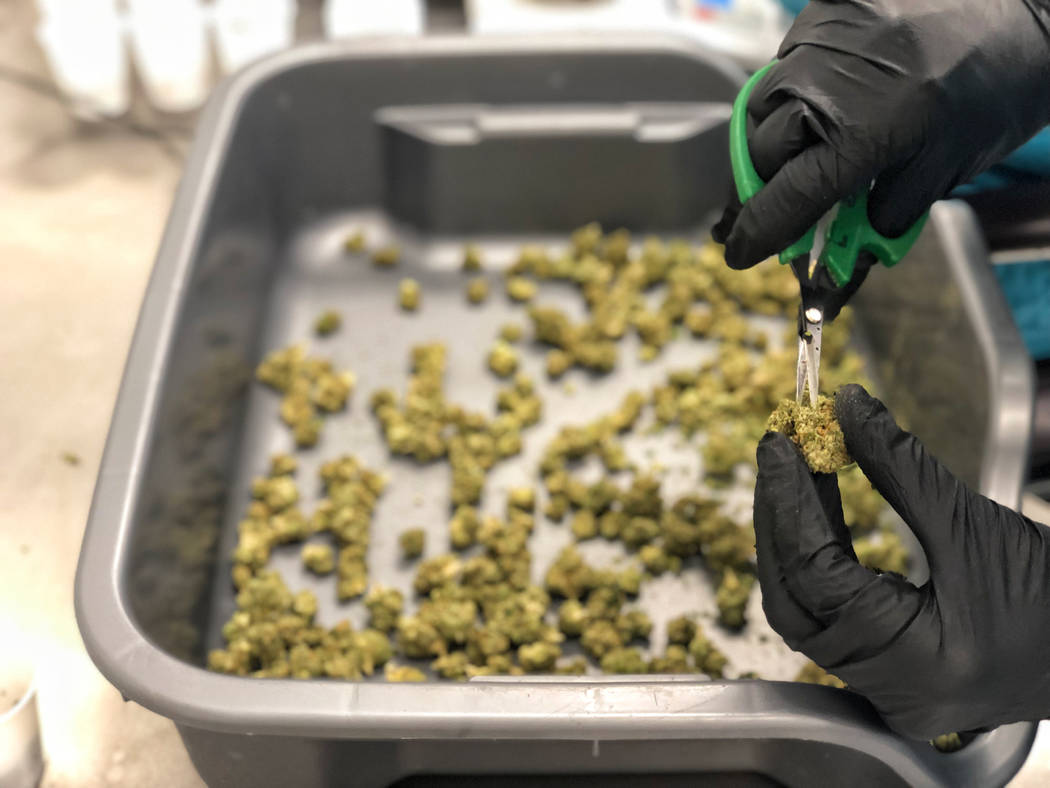 The annual Las Vegas marijuana conference is growing.
Watered by a spigot of industry investment and expanding legalization around the the world, MJBizCon is moving up the ranks of local trade shows.
The seventh annual conference, which kicks off Wednesday at the Las Vegas Convention Center, will bring more than 25,000 industry professionals to town for three days of networking and dealmaking. More than 1,000 exhibitors will offer an array of industry services and products ranging from accounting software to extraction equipment.
The number of exhibitors this year has jumped almost 50 percent from 2017. Attendance has increased around 40 percent and has more than doubled since 2016, when the show was held at the Rio. MJBizCon is now nearly as large as the Gaming Global Expo, the annual casino industry trade show that has been on the calendar since 2001.
The Las Vegas Convention and Visitors Authority estimates the marijuana conference will generate $22 million in economic impact for the town as hotel rooms fill up, restaurants are booked and exhibitors take over clubs around town to promote their cannabis-related products and brands.
"It has just been on an incredible rocket-ship growth trajectory," said Cassandra Farrington, CEO and co-founder of Marijuana Business Daily, the Denver-based news outlet that organizes the conference. "This is an industry that is activating extraordinarily quickly, and not just here in the U.S., and the show is a reflection of that."
North America legalization
The North American marijuana industry has been on fire in 2018.
Legal U.S. dispensaries are expected to ring up between $8 billion and $10 billion of medical and recreational sales this year, an increase of as much as 66 percent from 2017, Farrington said.
California, the most populous U.S. state, launched recreational sales in January. Last week Michigan became the 10th state to approve recreational sales, while Utah and Missouri increased the number of states permitting medical marijuana sales to 33.
Sales are expected to more than double to $22 billion by 2022 as more states legalize marijuana, according to Marijuana Business Daily. Nevada sales have beaten state expectations this year and are expected to roughly double by 2022 to $1 billion, according to a report last week by Canaccord Genuity.
"Nevada has plenty of room for expansion of marijuana," said Daniel Wacks, CEO of State Flower, which plans to increase output at its cultivation and production facility in Las Vegas.
Canada legalized recreational marijuana in October, becoming the first leading industrial nation to do so. The Canadian recreational market could reach $3.3 billion next year, according to a Deloitte report.
Executives at cannabis-related companies — ranging from insurance providers to makers of glow lights and edibles — will attend the show seeking ways to enter the new domestic and international markets.
"The primary goal in attending the show is expansion — just make those connections in emerging markets like Michigan so I can to take my business to those new states,'' said Dan Anglin, CEO of Colorado-based CannAmerica, which recently launched sales of its edibles in Nevada.
Anglin and Tom St. Thomas, co-founder of Mad Hatter Coffee and Tea, said they are also looking for business partners who can open doors to international expansion. This year's show will draw attendees from 60 countries, up from 40 last year, Farrington said.
Wave of investment
The rapid growth in the U.S. and Canadian legalization have been driving massive investment in the industry. Some exhibitors are looking to tap into that, Farrington said. MJBizCon held a seminar Tuesday to educate investors about the industry. Thousands of them will be at the show.
"We are seeing significant amounts of private investment starting to flow into this industry from larger and more established sources," Farrington said.
Global marijuana-related companies have raised more than $8 billion in equity so far in 2018, compared with $3.7 billion for all of last year and just $1.3 billion in 2016, according to Viridian Capital Advisors, a financial advisory firm for the cannabis industry.
While nearly half of this year's investment has come from Constellation Brands' $3.8 billion investment in Canopy Growth Corp., the number of equity raises increased by slightly more than 50 percent to 411 this year.
Share prices of marijuana companies have skyrocketed this year amid a turbulent stock market. Shares of Tilray have surged fivefold since its listing in July, while Canopy Growth Corp. has risen 150 percent over the past year.
"The marijuana industry is undergoing a radical transformation that could spark decades of unfathomable growth for investors," said David Kretzmann, senior analyst at stock advisory firm The Motley Fool. Kretzmann highlighted the continuing legalization of marijuana in the U.S. in a pitch to clients Tuesday.
Some industry players say the stock moves are reminiscent of the dot-com boom and cryptocurrency craze, and they worry some investments will meet a similar fate.
"A lot of the fireworks is just that — fireworks that will land on the ground and get you burned," said St. Thomas.
Banking
MJBizCon will feature 67 sessions dedicated to a host of topics ranging from federal regulation and banking to fundraising, hemp and edibles.
Many financial firms still refuse to serve companies operating in the cannabis industry, because marijuana sales are still illegal at the federal level.
Nevada marijuana companies face their own issues, including educating tourists and creating spaces for them to consume the drug, said Peter Findlay, CEO of Exhale Nevada, which owns cultivation, production and retail facilities.
"The three biggest issues facing the Nevada market are banking and financial services, the lack of tourist awareness of a legal market and lack of ability to consume in approved and safe locations," he said.
Contact Todd Prince at 702-383-0386 or tprince@reviewjournal.com. Follow @toddprincetv on Twitter.