2 Las Vegas sites emerge as favorites for potential A's ballpark
Updated April 26, 2022 - 6:37 pm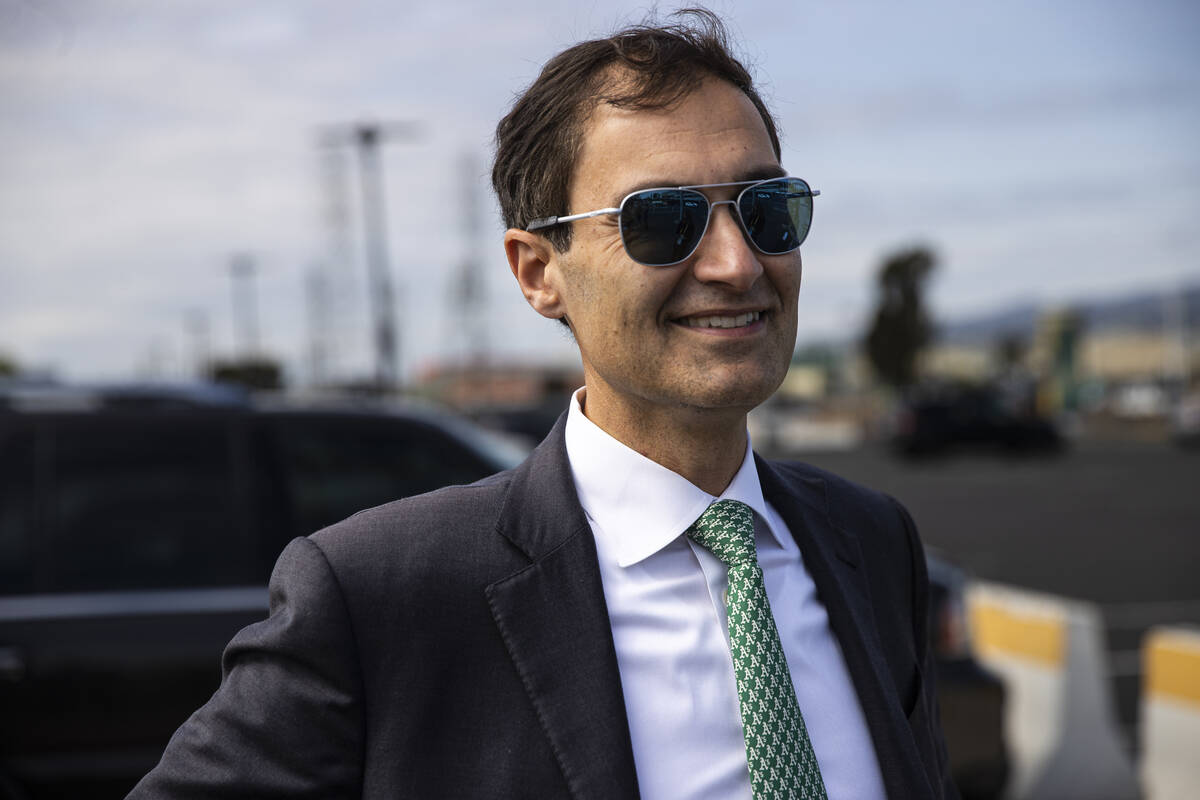 Two sites in the vicinity of the Las Vegas Strip have emerged as front-runners for where the Oakland Athletics could potentially build a ballpark in Southern Nevada.
A's President Dave Kaval said Tuesday that one is a site that the team would purchase outright while the A's would likely enter into a partnership with an existing resort operator on the other site. He didn't confirm the location of any of the five sites still in play.
"It's kind of coming down to one that's more of a joint-venture partnership and one that's more of us going in alone, like the Raiders' approach," Kaval told the Review-Journal. "We're trying to balance the pros and cons of those and get to something that could be announced. But we want to be thoughtful because there's a lot of complicated negotiations with anything like this and we want to make sure we respect the time, intentions and negotiating with all the parties."
Kaval, who was in Las Vegas last week, also said the team has renderings of how a $1 billion domed stadium would look on each of the five sites still in play to help in the decision process.
The renderings also allow the A's to determine what kind of roof — domed or retractable — to build at a potential Las Vegas ballpark to combat the scorching summer heat.
"Retractable roofs require additional space and a different configuration, so we've been fortunate enough to have a great team of people looking at that," Kaval said. "It would certainly be nice to have some open-air element to this. Especially because in the shoulder parts of the season, we heard this in the focus groups, that it would be interesting to have an open-air option. … That's a strong consideration for us."
Longer process
The potential site could be revealed next month, though Kaval cautioned the process is playing out longer than team officials had anticipated.
"It's taking a little bit longer than we initially planned, but I think we're getting closer and closer everyday," Kaval said. "It's certainly been a lot of work putting it together, which I think is good, because it shows that all the different parties are really serious about it."
For sites they would own outright, the A's are exploring plots of land that are 40-60 acres, which would allow mixed-use development to occur along with a ballpark, Kaval said. They're looking at smaller lots for sites that would tie in to a resort.
"If you build it alone you can kind of be agnostic, so I think that's appealing," Kaval said. "Keep in mind that T-Mobile was kind of a MGM deal. So it can be done either way. We're not averse to either strategy, we just need to go in eyes wide open."
Having development surrounding a ballpark is an important aspect, Kaval said, noting it could be similar to the Battery Atlanta, in Georgia, that surrounds Truist Park where the Braves play.
"There is something to be said about baseball having other stuff around the actual stadium," Kaval said. "Having a mixed-use development, maybe even having some place where people could live, housing, retail, like a ballpark village. That's very interesting for us. It would activate it through the year and more than just on game days."
Oakland update
The A's kicked off their 2022 season this month with their first homestand taking place last week. The team has gotten a lot of attention for its fan attendance at RingCentral Coliseum, its aging home ballpark. Through their first seven games at home, the A's are averaging 7,942 fans, which is last in the major leagues. Their Triple-A affiliate, the Aviators, is averaging 7,033 fans per game at Las Vegas Ballpark this season.
Kaval said team officials aren't focused on the numbers as much as they are on the experience of those in attendance.
"Opening day we had 17,000. I saw tons of smiles, maskless faces, kids, families, rally towels," Kaval said. "People had a lot of fun. … I think we're focused on having a great experience for the people that are there, no matter how many people are there. I think more will come. It's important to remember there was a lockout and a lot of uncertainty about the upcoming season and I think that is playing into some of these factors as well."
The A's have a lease at RingCentral Coliseum through 2024 and MLB officials, who gave the Athletics the green light for their relocation search, have made it clear the team needs to have a new ballpark plan in motion by that time.
While scoping out potential sites in Las Vegas, the A's brass also continues to pursue a "parallel path" for a new waterfront ballpark at the Port of Oakland's Howard Terminal. A key vote is coming with the Bay Conservation and Development Commission.
"We have a difficult challenge with this Bay Conservation and Development Commission. That's an all-or-nothing vote," Kaval said. "We've been working really feverishly with the staff and the commissioners to secure a positive vote on that. That is sometime in June. At the same time we're still continuing to work with the city on the development agreement."
Last July, the Oakland City Council approved its version of a development agreement, which the A's don't accept. Since then, the two sides have been working out their differences mainly tied to community benefits, infrastructure and affordable housing elements. Nearly a year later, there is no new vote set on the matter.
"We're growing increasingly concerned that that has not happened," Kaval said. "We're really not sure why, but that's another reason why we have a parallel path and having an option in Las Vegas that's real and exciting and that could work for us, the league and everyone involved."
Contact Mick Akers at makers@reviewjournal.com or 702-387-2920. Follow @mickakers on Twitter.