A's stadium project moving at 'very, very fast pace,' Trop land owner says
Updated July 28, 2023 - 3:06 pm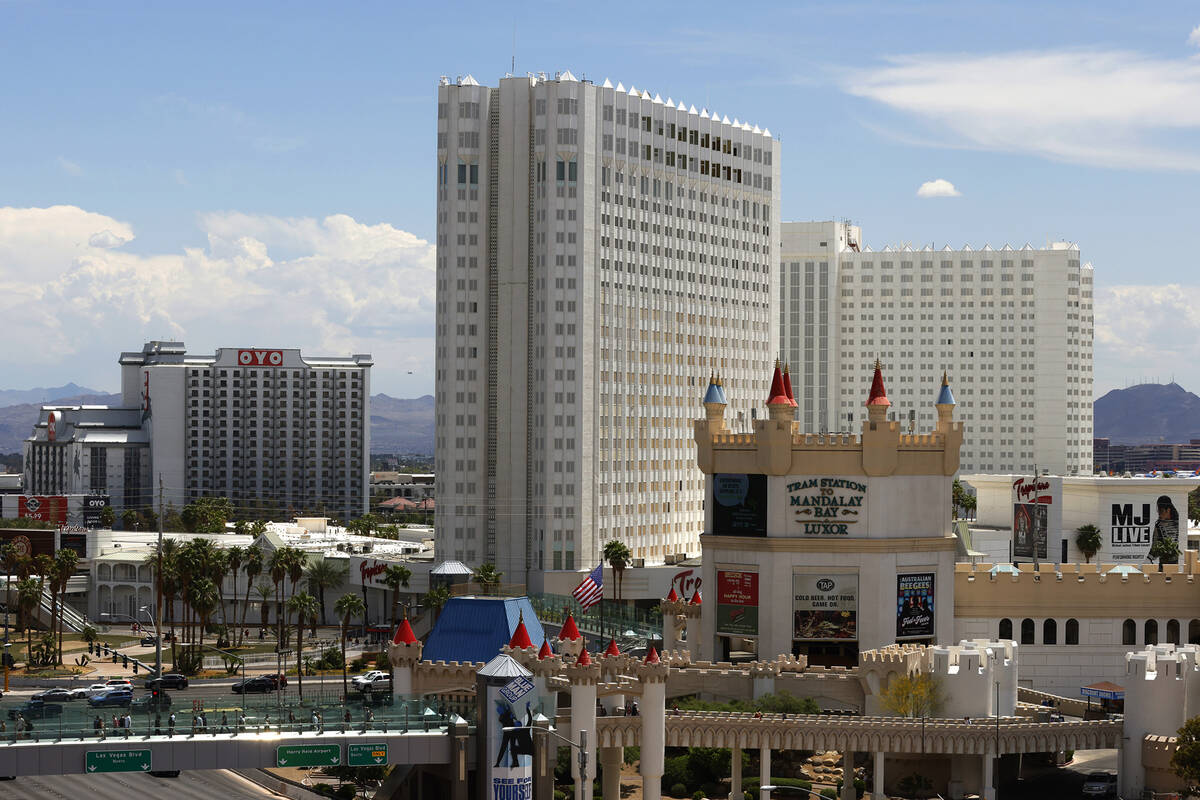 The owner of the Tropicana land where the Oakland Athletics plan to build a Major League Baseball stadium says the project is moving at a rapid pace, even though the team hasn't officially received permission to relocate to Las Vegas.
Executives participating in Gaming and Leisure Properties Inc.'s second-quarter earnings conference call Friday said they were surprised at the rapid pace of getting the project off the ground. But they also said a rapid pace may be a necessity if the A's want the stadium to be ready for the 2028 baseball season opening date.
"From what we understand, they want to begin the 2028 season in that park and when you start working backwards from that, they don't have a lot of room for error," said Brandon Moore, chief operating officer, general counsel and secretary for GLPI.
"I think once they have their Major League Baseball approval and we're reasonably certain the project is a go, I think you'll start to see a timeline come out for demolition of the current site that'll permit the physical construction of the stadium to begin. I don't think there's a set timeline on this yet, but I will say when you work backwards from the 2028 opening day, there's not a lot of margin for error for the A's team."
The A's are planning to construct a $1.5 billion, 30,000-seat stadium on at least 9 acres of the 35-acre Tropicana site, the decades-old resort will have to be demolished to make way for the ballpark.
Peter Carlino, CEO of GLPI, the real estate investment trust that owns the Tropicana land, also said his company executives are confident that the 9 acres designated for the stadium project would be enough to accommodate the plan the property's operator, Bally's Corp., has worked out with the baseball team.
GLPI, Bally's and the A's entered into a binding letter of intent for developing a stadium with a capacity of at least 30,000 on May 13.
Gaming industry analyst Joe Greff of New York-based J.P. Morgan, said the letter of intent says that the A's will pay all the costs related to the design, development and construction of the stadium, and Bally's will pay all costs for the redevelopment of the casino and hotel resort. GLPI has committed $175 million to fund infrastructure that would benefit both the stadium and the resort.
In Friday's earnings call, Carlino said his company is interested in bumping up its stake in the project if the return on investment is right for his shareholders.
"We've announced that we have committed $175 million to infrastructure and various construction items at the site," Carlino said. "We believe and hope that as the project evolves that there's a lot more opportunity than that. We, of course, will look at what's appropriate for our shareholders and our company, but we're excited about the possibility of doing a whole lot more, subject of course to what Bally's would desire. It's Bally's project. We have to be competitive, but that being the case, we'd like to participate at an even greater level."
The Nevada Legislature, in a special session in June, approved a $380 million public funding package that includes $180 million in transferable tax credits and $25 million from Clark County for infrastructure improvements to support the stadium. Taxes generated from the stadium site also would support bonds paying for stadium construction.
Steven Ladany, senior vice president and chief development officer for GLPI, said features that would be shared by both the resort and the stadium would include ancillary exterior amenities, including parking. He didn't specify how much parking is planned.
But Carlino said he was most surprised by the rapid development pace.
"This design process is on a tear," he said. "The A's and Bally's have been highly focused on keeping this moving. There already have been significant numbers of meetings and a lot of detail. This is moving at a very, very fast pace."
Contact Richard N. Velotta at rvelotta@reviewjournal.com or 702-477-3893. Follow @RickVelotta on Twitter.