Could Aviators be the new name for Las Vegas 51s?
Updated June 11, 2018 - 6:03 pm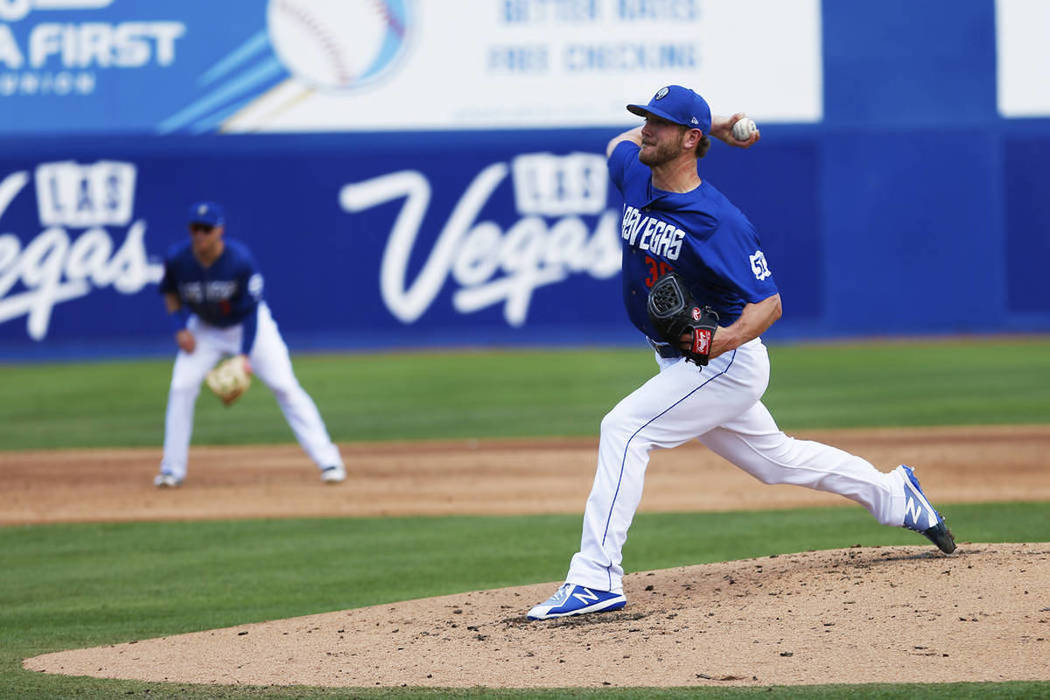 The Las Vegas 51s first announced plans to rebrand for next season in April. Now, one of the frontrunners appears to have been identified.
The owners of the team have filed 20 different trademarks applications for what appears to be a potential new name for the club — the Las Vegas Aviators.
The Howard Hughes Corp. put in trademark applications for memorabilia, apparel and other items June 6. The applicant is listed as Summerlin Las Vegas Baseball Club, LLC, an entity controlled by Howard Hughes Corp.

Team president Don Logan, who said he didn't know about the trademarks until Monday, said this was done in an effort to prevent cybersquatting and that Aviators remains in the mix, along with four or five other names. A representative from the Howard Hughes Corp. did not return a call for comment.
"There's a bunch of names submitted. One of the top submissions was the Aviators. And when you look through those and some of the other names, that will still remain nameless, apparently one of the things that people do, they call it cybersquatters, so we're trying to prevent cybersquatters from getting it," Logan said. "What they do is they go guess what your name might be and then when you want to buy the domains and stuff, you've got to pay them for it. There's companies that do that so in an attempt to head off cyber squatters, that's why they did it and that's why nobody knew about it."
Some of the other names they've identified are less likely to be squatted on, Logan said.
Earlier this month, DetroitHockey.net's Clark Rasmussen first reported that a lawyer with The Howard Hughes Corp. had registered 16 web domains relating to the possible new name including aviatorslv.com, lasvegasaviatorsbaseball.com and the lvaviators.com
A Twitter account with the handle @LVAviators was opened this month as was a Facebook account under The Las Vegas Aviators, which is listed as a "Sports Team."
Howard Hughes was an avid flier during his lifetime, with his crowning achievement being the Spruce Goose, the largest wooden airplane ever constructed. In fact, the biographical motion picture about Hughes' life was titled "The Aviator."
"That's an important element for the Hughes Corp.," Logan said of the name at the time. "We've got people involved in that at a lot of different levels. A big part of this whole endeavor is to really honor and promote the Hughes brand. … You want some cohesion.
"It's got to make sense and ultimately the investors in the company have got to understand that everybody is paying attention and really doing their best to promote the brand. The brand is very important."
The 51s had opened up a "Name the Team," sweepstakes and received thousands of submissions from fans. Aviators was one of the most popular ones they received.
Earlier this month, team president Don Logan said they would be narrowing down their top five choices imminently.
"We want the fans to pick it," Logan said Monday. "It's something that the fans should get to vote on and we're going to do that."
The first timeline given for releasing the team's name was November, though Logan said recently he thought it would be sooner than that as construction on Las Vegas Ballpark in Summerlin is underway and a name would be woven into design elements and hats, memorabilia and other things would need to be produced.
"I think you've got to get the name done sooner," Logan said. "The sooner you have the name done, then you can figure out more ways to integrate it into the different elements of the stadium."
More 51s: Follow all of our Las Vegas 51s coverage online at reviewjournal.com/51s and @RJ_Sports on Twitter.
Contact Betsy Helfand at bhelfand@reviewjournal.com. Follow @BetsyHelfand on Twitter.